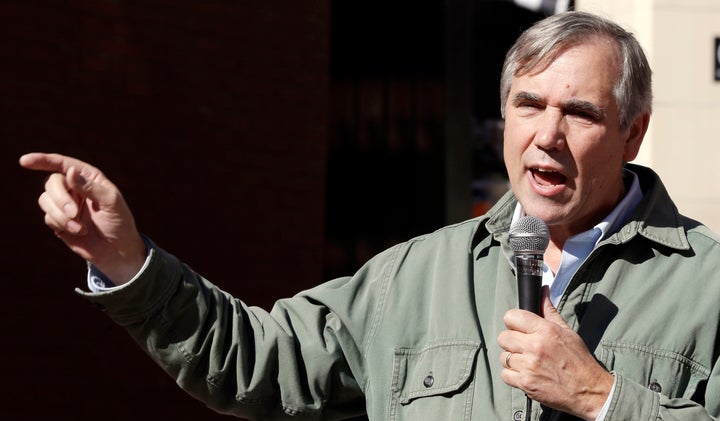 Sen. Jeff Merkley (D-Ore.) will introduce legislation on Thursday that would force major pharmaceutical companies to make a choice: Do they want to charge Americans higher drug prices than they charge the rest of the world, or do they want access to Medicare and Medicaid patients?
"The drugs that are developed by pharmaceutical companies are based on research that is funded by American taxpayers," Merkley told HuffPost. "It's outrageous that we pay far more than the Canadians or the Europeans when we've already been the source of research funding for these medications."
Under Merkley's bill, the secretary of health and human services would establish an annual list of reference prices for every medication sold in America. If the U.S. price of any drug exceeded the median price charged in 11 reference countries, that medication could not be sold through federal health programs ― including Medicare, Medicaid, the military's TRICARE program and the Veterans Affairs system.
"Often I would hear people say, you know, we should have Medicare negotiate the price of drugs," Merkley told HuffPost. "And I agree with that. I've supported every single effort to lower Medicare drug prices. But we should have a plan to deal with these prices for everyone, not just people over 65."
Two weeks before the November elections, the Trump administration floated the idea of issuing a new regulation to bring Medicare prescription costs in line with international price levels, but the proposal faces stiff opposition from the conservative movement and congressional Republicans. Democrats made lowering prescription drug prices a central plank of the party's national message during the midterm campaigns, and lawmakers are now sorting out exactly how they plan to deliver on that promise. Sen. Bernie Sanders (I-Vt.) and Rep. Ro Khanna (D-Calif.) introduced a separate bill taking aim at drug prices earlier this month.
I've supported every single effort to lower Medicare drug prices. But we should have a plan to deal with these prices for everyone, not just people over 65.

Sen. Jeff Merkley (D-Ore.)
None of this Democratic legislation is likely to be enacted so long as Republicans control the Senate. But it sends a message to the public about the party's policy intentions and serves as a focal point for debate in Washington about the future direction of the Democratic Party.
The pharma legislation also serves as a bit of early shadow-boxing around the 2020 Democratic presidential primary. Merkley, the only sitting senator to endorse Sanders in his 2016 presidential bid, is now exploring a presidential run of his own. Though he doesn't enjoy the national name-recognition that Sanders cultivated during his 2016 campaign, Merkley has robust progressive credentials of his own. He spent most of his Senate career serving on the Banking Committee, where he was a persistent critic of Wall Street abuse and the author of one of the toughest new rules under President Barack Obama's 2010 financial reform law.
He's now extending that corporate critique to health care legislation.
"It's a long way from the introduction of a bill to the enactment of a law, but ideas start someplace," said David Mitchell, founder of Patients for Affordable Drugs NOW, a nonprofit devoted to lowering prescription drug prices. "Senator Merkley is putting a good set of ideas on the table."
Calling all HuffPost superfans!
Sign up for membership to become a founding member and help shape HuffPost's next chapter