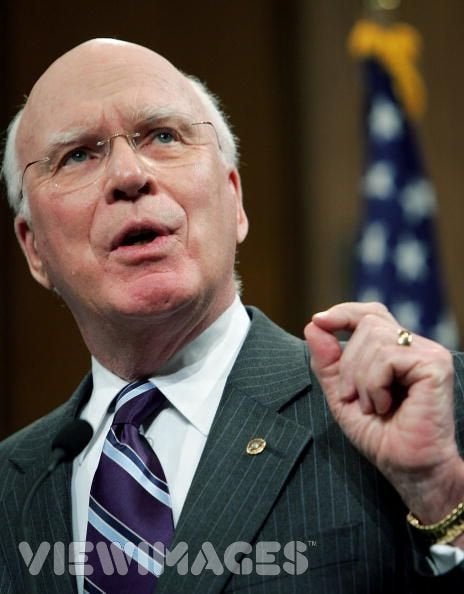 Sen. Barack Obama picked up the endorsement of Sen. Patrick Leahy, D-VT on Thursday, adding another big name to the list of congressional figures pledging their support to his campaign.
Leahy, a veteran Senate Democrat and chair of the Senate Judiciary Committee, told reporters on a morning conference call:
"We are a good and a great nation. I think we can restore that respect but we need a president who could reintroduce America to the world and reintroduce America to ourselves. I believe Barack Obama is the best person to do that."
Leahy is regarded as one of the leading progressive Democrats on judiciary issues. He was one of ten senators to vote against the reauthorization of the Patriot Act, legislation that Obama supported. The two, however, did agree in their opposition to the nomination of current Supreme Court Justice Samuel Alito. And both Leahy and Obama opposed the Iraq war, though Obama was not in the Senate at the time.
Asked why he did not offer up his support to Sen. Clinton, with whom he has worked for more than seven years, Leahy skirted around the question. "My endorsement is not in opposition to Sen. Clinton or Sen. Edwards both of whom I know and admire. My endorsement is about who can do this best..."
Another topic addressed during the roughly 25 minute call was the lawsuit filed by the Nevada teachers union that would shut down the at large caucus sites create for workers on the Vegas-strip. Leahy criticized the suit, which will be decided Thursday afternoon, saying,
"I've always been of the assumption that we should do everything possible to allow people to vote when they can.... If somehow they were shut out from being able to caucus, I think it reduces the legitimacy of the results."
The Clinton campaign has publicly backed the suit but the state and national Democratic parties have filed briefs opposing it.
Leahy is the latest in a series of Senate luminaries to offer Obama their support, including Massachusetts Democrat John Kerry. In the 2004 election, Leahy endorsed his fellow Vermonter, former Gov. Howard Dean.
Calling all HuffPost superfans!
Sign up for membership to become a founding member and help shape HuffPost's next chapter