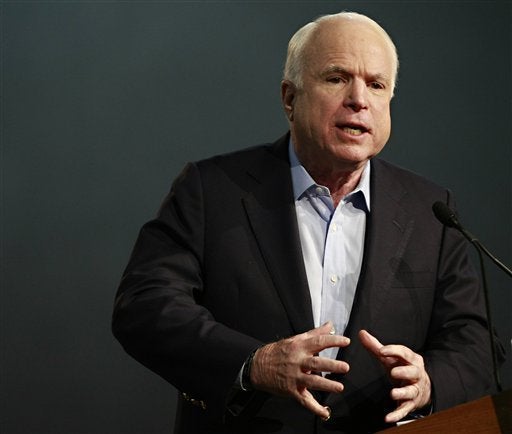 While sitting down with the Arizona Daily Star editorial board, Senator John McCain (R-Ariz.) -- who has consistently argued that "Don't Ask, Don't Tell" is working -- was pressed on whether he had considered asking gay service members for their opinion: "I don't seek out someone who is gay... The policy is one that has worked by the opinion of their commanders."
As a veteran, and having spoken with many of the men and women who have served and want to serve their country openly, I can tell you McCain's words and actions on this topic are out of step and from a bygone era. His view does not represent the American people or our country's military leadership. As shown in the interview transcript, McCain continues to ignore the fact that Secretary of Defense Robert Gates, Chairman of the Joint Chiefs of Staff Admiral Michael Mullen, General Collin Powell and Vice President Richard Cheney all strongly favor repeal.
The senator's continued opposition underscores a clear record of hypocrisy on repeal. In October 2006, McCain said to an audience of Iowa State University students that he would at least consider repeal if the top brass came out in favor of doing so: "The day that the leadership of the military comes to me and says, 'Senator, we ought to change the policy,' then I think we ought to consider seriously changing it." And on February 2, 2010, Secretary Gates and Admiral Mullen did exactly that when they testified before McCain and the full Senate Armed Services Committee in support of repeal.
The senator's response? Not interested.
When the Star editors pressed McCain, asking if there had been a "generational shift" in favor of repeal, McCain quipped "...how many times do I have to give you my opinion?" After a pause on both sides, the senator said: "Go ahead. I'm ready. I'm ready. I'm ready. I'm ready. I'm ready to continue our conversation on it. Okay. Seriously. Go ahead."
Repealing DADT is no longer a question of "if," but "when."
We are at a critical hour in the repeal of DADT. Much has changed since Sen. McCain voted in favor of the law in 1993. Those who have previously supported "Don't Ask, Don't Tell," including both former Joint Chiefs of Staff General John Shalikashvili and General Colin Powell -- who also helped write the law -- are now in favor of repeal. More and more Americans, regardless of party identity or ideological persuasion, understand that DADT should go.
Sen. McCain would be better served reviewing the transcript from the first hearing on repeal held by the Senate Armed Services Committee in February. In his testimony, Admiral Mullen made it clear that DADT does not serve in the best interest of our men and women in uniform: "I cannot escape being troubled by the fact that we have in place a policy which forces young men and women to lie about who they are in order to defend their fellow citizens. For me, personally, it comes down to integrity - theirs as individuals and ours as a nation."
As Congress begins to take action on the Defense Department budget, we must continue the work to muster the 15 critical votes needed on the Senate Armed Services Committee to include repeal. With strong support in favor of ending the ban on open service, we can show John McCain that his outdated position is simply a sign of the past.
REAL LIFE. REAL NEWS. REAL VOICES.
Help us tell more of the stories that matter from voices that too often remain unheard.