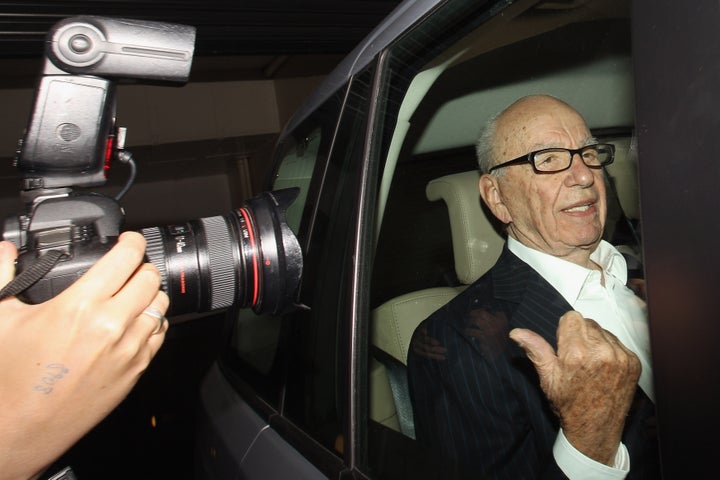 NEW YORK -- As Rupert Murdoch's News Corp. empire continues to crumble in response to the phone hacking scandal in U.K., one powerful U.S. Senator is calling for a probe into the conglomerate to see if misconduct occurred on this side of the Atlantic.
"The reported hacking by News Corporation newspapers against a range of individuals -- including children -- is offensive and a serious breach of journalistic ethics," Rockefeller said in a statement.
"This raises serious questions about whether the company has broken U.S. law, and I encourage the appropriate agencies to investigate to ensure that Americans have not had their privacy violated," Rockefeller continued. "I am concerned that the admitted phone hacking in London by the News Corp. may have extended to 9/11 victims or other Americans. If they did, the consequences will be severe."
The Daily Mirror reported Monday that journalists at the now-shuttered News of the World tried paying a New York City police officer to provide phone records of victims of the 9/11 terrorist attacks. News of the World journalists are believed to have hacked the phones of nearly 4,000 people, including family members of victims of the UK's 7/7 terrorist attack.
But its not only the phone hacking that's prompting calls for U.S. government action. There are also allegations that employees of News International, the conglomerate's UK newspaper arm, bribed British police officers, which could be considered a violation of the Foreign Corrupt Practices Act, a U.S. federal law.
Andy Coulson, a former News of the World editor and former Cameron media chief, was arrested last week in connection with allegations of bribery.

Alexandra Wrage, a legal expert on bribery who is the president of anti-bribery compliance association TRACE, told Reuters that improper accounting practices used to mask bribes is a violation of the law.
Other groups are also putting pressure on U.S. lawmakers and government agencies to get involved.
Kevin Zeese, lawyer for government accountability group ProtectOurElections.org, said in a letter to the SEC and FBI Tuesday that News Corp. -- a U.S.-based company -- violated the FCPA "on an industrial scale."
"It is unacceptable for any person or company, especially one who specifically moved here because of our laws, to violate those laws in a manner that gives them an unjust advantage over those who follow the law," Zeese wrote. "We therefore are demanding that News Corp and all its guilty employees be prosecuted, fined and jailed to fullest extent allowed by law."
On Monday, Citizens for Responsibility and Ethics (CREW) called on Sen. Rockefeller and other members of Congress to investigate whether journalists hacked into Americans' voicemail.
"Given the ever-increasing number of Murdoch publications involved, combined with the allegation that News Corp. journalists sought access to the voicemails of 9/11 victims and their families, America cannot leave this investigation entirely to the British," CREW executive director Melanie Sloan said at the time. "Congress should immediately initiate its own inquiry."
"Politicians in Washington may not be able to agree on much these days, but at the very least they should be able to agree that efforts to hack the phones of those killed in the worst terrorist attack in American history merits thorough public hearings," she added.
A News Corp. spokesperson declined to comment on Sen. Rockefeller's call for an investigation.
UPDATE: Democratic Senators Barbara Boxer, of California, and Frank Lautenberg, of New Jersey, sent a letter Wednesday to Attorney General Eric Holder urging an investigation. Fellow New Jersey Senator Robert Menendez also wrote Holder requesting action.
A DOJ spokeswoman told The Huffington Post they're reviewing the letters but had no comment at this time.
Related
Popular in the Community