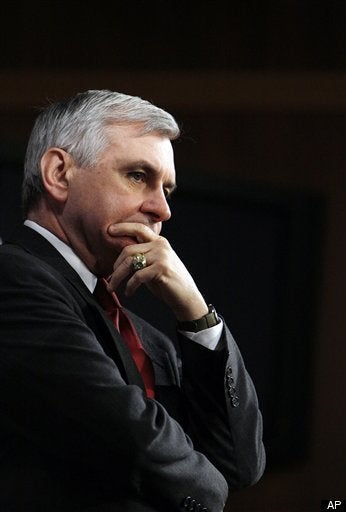 The Consumer Financial Protection Agency, a cornerstone of banking reform, won't go down without a floor flight. Sen. Jack Reed of Rhode Island, the third-ranking Democrat on the Banking Committee, will introduce an amendment to financial regulatory reform on the Senate floor calling for a strong, independent CFPA if the bill that emerges from the committee does not include one, a Democratic committee aide told the Huffington Post Tuesday.
Reed has told Committee Chair Chris Dodd (D-Conn.) directly about his intention to offer the amendment. The fight over Reed's amendment on the Senate floor will put Democrats and Republicans on the record regarding consumer financial protection.
Reed's amendment gives consumer advocates and liberal Democrats a fallback plan if they fail to push a strong CFPA through committee. But it would be a difficult battle to win on the floor. If the strong CFPA is included in the bill that goes to the floor, opponents would need 60 votes to strip it out. By contrast, Reed, on the floor, would need 60 votes to break a filibuster in order to include it.
Bipartisan negotiators are considering a plan that would house the CFPA in the Federal Reserve and give enforcement authority to banking regulators rather than consumer protection officials. Committee aides told HuffPost that there was much grumbling among progressive Democrats when they were briefed on the idea.
"Liberals never grumble. Never," quipped Dodd when asked by HuffPost about the progressives' concerns. He declined to comment on the status of negotiations.
Committee Democrats Chuck Schumer (N.Y.), Sherrod Brown (Ohio) and Jeff Merkley (Oregon) reacted coolly on Tuesday to the proposed compromise. Sen. Michael Bennet (D-Colo.) wouldn't respond to questions in the Capitol about the CFPA.
"Chairman Dodd is to be commended for working so diligently to come up with a bipartisan compromise on financial services reform, which demands urgent attention," said Schumer in a statement. "But in my 20 years of trying to get the Federal Reserve to properly protect consumers, it has been an uphill, and very often unsuccessful, battle. I am very leery of any consumer regulator being placed inside the Fed."
Brown and Merkley, meanwhile, have concerns about the Fed but are also worried that banking regulators would have the power to overrule consumer protections if they could damage the banking sector.
Since ripping off consumers is very good for business -- banks make billions on overdraft fees, for example -- any consumer protections are bound to take a short-term chunk out of a bank's bottom line.
"I have reservations about anything that isn't an independent consumer agency. Housing it in Treasury's got drawbacks; housing it in with the Fed has drawbacks," said Brown. "It needs to be very independent. The most important thing is its independence, clearly, in terms of rule making, in terms of what happens with enforcement."
If the agency is housed with either entity, said Brown, it would be subject to the whims of leaders who might want to defang it.
"I think about Treasury, I think, do you want it housed with somebody like John Snow? I think about the Fed, do you want it housed with somebody like Alan Greenspan? And even somebody better, like Ben Bernanke, was slow to the draw with credit card abuses and with foreclosures in '07 and '08," he said.
Merkley told reporters he had serious concerns about the proposal and later put out a statement arguing that the Fed's poor track record in consumer protection makes it an inappropriate place to house the agency.
"The Federal Reserve currently has authority over consumer issues, and it has done an abysmal job in standing up for middle class families and small businesses. The Fed's leadership cares first and foremost about monetary policy - that's in the penthouse. Safety and soundness considerations come next. Then, way down in the basement is consumer protection. While a new consumer division would presumably have more power and independence, there is no reason to believe that the culture of the Fed will change," he said.
"I applaud Senator Dodd for the work he is doing to bring the financial reform effort to fruition despite a strong lobbying campaign to water it down. Like Senator Dodd, I believe that strong rules ensuring that consumers aren't sold defective financial products are crucial to making the economy work for middle class families. I look forward to seeing the details of the proposal, but a lot would have to change at the Fed before I would be convinced they can deliver the strong consumer protection our families and our economy need."

Update: This story was updated to include additional comments from Sens. Merkley and Brown.
Update II: Bennet wants an independent agency. "I support an independent consumer protection agency. The types of mortgages and financial products that nearly wrecked our economy have convinced me that an independent consumer advocate is critical to protecting the American people and strengthening our economy. If we don't use this opportunity to strengthen our commitment to consumer protection, we haven't learned the true lessons of the recent financial crisis," he said in a statement.
Spokesperson Adrianne Marsh said that Bennet would be supportive of such a proposal if it were fought out on the floor as an amendment. Dodd has a 13-10 majority on the Banking Committee, meaning that if he loses too many Democrats, he would need to rely on Republican votes to move the measure through his panel.

Calling all HuffPost superfans!
Sign up for membership to become a founding member and help shape HuffPost's next chapter