Dear Senator Marco Rubio and Governor Rick Scott,
I'm asking you to take a moral stand against bullying, and health care fraud, to support our proud American traditions of protecting our nation's children, free speech, and religious freedom, and to help me attend my father's funeral in Pompano Beach, Florida later this month.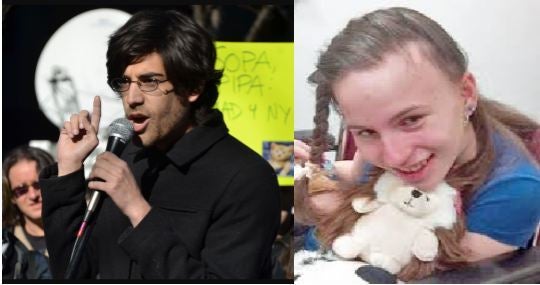 The gentleman on the left is the incomparable Aaron Swartz. In 2013, following over a year of intense bullying by the Boston U.S. Attorney's office, the 24-year-old computer prodigy and Reddit co-founder hung himself in his apartment. I don't think that I, or anybody else, really has the words to fully describe the loss Aaron's death represents to our nation, but as a Senior System's Engineer with over two decades of experience, I can tell you that a beacon of light like Aaron comes around perhaps once every few generations.
Following his death, more than 61,000 people digitally signed a petition to President Obama to fire Carmen Ortiz, the U.S. Attorney who oversaw the immoral efforts that directly caused his suicide. Despite the signatures, which appeared nearly instantaneously after news of Aaron's death was published, as well as a bipartisan cacophony of powerful voices, the former administration was apparently too proud and worried about appearances to publicly fire Ortiz. Senator John Cornyn (R-Texas), a former prosecutor himself, and Rep. Darrell Issa (R-Calif.) convened oversight hearing and slammed Ortiz, but they were unable to remove an employee of the executive branch who served at the pleasure of the president, and Ortiz lacked the decency to resign. So she remained until this past January and left behind what Demand Progress co-founder David Segal once described as an office "plagued by vindictive, opportunistic prosecutors" with "a long and well-known track record of filing unscrupulous and frivolous charges."
The girl on the right of the picture above is Justina Pelletier. According to the detailed article published yesterday in the Miami New Times, in 2013 "...Fourteen-year-old Justina Pelletier had been diagnosed by Tufts doctors with mitochondrial disease, a rare disorder where the body can't produce enough energy. But when her parents took her to Boston Children's Hospital (BCH) to see a specialist, physicians there said her condition was psychiatric. The family tried to take the teen back to Tufts but was stunned to find out that BCH had filed a medical child abuse case, forcing the girl into state custody instead. Doctors at the children's hospital took her off her medications and kept her in a locked psych ward for more than a year, where the onetime figure skater became wheelchair-bound. One nurse later described her treatment as "torture."
I agree with the assessment of the former Boston Children's nurse quoted above and submitted a detailed analysis to former Attorney General and Harvard Law graduate Loretta Lynch, concluding that what the hospital did to Justina and her family meets the internationally accepted definition of torture codified in UN convention. Further, a former Boston federal prosecutor who just so happens to be the longest-tenured board member of the Massachusetts Society for the Prevention of Cruelty to Children wrote the State Department of Public Health saying the hospital's psych ward where Justina was held is "virtually synonymous with abuse for many children."
Eventually, Justina's story was picked up by The Huckabee Show, The Kelly File, Hannity, as well as ABC News, amongst many others. Here is her father describing the round-the-clock agony she suffered at the hospital to our local PBS Station:
"She's been in severe pain, non-stop, 24 hours a day for 13 months"— Lou Pelletier, Justina's father
The Harvard-affiliated hospital's apparent reaction to the revelations of the mistakes in Justina's care was to try to protect its reputation by bullying the Pelletiers into silence. The $2 billion institution seems to have the courts, governors mansion, and U.S. Attorney's office in its back pocket. The court issued a gag order prohibiting the Pelletiers from speaking to the press. Former MA governor Deval Patrick shares the hospital's Harvard affiliation, having gone there for both undergraduate and law school. Boston U.S. Attorney Carmen Ortiz, mentioned above, directed the Center for Criminal Justice at Harvard from 1988-1991, and refused to investigate the hospital despite assertions by the Director of the Christian Defense Coalition that federal laws had been violated.
Additionally, it seems obvious to me that at some point even Boston Children's must have realized its diagnosis was incorrect, yet it continued accepting federal Medicaid money in exchange for psychological treatment. This would constitute healthcare fraud, but federal authorities under the previous administration didn't investigate that either.
In any case, after 14 months of agony without her medications, and having been denied Mass, Confession, and Communion the entire time, Justina and her family feared she would die in her wheelchair. With every single local, state, and federal authority unwilling to intercede, I finally took action to defend Justina's life. While what was done to Justina at the hospital maimed her forever, I didn't hurt a soul in allegedly knocking Boston Children's Hospital off the internet during the online fundraiser. Justina said that while she was shocked by my alleged actions, she "was so grateful for publicity hitting other media." Shortly thereafter, she was finally allowed home, and the hospital apparently ended a 20 year habit of snatching kids like her.
Now, the same U.S. Attorney's office that refuses to investigate Harvard-affiliated Boston Children's is seeking to imprison me for 25 years and charge me $600,000.
Acting Boston U.S. Attorney Weinreb is a former treasurer of the Harvard Law Review. His cyber-crime chief, Adam Bookbinder, is also a Harvard alum. Perhaps most tellingly, Magistrate Judge Marianne Bowler has failed to recuse herself from my case despite having worked at Harvard Medical School, which has the bulk of its pediatric practice at Boston Children's, and being married to a professor there as well. She did, however, sign a search warrant used to raid my home, hold me without bail pending trial for over a year, and deny my request to attend my father's funeral in Florida.
My story has been published at Red State (1,2), The Daily Wire, WND, and of course here at the Huffington Post.
I'm asking you to please call Attorney General Jeff Sessions and implore him to immediately investigate the Boston US Attorney's Office and its apparent favoritism toward Harvard.
Martin "MartyG" Gottesfeld
Popular in the Community