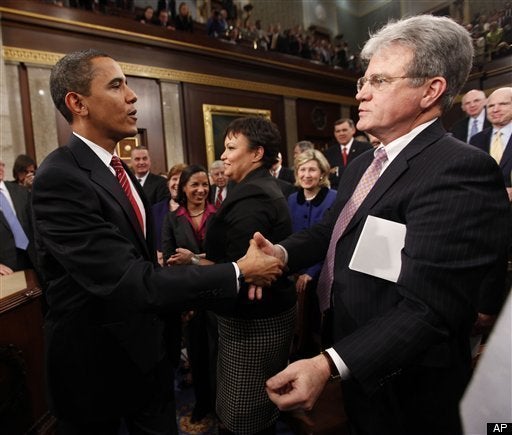 Senator Tom Coburn (R-Okla.) may not be that good a friend to health care reform, or Senator Robert Byrd, or Senate clerks, for that matter, but he's widely known to be some kind of super-Senate BFF with President Barack Obama. As Washington braced for this weekend's snowpocalypse, Coburn was reminding The Hill's Eric Zimmerman what great pals he and the President were:
"I try to write him about every week or two," Coburn said of Obama. "Write him a note, encourage him. No one has a tougher job than he does."

The two last spoke when Obama called Coburn last week to offer condolences on the passing of his mother.

"We came into the Senate together, and I just have a lot of admiration for him," Coburn said of Obama. "I'm 180 degrees from him on policy on most issues. But I think he's a wonderful man."
And that's all precious and whatnot, but one had to wonder: Is this special friendship ever going to materialize in some important way? Well, Media Matters' Chris Harris notes that Coburn did defend his friend this past Saturday against some of the criticism his party was laying at the President's feet:
COBURN: On January 1st, 2009, the national debt was $10.6 trillion. It now stands at $12.1 trillion. That's not President Obama's fault, so don't confuse this with a partisan attack. My attack is on the Senate, and on the Congress.

[...]

In January 2009, the unemployment rate was 7.6%, today it's 10%. That's not President Obama's fault either. That's our fault, it the members' of Congress fault.
Popular in the Community