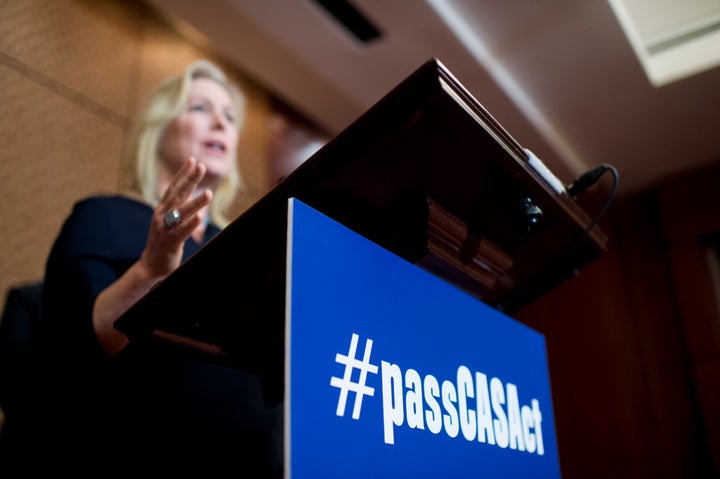 A bipartisan group of senators tried to generate momentum Tuesday for a vote on their legislation reforming how colleges handle sexual assault.
CASA would allow the Department of Education to fine schools up to 1 percent of their operating budget for violations of Title IX, the gender equity law requiring schools to handle sexual assault and harassment reports. Currently, the Education Department can either reach an agreement with universities outlining reforms a school will make to comply with Title IX, or withhold all federal funding from the school, including student loans. The department has never withheld funding, and activists say the fines are simply a slap on the wrist for schools.
CASA would also require a standard, uniform survey of every college and university to gauge students' experiences with assault and harassment, and whether they sought services from any agency.
Tuesday's event in support of the legislation featured seven GOP legislators and five Democrats. The ratio was noteworthy given that the bill's two primary sponsors are Democrats Kirsten Gillibrand of New York and Claire McCaskill of Missouri, and some Congressional Republicans have pressed Education Department officials in recent months to validate their authority to prescribe certain campus sexual assault policies.
"You see today a strong bipartisan consensus that we need to get this bill passed," said Sen. Kelly Ayotte (R-N.H.). "I would like to urge the HELP committee to take this bill up immediately."
Sen. Lindsey Graham (R-S.C.) joked that the bill would likely secure 90 votes in the Senate, assuming that the other 10 would be people who didn't show up that day.
"The bottom line is we should do this this year," Graham said at the press conference. "The goal of the bill is to take a system that is incentivized to downplay the problem, because they don't want bad publicity, and incentivize people to deal with the problem."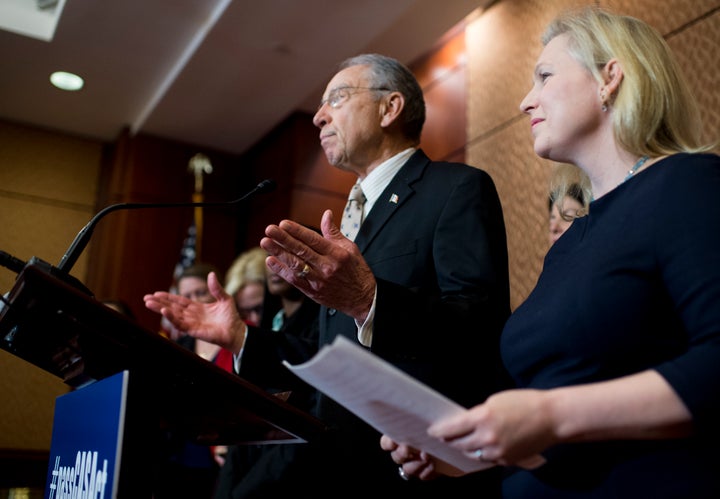 McCaskill told reporters that senators wanted to fold CASA into the reauthorization of the Higher Education Act, the nation's main law governing colleges, universities and financial aid for students. But many insiders doubt the HEA will get brought up during the election season, so McCaskill said they now hope to incorporate CASA into a narrower slice of the reauthorization, or move it forward as a standalone bill.
"This is really a committee decision at this point," McCaskill said.
A spokesperson for Sen. Lamar Alexander (R-Tenn.), chair of the HELP committee, did not respond to request for comment. If the bill isn't brought up by August, McCaskill said senators may consider trying to pass it in the lame duck session after the November elections.
Despite the support from legislators, the advocacy group SurvJustice released a statement Tuesday saying there should be structural changes to CASA on several points, including fines.
Title IX does not explicitly state that students can sue over violations, though many students do based on court precedent. SurvJustice worries that because CASA modifies Title IX so the Department of Education can impose fines under it, that could challenge the current court standard allowing students to sue.
Instead, SurvJustice wants CASA changed so it adds an amendment to Section 202 of the Department of Education Organization Act, which would give the education secretary to have the power to fine schools for any violation pertaining to sexual violence.
She responded that mandates in CASA requiring basic training for all those who adjudicate sexual assault cases on campus would help address that, because right now "it's hit or miss depending on what school you're at."
In addition to Ayotte and Graham, Thursday's event featured Republican Sens. Dan Sullivan of Alaska, Shelley Moore Capito of West Virginia, and Charles Grassley and Joni Ernst of Iowa. McCaskill and Gillibrand were joined by Democratic Sens. Amy Klobuchar of Minnesota, Sheldon Whitehouse of Rhode Island and Ron Wyden of Oregon.
Ernst, who is in her second year in the Senate, said she was motivated to support the bill due to her time working at a women's center answering a crisis hotline when she attended Iowa State University.
"Answering those calls, working with the women at the shelters, working with some of the issues they had gone through was very moving for me," Ernst said.
Tre'Shonda Sheffey, a sexual assault survivor currently working in Washington, D.C., and Rebecca O'Connor of the Rape, Abuse & Incest National Network also spoke in favor of the bill at the press conference.
"Success to me will be years from now -- maybe sooner rather than later, I hope -- is that universities will market to parents and students 'here's what we do to protect you,'" Graham said. "When that day comes, is the day we've won."
Popular in the Community