Ten Democratic senators from Western states sent President Donald Trump a letter Tuesday, urging him to drop his executive order rolling back policies enacted to curb greenhouse gas emissions.
The letter outlines how Trump's plan ― which will likely undo the Clean Power Plan and lift the temporary moratorium on coal leasing ― will stifle the economy in those states, where much of the opportunity for renewable energy enterprise lies, and aggravate public health issues, extreme weather concerns, threats to natural lands and security concerns for the whole country.
The letter was signed by Michael Bennet (D-Colo.), Maria Cantwell (D-Wash.), Catherine Cortez Masto (D-Nev.), Dianne Feinstein (D-Calif.), Kamala Harris (D-Calif.), Martin Heinrich (D-N.M.), Jeff Merkley (D-Ore.), Patty Murray (D-Wash.), Tom Udall (D-N.M.) and Ron Wyden (D-Ore.).
Worldwide transition to renewable energy is "inevitable," they wrote, arguing that the U.S. needs policies that create "new and diverse job opportunities" in communities devastated by coal's decline, which evidence suggests will only continue with or without Trump.
The letter points out that the energy efficiency industry provides the largest source of energy jobs in the country and employed 2.2 million Americans last year.
"It is imperative that we do not put policies in place that take these jobs away," the senators write.
"Unfortunately, your Executive Order takes the nation in the wrong direction. In order to account for the unique needs of our Western states, we respectfully request you rescind the Energy Independence Executive Order."
The senators also highlighted how the executive order limits protections and planning for extreme weather linked to climate change that lead to deaths, billions of dollars in damages and, especially in Western states, loss of agricultural productivity.
They aren't the only Democratic senators sounding off on the executive order's consequences.
On Tuesday afternoon, Democratic members of the Senate Environment and Public Works Committee hosted a news conference during which they blasted Trump's executive order and vowed to continue fighting against climate change.
"Today Donald Trump is shirking our nation's responsibilities, disregarding clear science and undoing the significant progress that we've made to ensure we leave a better, more sustainable planet for generations to come with the stroke of his pen," said Sen. Tom Carper (D-Del.), the committee's ranking member. "Despite all the rhetoric, this order clearly proves that this administration is not serious about protecting jobs or the environment."
Sen. Sheldon Whitehouse (D-R.I.) said it's "sad" to see the Republican Party pandering to the fossil fuel industry.
"With this executive order, the executive branch of government becomes a banana republic executive branch, prancing and capering for their friends in the fossil fuel industry," he said.
At the end of the day, Whitehouse said, he expects lawsuits will challenge Trump's executive order, which he described as a "national embarrassment." In the meantime, however, the United States will lose both time and its reputation, he said.
Support HuffPost
The Stakes Have Never Been Higher
Before You Go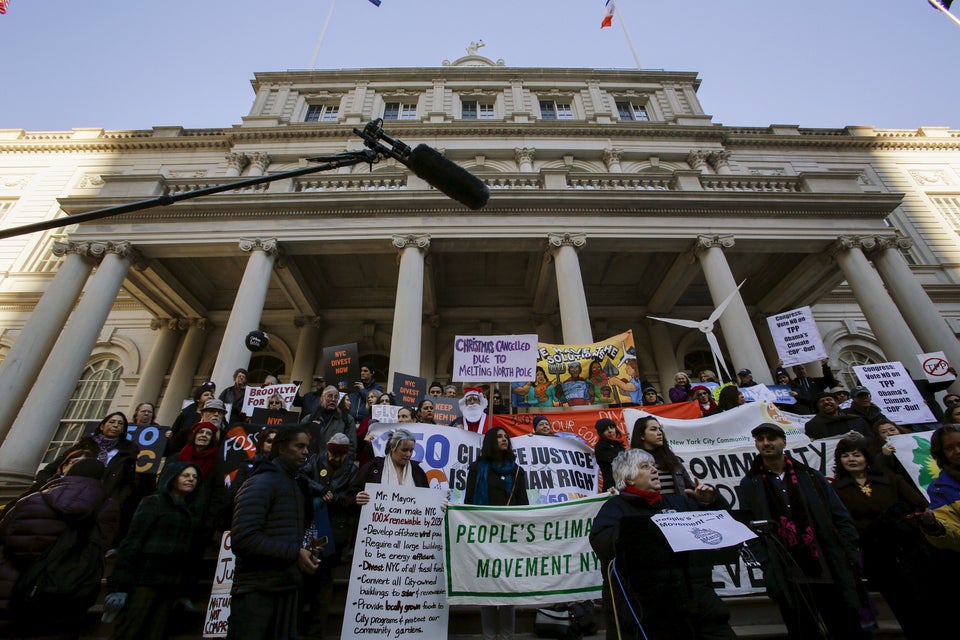 What You Can Do Right Now To Stop Donald Trump's Dangerous Climate Agenda
Popular in the Community