WASHINGTON -- Efforts to reform the country's strict sentencing laws aren't dead in Congress just yet. A bipartisan group of senior senators revealed revisions Thursday to legislation that would reduce mandatory minimum sentences for nonviolent offenders and give judges greater discretion on sentencing for low-level drug crimes.
The changes prevent violent criminals from qualifying for reduced sentencing options. However, they also expand provisions for low-level offenders, meaning more of them will benefit from the legislation and the total number of people affected will remain roughly the same as under the original bill.
The revisions also ensure that inmates convicted under the Armed Career Criminal Act will not be able to qualify for reduced sentences, while boosting mandatory sentences for offenses involving the opioid fentanyl, which is tied to drug overdoses and deaths.
As the authors intended, the tweaks convinced more Republicans to back the controversial bill. Without strong support within the GOP conference, Senate Judiciary Chair Chuck Grassley (R-Iowa) and Senate Majority Whip John Cornyn (R-Texas) won't be able to get the legislation to the floor for a vote.
As of Thursday, four additional Republican senators joined -- Sens. Mark Kirk (Ill.), Steve Daines (Mont.), Thad Cochran (Miss.), and Dan Sullivan (Alaska) -- giving the bill 37 co-sponsors.
"This is the best chance in a generation to reform our federal drug sentencing laws."
The task now is to continue wooing more members of the GOP conference and convince Senate Majority Leader Mitch McConnell (R-Ky.) that if he brings the package to the floor, it will have enough support to pass with 60 votes. "I think it's time for those discussions to start right now," Grassley said of approaching McConnell with the new text and cosponsors.
"Mitch McConnell has been waiting for a signal from the Republican side that they're ready for the bill; I think today we have a signal," said Senate Minority Whip Dick Durbin (D-Ill.), who helped author the bill. "We're going to plead with him to put us on the agenda and try to move this as quickly as we can."
Durbin stressed that the bill can pass the upper chamber with a majority of Democrats and Republicans backing it. "This is the best chance in a generation to reform our federal drug sentencing laws," he said.
Still, the bill's fragility was lost on no one. To keep the package together, Senate Judiciary Committee leadership continued "breathing life into it again though various tribulations," committee member Sen. Sheldon Whitehouse (D-R.I.) said.
And alterations to the bill are unlikely to win over its harshest Republican critics -- namely, Sens. Tom Cotton (Ark.), Jeff Sessions (Ala.) and Cornyn's fellow Texan, GOP hopeful Ted Cruz, who all argue that a reduction in mandatory minimums would make communities less safe.
Cotton immediately attacked the changes, saying the "revised bill only raises more serious questions."
Sessions questioned whether the bill would "send a message to judges and prosecutors that we're not interested in people serving sentences anymore" as "the crime rate is beginning to go up."
Then there's the issue of whether the bill will contain a provision on "mens rea," or having a "guilty mind." The provision, if included, would require prosecutors to prove a defendant's guilt by establishing that he or she consciously intended to commit the offense.
Under federal regulations and statues, this isn't required for certain offenses, such as crimes committed by corporate executives against public health or welfare. Republicans in the House badly want the "mens rea" requirement to apply to these crimes, but Democrats don't -- making it evident that there are still deep divisions to overcome despite Thursday's bipartisan announcement.
"It's pretty clear to me that it's going to be in the House bill, so at some point we are going to need to deal with it," Cornyn said of the contested mens rea provision. "We've seen the over-criminalization of our regulatory system."
"One of the reasons it's not in this bill is because senators like myself take exactly the opposing view," said Whitehouse. "If we want to get into re-litigating elements of federal criminal code, then we can have that discussion separately."
"Like I said, no consensus," Cornyn said.
Overall, the bill's proponents are optimistic, pointing to recent endorsements by key groups like the National District Attorneys Association -- the largest group of prosecutors in the country.
The presidential race doesn't hurt either, according to Inimai Chettiar, director of the justice program for the Brennan Center for Justice. The need for criminal justice reform has become an important topic on the campaign trail, Chettiar said, and it's "putting more pressure on the federal government to do something."
Groups like U.S. Justice Action Network intend to keep applying that pressure, especially on senators who are up for re-election in hotly contested races this year, said Holly Harris, executive director of the advocacy organization.
Cornyn wouldn't say whether growing support for the bill means a vote could come up soon after the Senate recess next week. But if floor time opens up due to a stall in appropriations bills, he and other lawmakers are going to be ready to get the sentencing bill in there.
"We've got some momentum," Cornyn said.
Before You Go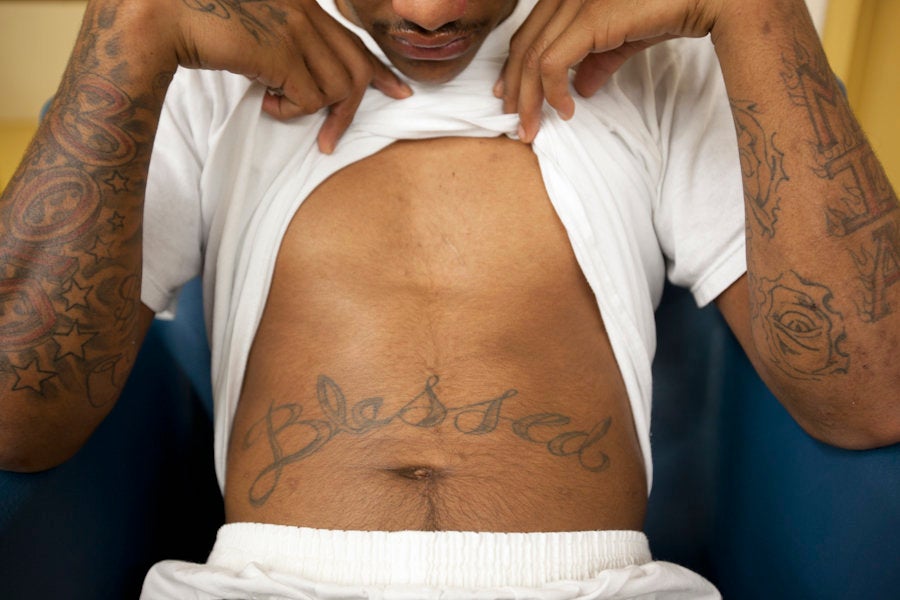 "Juvenile In Justice" Photographic Series
Popular in the Community