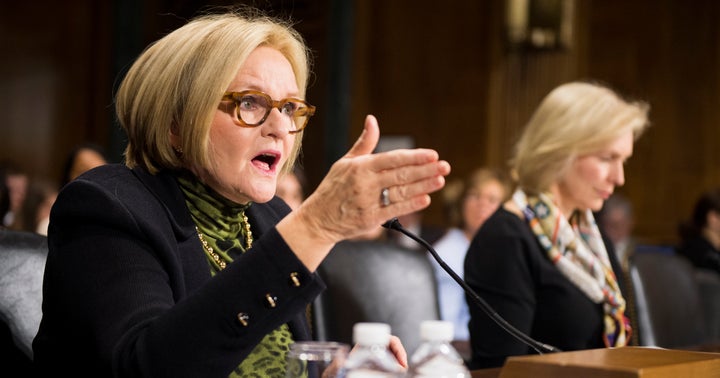 Sens. Kirsten Gillibrand (D-N.Y.) and Claire McCaskill (D-Mo.) called out national fraternity and sorority groups for lobbying to support a bill that would limit college sexual assault investigations.
Taking aim at the North-American Interfraternity Conference and the National Panhellenic Conference, the senators held a special phone call with reporters on Thursday to declare the groups' support of the Safe Campus Act "misguided."
The Safe Campus Act would block colleges from taking action on reports of sexual assault unless the alleged victim also reports the attack to police. The requirement would not apply to any other form of misconduct.
"Keep in mind, they have only carved out this exception for sexual assault -- not any of the other violent crimes," McCaskill said. "So a young woman could be robbed at gunpoint, decide she wanted to just try to get that person off campus and go to their university ... but if she was raped, she would not be able to do that unless she went to the police."
The NIC and NPC hired former Senate Majority Leader Trent Lott, a Mississippi Republican, as a lobbyist to push the groups' position on campus rape rules, The Huffington Post first reported. Congressional lobbying records show the fraternity groups have spent $210,000 this year -- $70,000 per quarter -- on this effort.
Both Gillibrand and McCaskill noted they were members of sororities as undergraduates, but neither NIC or NPC had spoken with them prior to supporting the Safe Campus Act.
"For me, it almost felt personal because I was in a sorority," McCaskill said. She added that she was "very disappointed" that sororities are allowing their dues go to NPC for lobbying efforts that are "really setting back the cause in a way that's unacceptable."
Gillibrand told reporters she plans to start reaching out to Greek life organizations in the near future.
The senators agreed that they don't think the Safe Campus Act has much chance of passing, but McCaskill said they felt compelled to note how much they disagreed with the fraternity and sorority effort to support it.
"The goal of any campus sexual assault legislation should be to encourage survivors to report [the] crimes," Gillibrand said. "This bill does exactly the opposite."
National fraternity groups had considered lobbying Congress to block colleges from investigating sexual assault cases until after a criminal inquiry and trial, according to audio from a conference call that HuffPost obtained in March. At the time, McCaskill said she believed the fraternities were out of step with students on campus, and Gillibrand described NIC and NPC's proposal as "backwards."
The NIC and NPC -- along with the fraternities Kappa Alpha Order, Alpha Tau Omega and Sigma Nu -- started paying Lott and other lobbyists in April. In July, they announced their support for the Safe Campus Act.
"I've got nothing against Trent," McCaskill said. "This is more about the people who have hired Trent."
The NIC and NPC did not immediately respond to request for comment.
Gillibrand and McCaskill are the lead co-sponsors of an alternative to the Safe Campus Act, known as the Campus Accountability and Safety Act, or CASA. Their bill would levy huge fines for colleges found to mishandle sexual assault cases, mandate confidential resources for victims, streamline certain procedures when universities adjudicate sexual violence accusations, and require more transparency about how schools punish students.
During the call with reporters Thursday, Gillibrand cited a HuffPost analysis showing that schools expelled less than one-third of students found responsible for sexual assault.
CASA has 34 co-sponsors, including 12 Republicans. Presidential candidates Sen. Bernie Sanders (I-Vt.), Sen. Marco Rubio (R-Fla.) and Sen. Lindsey Graham (R-S.C.) are backing the bill. While CASA was introduced primarily in the Senate, there is also a companion bill in the House. The Safe Campus Act has only been introduced in the House.
Rape victims' advocacy groups largely support CASA, as does the State University of New York system and the American Federation of Teachers. Higher education administrators are mixed on whether they back CASA.
Gillibrand said she expects CASA to be incorporated into the Higher Education Act, the legislation that sets most of the laws relating to colleges and universities.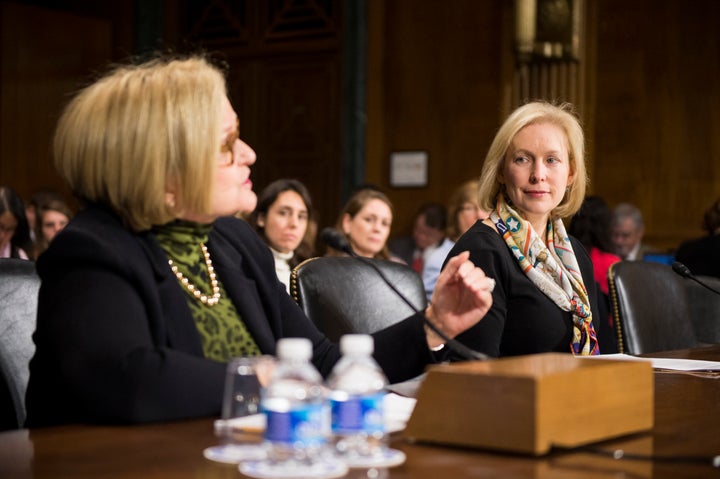 Popular in the Community