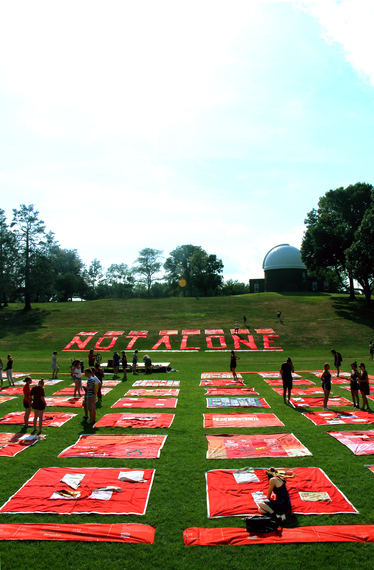 Yesterday, I sat in a circle of undergrads at Wesleyan University as survivors retold their experience of campus sexual assault to two U.S. Senators. Connecticut Senators Blumenthal and Murphy listened while a survivor explained that "campus rape is a real crime and needs to be treated like one." Her perpetrator, who was not only found guilty by Wesleyan's system but also confessed, returned to campus after an eight-week suspension. The University's survivors and advocates expressed on Tuesday that an eight-week suspension is not commensurate with the gravity of rape.
Sen. Murphy and Sen. Blumenthal visited Wesleyan and The Monument Quilt Tuesday in the middle of a national debate on campus sexual assault legislation. Sen. Blumenthal is part of a bipartisan group spearheading the Campus Accountability and Safety Act, a bill designed to curb the epidemic of rape on college campuses.
After the meeting, students and senators walked outside to enter a sea of red quilt squares. The Monument Quilt covered Wesleyan's iconic Foss Hill with stories from survivors of rape and abuse. The quilt is an on-going collection of stories to create public healing space by and for survivors.
"Everyday, I see rape culture on campus, but I don't see support for survivors. When I see this [The Monument Quilt], I see support. I see survivors not being alone," says Wesleyan student Tess Altman.
"After feeling very defeated at the end of last year, we started this year off with a powerful and positive message and a clear commitment to supporting survivors and changing policy," said Chloe Murtagh, Wesleyan student and event coordinator.
In a speech delivered at the quilt Senator Blumenthal stated that when talking with survivors of sexual assault he has heard that, "Many survivors felt they were victimized twice -- first by their assailant and second by the system."
On Tuesday, The Monument Quilt brought together law-makers, survivors and the public to work towards changing U.S. laws and culture to support survivors. As Blumenthal pointed out in his speech, rape is a traumatic event that most survivors experience many times over. First, through the initial assault and then again and again through inadequate community response. To recover and thrive through rape, survivors need and deserve support at every level including from their peers, their community, popular culture, government and institutions. What exists in the United States, currently, is the opposite. At every level, survivors face obstacles and burdens to recovery, so often that we carry the burden of sexual violence alone. Policy change and cultural change must work together to create a system of support for survivors.
While campus rape has gained momentum and garnered national media attention, college campuses are not the only spaces in the U.S. where rape is an epidemic. Loopholes of jurisdiction and systemic barriers to justice have also created high rates of sexual violence in the military, in prisons, and against Native American women. We must use confronting rape on college campuses as a starting point to confront rape everywhere. For example, while women have a 1 in 4 chance of being assaulted while in college, 1 in 3 women and 1 in 6 men will be sexually abused as children. In the U.S., more people experience sexual violence as children than as college undergrads.
Rape is not a special interest issue that affects a few people. Rape is a social justice issue that affects everyone. The groundswell of people standing up to rape culture that has swept across the U.S. in the past several years is, by my estimation and hope, just the beginning. From increasingly critical public reactions to Todd Akins, Steubenville, Robin Thicke, and the epidemic of sexual violence on college campuses, the media, our congress, and the US public are waking up to the overwhelming presence of sexual violence in the U.S. We must not only work to face the epidemic, but also to end it.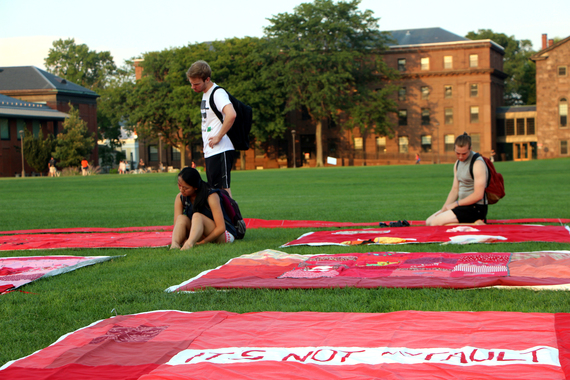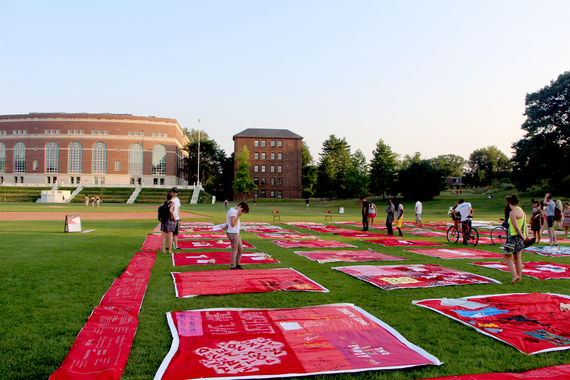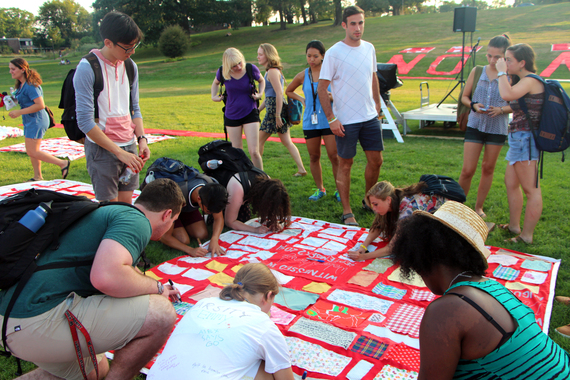 Calling all HuffPost superfans!
Sign up for membership to become a founding member and help shape HuffPost's next chapter