WASHINGTON — Six Democratic senators joined conservation and public lands advocates outside the U.S. Capitol on Tuesday to warn the Trump administration against stripping protections for America's national monuments.
Sen. Maria Cantwell (D-Wash.) said it's clear President Donald Trump is "trying a sneak attack" on national monuments with executive orders for reviews of certain sites. She said Trump is plotting to take important recreational, spiritual and economic areas from the public in order to exploit them for oil, gas and other natural resources.
"I guarantee you, somewhere, Teddy Roosevelt is rolling over in his grave," Cantwell said.
Twenty-seven national monuments — most famously, the 1.35-million-acre Bears Ears National Monument in Southern Utah — are threatened by Trump's orders, which task the departments of Interior and Commerce with reviewing land and marine national monuments designated or expanded under the Antiquities Act, which was signed into law by President Theodore Roosevelt in 1906.
The Capitol rally comes a day after the close of a 60-day public comment period Interior held for its monuments review. More than 1.4 million comments were submitted, according to Regulations.gov. The League of Conservation Voters said more than 2.7 million comments voiced opposition to the review.
Many are skeptical. Trump signed the executive order in the presence of Utah Gov. Gary Herbert (R) and the state's two senators, Orrin Hatch (R) and Mike Lee (R) — staunch opponents of the Bears Ears monument. Trump said Bears Ears was designated "over the profound objections of the citizens of Utah" and "should never have happened."
"This is totally unprecedented what this administration is doing," Schatz said. "The authorities in the Antiquities Act are total, and there's a reason for that. It gives a president the authority to say something is of such significance, culturally or environmentally, that it should be set aside in perpetuity for generations and generations to come. The Antiquities Act was not set up so that decisions could be reversed according to the politics of today."
Schatz added it's important to understand what's at stake: "It is literally our legacy of preserving culture and land."
Still, Trump appears set on trying to weaken monument status. He has claimed recent presidents have abused the 1906 law "to lock up millions of acres of land and water, and it's time we ended this abusive practice."
Zinke is expected to issue a final report on his monuments review in late August.
Also participating in Tuesday's rally and press conference were Sens. Martin Heinrich (D-N.M.), Michael Bennet (D-Colo.), Catherine Cortez Masto (D-Nev.) and Tom Udall (D-N.M.). The event, hosted by the League of Conservation Voters, drew approximately 100 people.
"Let's make sure the President Trump and Secretary Zinke listen to the public for a change and not just the polluters — that's the message," the conservation group's president, Gene Karpinski, told the crowd. "Keep public lands in public hands."
Before You Go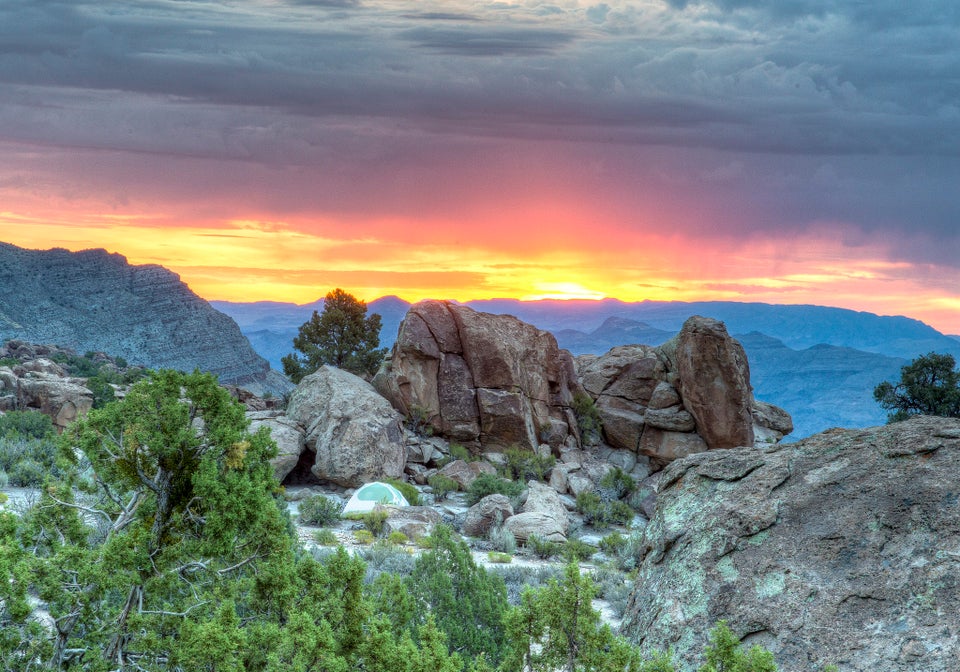 National Monuments Threatened By Donald Trump's Executive Order
Popular in the Community