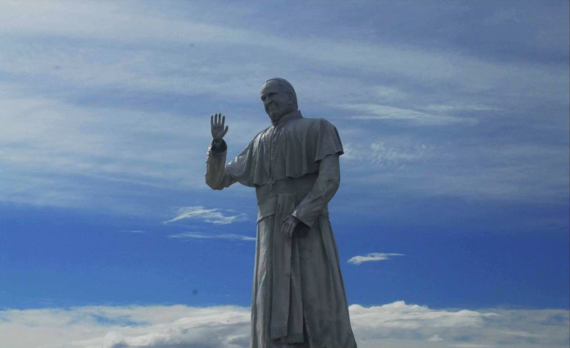 With many Catholics and non-Catholics alike thinking that the world is going in the wrong direction, maybe it's time to bring in the marines! Pope Francis may be just what the doctor ordered as a member of the Jesuit community.
The Jesuit order of priests and brothers are referred to as "God's Special Marines" in contrast to being trained through a Diocesan program like the other popes. Pope Francis is the first Jesuit to assume the office as the 226th Pontiff.
As a Jesuit, Pope Francis took vows of poverty (owning nothing), chastity and obedience (following the rules of Ignatius and the pope). And what is refreshing about Pope Francis is he lives it. These vows are reflected in his charismatic, humble and compassionate behavior.
Everywhere, people hungry for spiritual leadership, integrity and truth everywhere feel the excitement of his appearances and blessings. His arrival will not disappoint.
Pope Francis will be visiting the United States, beginning Sept. 22, on a 6-day spree of Washington, D.C., New York City and Philadelphia.
His whirlwind tour includes speaking at the Untied Nations, meeting with President Obama, addressing a joint session of Congress, visiting the 9/11 Memorial, celebrating Mass at Madison Square Garden, availing himself to a homeless shelter run by Catholic Charities, visiting Independence Hall, meeting with prisoners, and participating in the global Catholic conference, "The World of Families" with hundreds of thousands.
While Pope John XXIII began opening the doors of the Church to make the it more accessible to the common people with Vatican II, Pope Francis takes his views many steps further encouraging women leadership in the Church, his compassion and non- judgmental relationship with gay community and even asking forgiveness for the "evil" of some priests in the sex abuse scandals.
His everyday actions speak as loud as his words with his message. This Pope breaks through security and protocol to be one with the people he serves. He has been photographed kissing a disfigured man, lunching in the Vatican dining mess hall with the Vatican workers, rejecting the fancy red loafer specially made for him, paying his own hotel bill, surprising people on elevators, sleeping in a modest bedroom in the guest house shunning palatial accommodations, and using buses rather than limos.
It was reported that when he needed new glasses he journeyed to the optical shop, "just new lenses", he instructed. (I even follow him on Twitter!) This Pope GETS it!
Father Muir of St. Thomas Aquinas in Avondale, AZ sums it up: " In an age when power and money seem to have all the say, here comes his humble man who is wildly free to be himself, who loves being a priest and a pope." His humility allows him to be who he really is.
Enjoy this Pope's visit and may we all GET and LIVE the message.
Calling all HuffPost superfans!
Sign up for membership to become a founding member and help shape HuffPost's next chapter