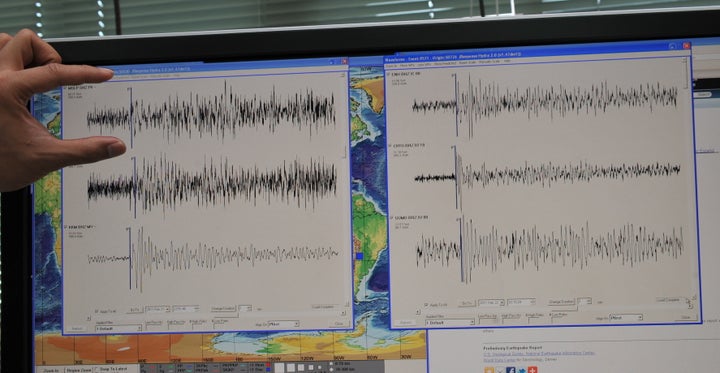 NEW YORK -- As tragic news from Japan continues to roll in following one of the largest earthquakes in recorded history, many are turning to scientists for answers: Could today's disaster have been predicted?
Some press reports have criticized seismologists for failing to forecast the force and location of the magnitude-8.9 earthquake -- which was stronger and hundreds of miles north of the site that, as CNN reports, Japan's government has worried since 1976 will be struck by a massive tremor. In an article boldly titled, "Japan: The 'Big One' hit, but not where they thought it would," The Washington Post's Joel Achenbach states:
Scientists today said the event has once again humbled them, reinforcing a growing sense that the field of seismology needs to ditch some of its presumptions about major earthquakes.
But the truth is that the scientific community has never claimed the ability to precisely forecast a quake, even though seismological analysis has made massive strides in recent decades with the development of real-time global-monitoring technology.
"We can't predict earthquakes," Dr. Daniel McNamara, a seismologist with the U.S. Geological Survey, told The Huffington Post. "It's a very complex system."
McNamara described seismology as a relatively new science, still "in its infancy," and said that while seismologists can now locate an earthquake anywhere in the world within 10 minutes and "give reasonable warning for volcanic activity and tsunami," ironclad earthquake-predicting capabilities are still beyond the field's reach.
That doesn't mean, however, that Japan's decades preparing for a large earthquake southeast of Tokyo -- dubbed the "Great Tokai Earthquake" -- were in vain, McNamara said. "If you find a scientist that has been studying a specific region and predicting an earthquake and one occurs out of that region, they will say it's a surprise, but it's still an active region," he said.
To that point, Friday's massive quake was "not a surprise at all," according to McNamara -- "it's a very active region."
As for the implications this earthquake has in relation to other seismic activity around the world, McNamara said science hasn't developed to the point to be able to make those kind of inferences. He "wouldn't dismiss the possibility" of a connection to the recent quake in New Zealand, or even the possibility of a quake coming to California -- as they are connected to the same plate system -- but "there's no way to prove it at this point," he said.
Though some believe earthquake activity to be increasing in frequency and strength around the world, McNamara said this isn't the case. "The 1960s were more active than now," he said. "One of the issues is that we have much better technology than decades past, so we can report on earthquakes more than ever before."
McNamara emphasized that the same progress with technology is apparent in the media, only adding to the perception that these events are occurring at shrinking intervals. But he noted that other than aftershock tremors, no increased seismic activity has been noticed in any areas near Japan's enormous earthquake since the quake hit.
CLICK HERE for live updates on the aftermath of Japan's disaster and the ensuing tsunamis, and CLICK HERE to find out how to help with relief efforts.

REAL LIFE. REAL NEWS. REAL VOICES.
Help us tell more of the stories that matter from voices that too often remain unheard.