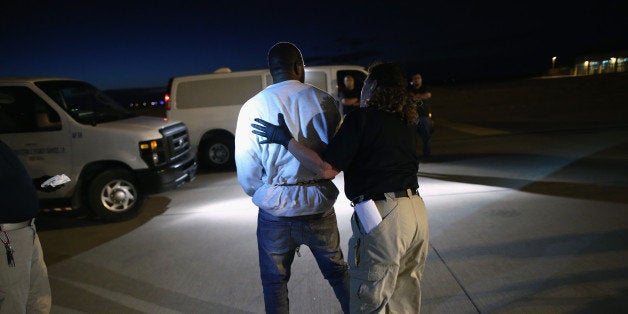 The Obama administration has announced its plan to deport Central American families. Immigration raids are underway in New York, Texas, Los Angeles and Georgia and more than 121 people have been deported since January 1. Sending refugees back will mean certain violence for many families.
These raids beleaguer Central American nations already facing increased insecurity. High homicide rates for women, children and LGBTI persons, increased militarization and economic devastation in Central America have redirected their migration to other countries, including the US.
The Northern Triangle countries also face economic uncertainty, poor healthcare systems, poor and underfunded public education systems that cannot absorb deported families. In Honduras and Guatemala, corruption is so severe that international commissions of oversight have been requested to investigate the theft of public funds, which can be traced to the Presidents' offices in both countries.
Sending refugees back to Central America is irresponsible, especially in light of the U.S. past involvement in Central America which has contributed to the instability of the region.
Denying refugee rights to Central Americans is not new in the United States. Indigenous Guatemalan and Salvadoran refugees faced a macabre immigration system in the 1980s that refused their asylum claims, despite compelling evidence of massacres in their home countries. During the Ronald Reagan administration in the 1980s, over 97% of Central Americans were denied political asylum because the administration feared admitting ties to murderous right wing governments.
As a result, people from these war-torn regions, many of whom had lost entire families and villages and were still under threat themselves, came to the US, were denied refugee status, and lived as undocumented immigrants making meager wages under exploitative working conditions in US cities.
Currently, DEA agents operate in the region in extrajudicial fashion and with little accountability to Central American local governments. In 2011, DEA agents shot two pregnant women along the Honduran North Coast in the dead of night while being transported to the nearest hospital to give birth; DEA agents thought they were narco traffickers. They were never prosecuted. In December of 2015, two Garifuna men, in the same region were shot to death by naval officers working with the DEA, again, because they were thought to be narco traffickers.
Five million dollars goes into funding security in Honduras, yet homicide rates have not decreased. Militarization has increased to the point where Garifuna (Afro Indigenous Hondurans) communities are in peril due to excessive violence. Despite winning a case in the Inter-American Court on Human Rights against the Honduran government for land theft, the Garifuna communities continue to face increased militarization and abuse at the hands of police and military. Currently, a rising number of detainees in Texas detention centers are Garifuna facing deportation without due process to their claims.
As the U.S. government and media ostensibly enter an era of LGBTI tolerance and acceptance, we do not see the same treatment for LGBTI immigrants seeking security in this country. LGBTI immigrants from El Salvador, Guatemala and Honduras face discrimination in these Central America nations; they are barred from jobs, education and the right to live in peace. They will be returned to certain violence. It is imperative for our nation to heed their asylum claims because it can mean the difference between life and death.
Central American cases merit careful consideration because they have credible claims as they flee their countries of origin; the majority are women, children, LGBT youth and other at-risk populations.
The U.S. can and must accept Central American refugees and acknowledge the crisis from which they are fleeing--a crisis that has been caused, at least in part, by the U.S. Reagan administration. The hardships facing current migrants rest upon past generations of migrants escaping war and genocide in the 1980s. Long after the peace accords were signed and the generals granted immunity, the daily strife and battle with death continued. It is up to the Obama administration now to rectify the egregious acts of past administrations. It is the right thing to do.
Popular in the Community