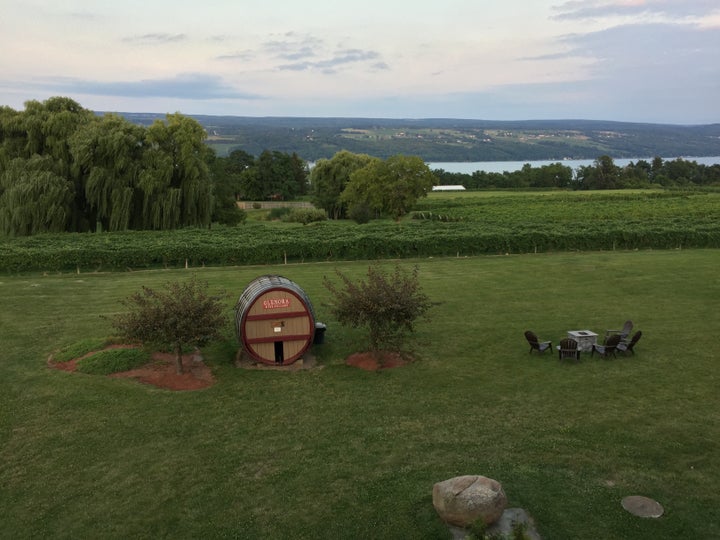 The Weeping Willow danced in the evening summer breeze. Without haste, its long flowing green tendrils swooshed side-to-side amidst the verdant vineyard with shimmering Seneca Lake in the backdrop. Overhead, cottony clouds peppered cobalt skies as the sun began its daily retreat.
On the airy terrace of Veraison Restaurant at Glenora Inn, I savored the fresh mountain air and sipped a zesty rose'. After starting my day in New York City and driving up to New York's Finger Lakes region, the calm vibe and rural surroundings was a bit surreal, but utterly delightful.
As the fiery sun tucked behind craggy mountains, my server delivered fragrant roasted arctic char, surrounded by nutty quinoa and roasty root veggies. The trio was harmonious with my glass of spicy Syrah - crafted next door at Glenora Winery - Seneca Lake's oldest winery, established in 1977.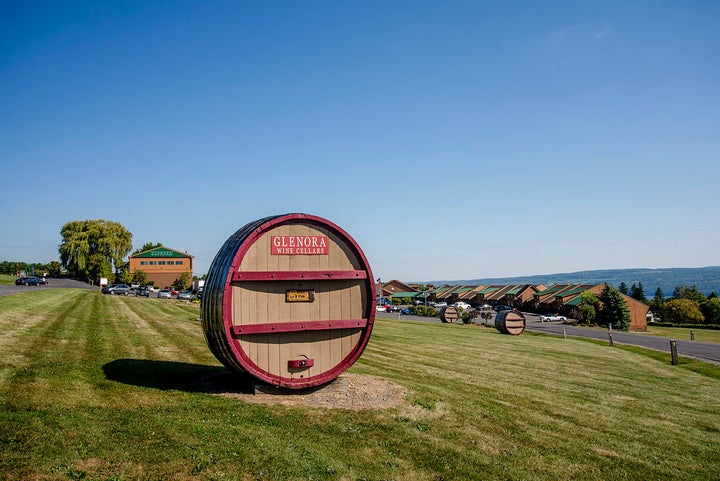 Known as "a place of stone," Seneca Lake is the largest and deepest of the Finger Lakes. Despite frosty winter temperatures dipping below 30 degrees, it does not freeze. Instead, the 38-mile long, finger-shaped lake retains the sun's heat - known as thermal retention – nurturing surrounding vegetation, including nearby vineyards.
In late-1970s Seneca Lake wine pioneers like Glenora Cellars and Herman J. Wiemer Vineyard found success on the western slopes, inspiring others to follow. Decades later, the Lake's western shores is home to dozens of wineries and where I've spent much of my time on previous visits.
But this summer, it was the winemaking on the eastern shores that captivated my attention. On a hot, sticky NYC July day, I quaffed a glass of quenching bone-dry Forge Cellars Classique Riesling at Bin 71, a popular wine bar in my upper westside neighborhood. I was blown away by the winemaking chops. It enticed with fresh white peach aromas and pleased with vibrant lime zest, fennel, buoyant minerality and splash of smoke.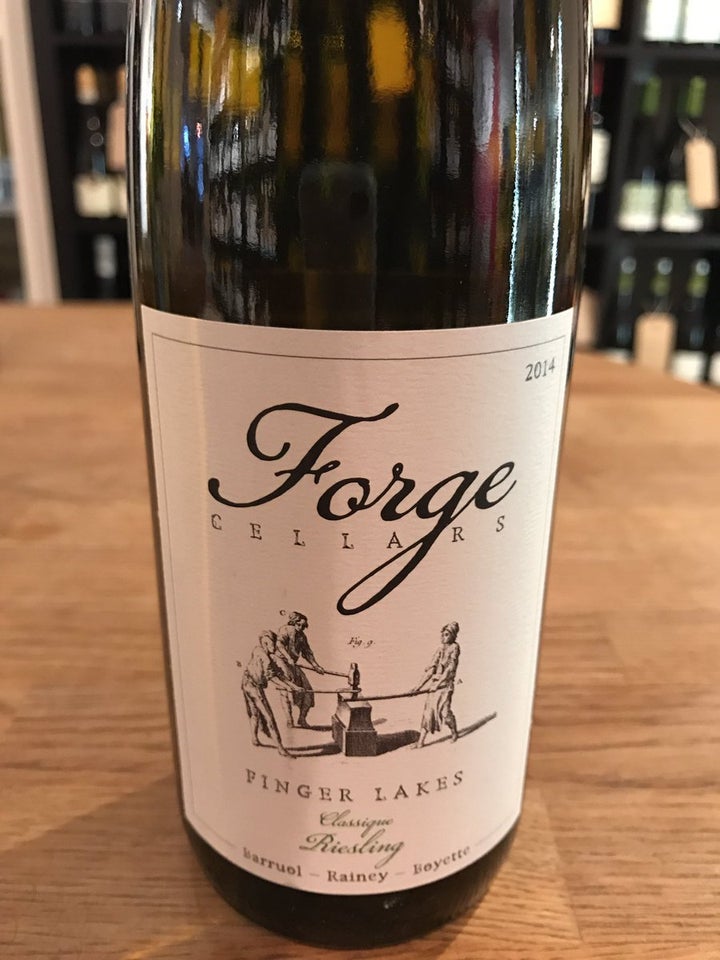 I'm a long time fan of Finger Lakes Riesling, but this was different. If tasted blind, I would have guessed it was from Alsace, France. Then I learned who the chief winemaker was and it started to make sense.
As I was planning my late-summer Finger Lakes getaway, Forge Cellars was top on my list. When I arrived at Forge's newly built eco-friendly winery, a big black barn-like structure, on a hilltop overlooking Seneca Lake, I was greeted by assistant winemaker Justin Boyette and managing partner Rick Rainey. Clad in well-worn Blundstone boots and long khaki shorts, Rainey's wild curly hair matches his exuberant enthusiasm and passion for well-crafted wine.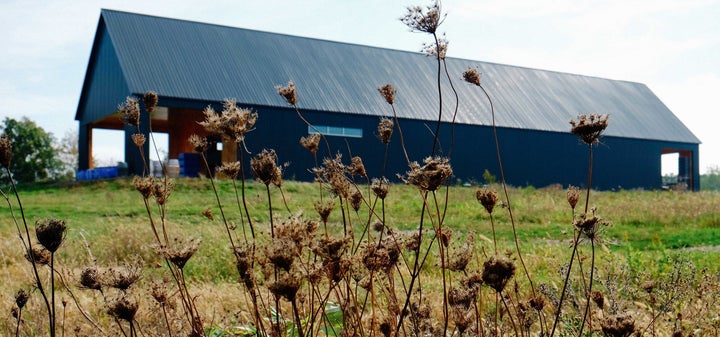 "We only make Riesling and Pinot Noir," explained Rainey, who has lived in the area for over 20 years – and worked in the wine biz for just as long. "We love these varietals and feel they have the greatest potential to tell the story of the 'Lakes.'"
Established in 2009, with their first vintage in 2011, Forge's wines were initially produced at Hector Wine Company, which Boyette co-owns. Their new 6,5000-square foot energy-efficient facility uses LED lighting with forklifts and hot water heaters powered by propane.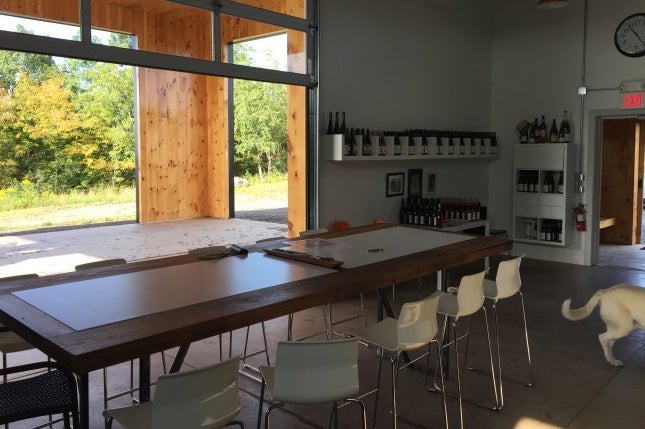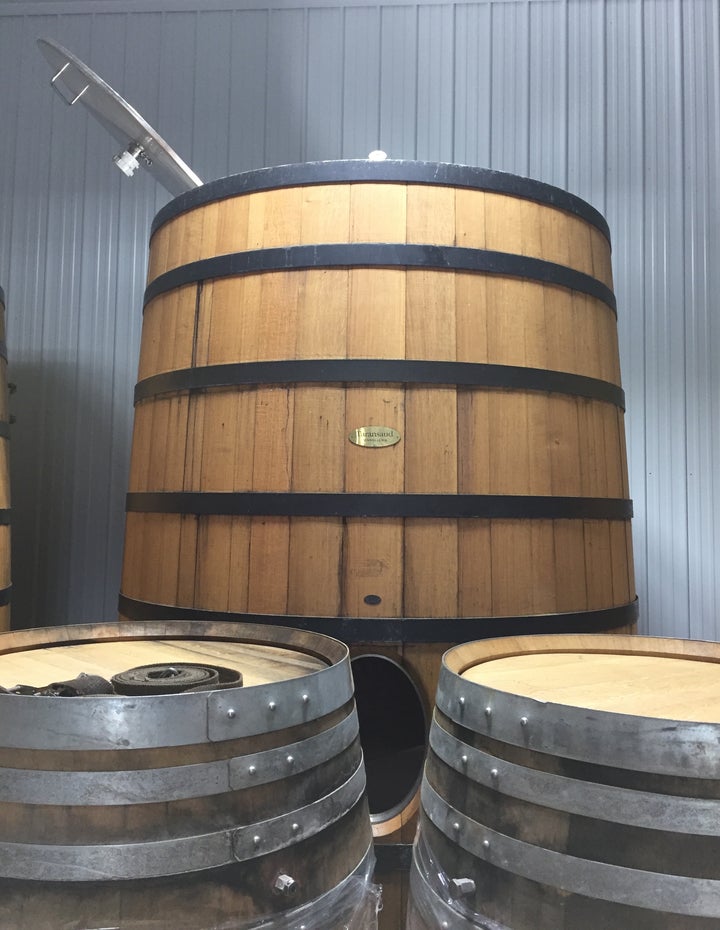 At Forge, new world technology seamlessly melds with old world winemaking. The third partner and lead winemaker is Louis Barruol, renowned 14th generation winemaker of Chateau de Saint Cosme , in Gigondas, France. His family has owned the southern Rhône winery since 1490.
Rainey met Barruol in 2008, in France, during a wine trip, when Rainey was a French wine buyer for an importer/distributor. "Though I don't speak French," noted Rainey. "I speak French wine and we got along well immediately,"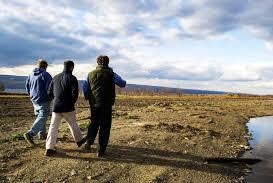 Over lunch, Barruol expressed interest in doing his own wine project, outside France. Rainey invited him to the Finger Lakes. Much to Rainey's surprise, Barruol phoned a few months later, asking when could come. Rainey invited Boyette, a fellow Finger Lakes wine guy, to join them touring local vineyards. At the end of the trip, Barruol announced, "I want to make wine with you in the Finger Lakes." Forge Cellars was born. Each partner's last name is scrawled across the bottom of every wine label.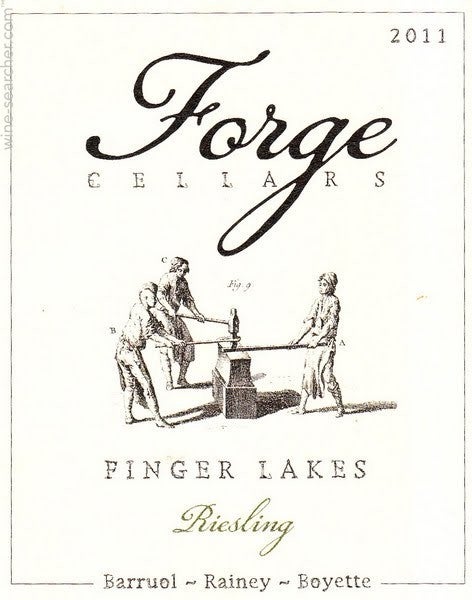 "If we can build a winery that in any way resembles what Louis has done at Saint Cosme, then I will consider it a success," Rainey told me, as we nibbled locally smoked fish while tasting through a variety of lively dry Rieslings – each with a unique personality. Forge has 12 different vineyard sites within an 8-mile stretch on the lower east side of Seneca to "showcase a lot of expressions of Riesling," said Rainey. "We want to have a dynamic, forward thinking winery that seamlessly flows between the growers to those working in the cellar."
I followed Rainey past a wall of wine bottles as we strolled through the spacious industrial work area to the cavernous, cool barrel room. Alluring sweet toasted oak filled the cool air and a rush of exhilaration and anticipation washed over me. I love barrel rooms.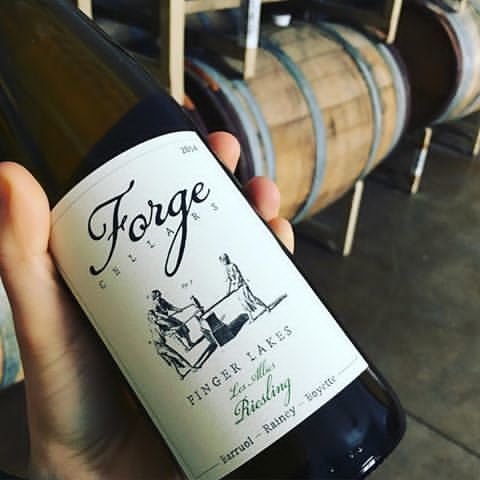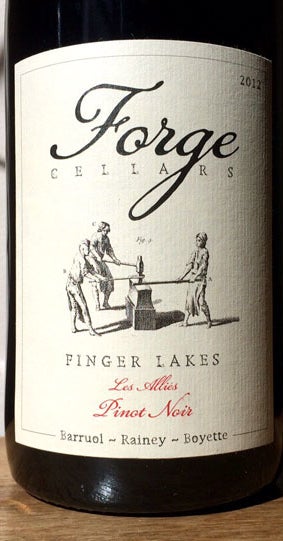 There was a boyish excitement as Rainey showed off their new digs and stacks of French oak barrels, crafted by some of France's best coopers, such as Tonnellerie Taransaud. Many were once used at Barruol's Chateau de Saint Cosme.
Some contained the follow-up to the 2015 Pinot Noir Les Alliés I was sipping, which had distinct Burgundian qualities with a new world edge. It enticed with scents of flinty black cherry and delighted with earthy wild strawberries, raspberries, black currant and wisps of granite.
We continued sipping and story swapping on the on the back patio, amidst the fragrant summer flora, overlooking Seneca Lake, until it was time to go.
My next stop was down the road at Standing Stone Vineyards in Hector. I was eager to sample their signature Saperavi wines. Standing Stone was the first American winery to bottle a wine under the name "Saperavi." This dark skinned, dark flesh grape indigenous to Republic of Georgia, is quite uncommon. With six-acres of the varietal planted, Standing Stone is thought to have the largest planting of Saperavi outside Georgia.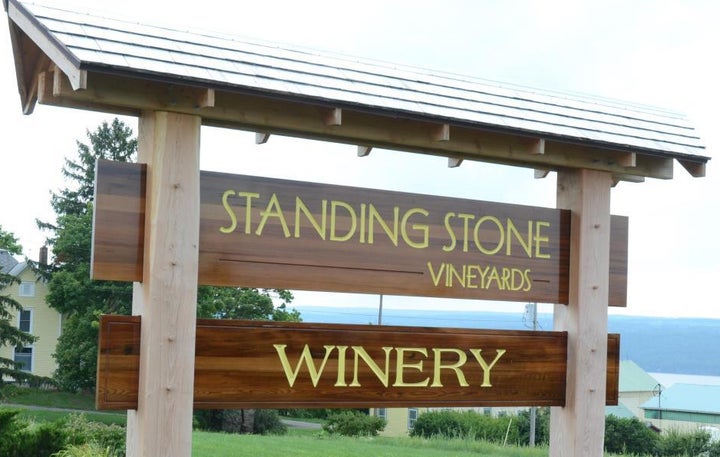 In view of still lake, we sat at a clothed picnic table set with bottles of Saperavi from 2012, 2013, 2014 and 2015, some Reserve. The vertical tasting was a terrific opportunity to sample the same varietal grown under different weather conditions - and with varying time in bottle - to compare and contrast characteristics.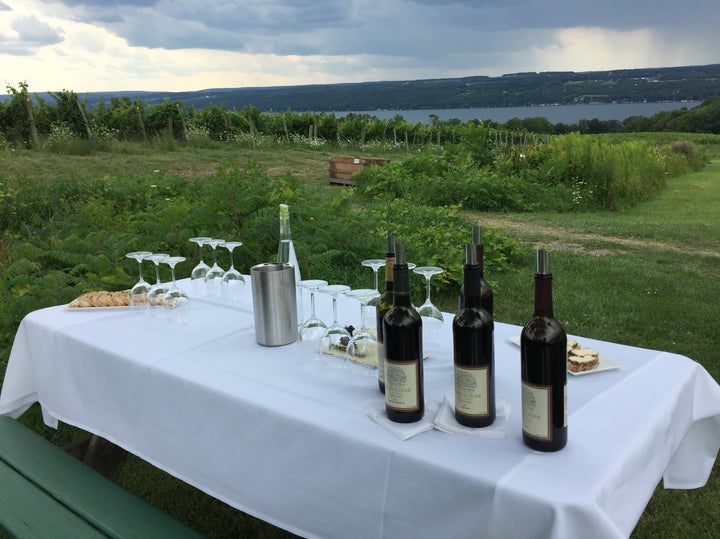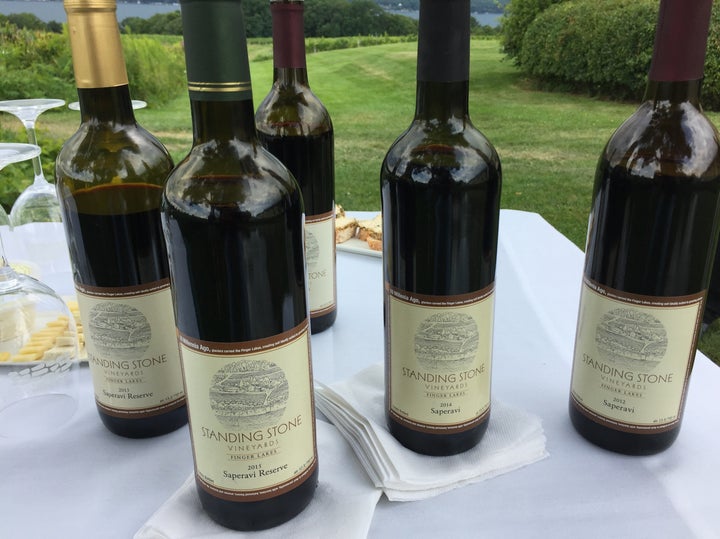 While, I enjoyed them all for various reasons, my favorite was the 2013 Saperavi Reserve, overflowing with rustic dark berry, pomegranate and spicy red plum. While, the 2012, a warmer growing season, had dark dense fruit with softer structure and tannins - but voluptuous mouthfeel.
Beyond Saperavi, the 2015 Petit Verdot charmed with herbal roasted black plum. While, the 2015 Gerwertztraminer packed ripe stone fruit aromatics with bright pear and lime-aide through its weighty body.
Inside, the newly renovated tasting room was buzzing with pods of imbibing buddies enjoying the $5 tasting, which is refunded with bottle purchase. I snagged a bottle of 2013 Saperavi Reserve before going in search of dinner.
To keep the wine theme going, my pal and I dropped into GRAFT Wine & Cider Bar, a welcoming hipster joint in downtown Watkins Glen. The warmly lit room was bustling with a mix of locals and visitors, seeking innovative flavorful fare and thoughtful wine.
We slid onto stools at the bar and ordered a stash of small plates to share and glasses of Atwater Dry Rose'. Sipping and chatting between bites of turmeric cashews with seaweed and roasted summer squash with tomato sauce & almond dukkah, we toasted to a very fun swirling and sipping day.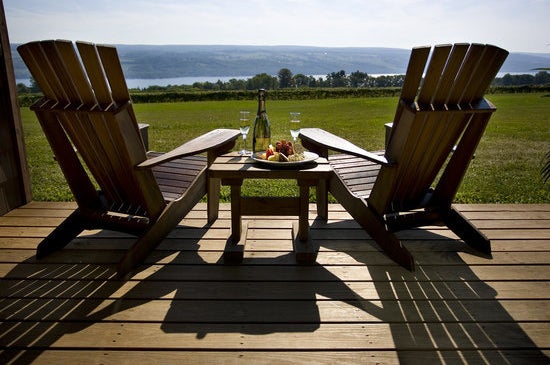 Feeling fueled, feisty and ready for a morning SUP (stand up paddleboarding), I headed to Hammondsport to paddle on Lake Keuka. Swimsuit clad sun worshipers floated on tubes, while others frolicked in the cool shallow water near the sandy tree-lined shore. I leaned forward, powerfully digging my paddle blade deep into the fresh sapphire water. Unlike my previous morning's solitary paddle on Seneca Lake, I passed scores of fishing boats, water skiers and kayakers as I glided north on the unusually Y-shaped lake - where trailblazer Dr. Konstantin Frank was the first to successfully plant Vitis vinifera grapes in the area, in 1962.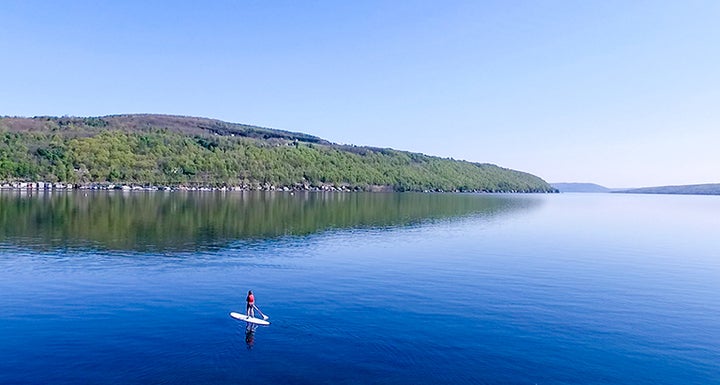 Along the leafy road paralleling the lake, bright Lycra attired cyclists pedaled around the lake's shady perimeter. The well-paved, low-traffic scenic roads with a mix of flat and hill climbing has become a magnet for cyclists – me included.
One day, I cycled a scenic undulating 60-mile loop near Seneca Lake. It started with a long steady climb out of Watkins Glen. Then zigzagged through sleepy towns, past fertile agricultural farms and alongside some of Seneca Lake's 40+ wineries and vineyards, including Standing Stone Vineyards, Hector Wine Company, Damiani Cellars – and past Finger Lakes Distilling.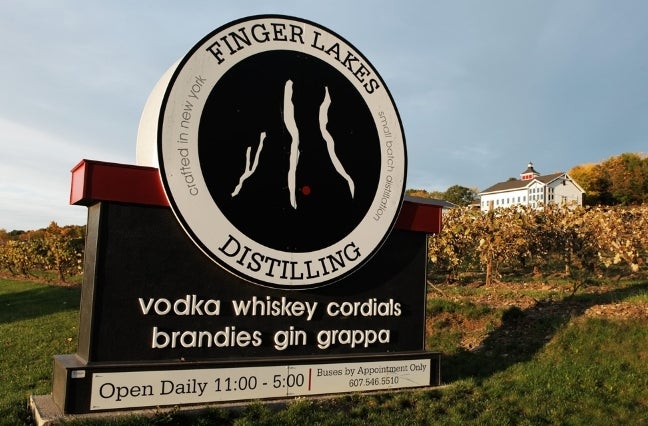 Wine is not the only Seneca Lake sipping specialty. Finger Lake Distilling crafts world-class whiskey, spirits and liqueurs. Prior to my visit, I taste McKenzie Bourbon at a friend's home and quite enjoyed it, so I was looking forward to learning more about the distillery and tasting their other libations.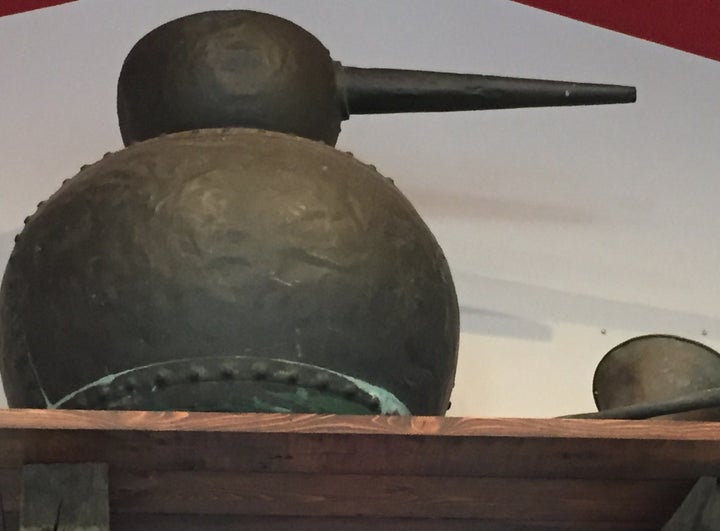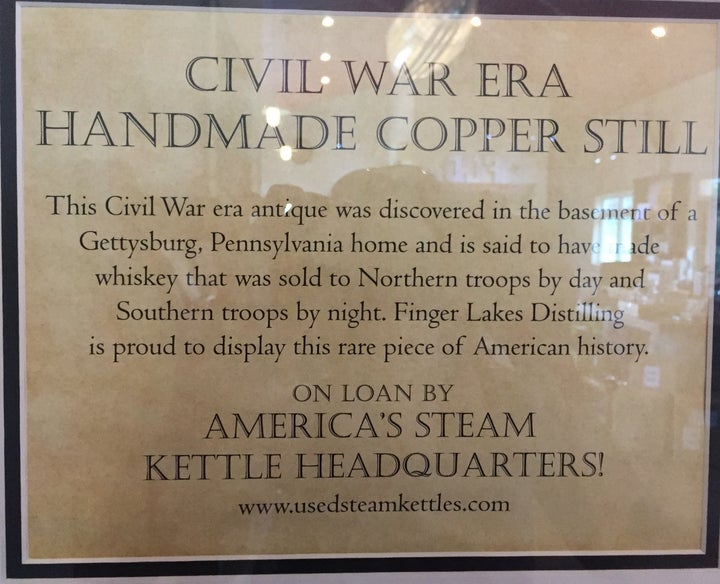 In the expansive tasting room, a Civil War era handmade copper still caught my eye as we began our tour. On the, back patio and bar - a favorite weekend destination - there were whiskey bottles filled with the precise mix of grains making up each whiskey mash. The bourbon bottle contained 70% corn and 20% rye and 10% malted barley, while Rye held 80% Rye and 20% malted barley. It was a fun and informative way to educate.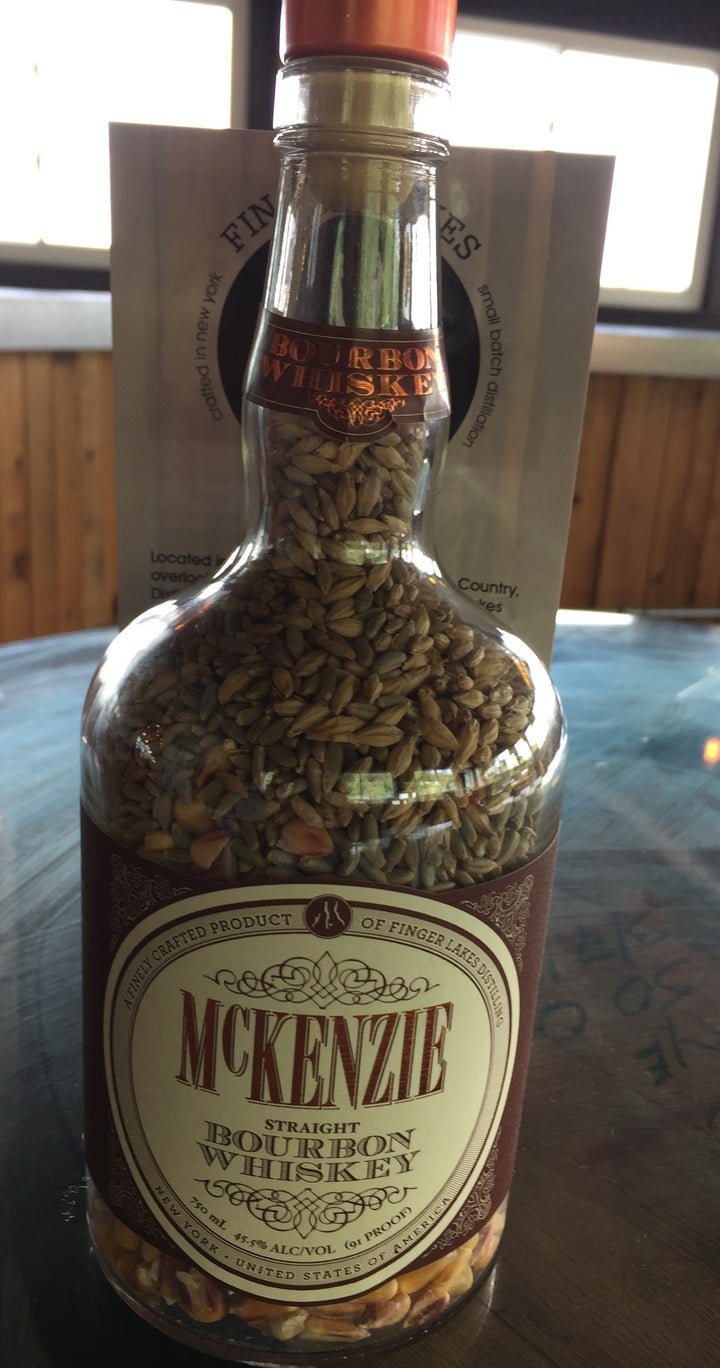 A NYS Farm Distillery, specializing handcrafted product, Finger Lakes Distilling, was started in 2008 by Brian McKenzie and Thomas McKenzie (not related). Given their rural location, 90% of grains and products are locally sourced from within 50 miles. Fresh grains are regularly delivered from local farmers who literally, back up their trucks and dump grains at the distillery's doorstep.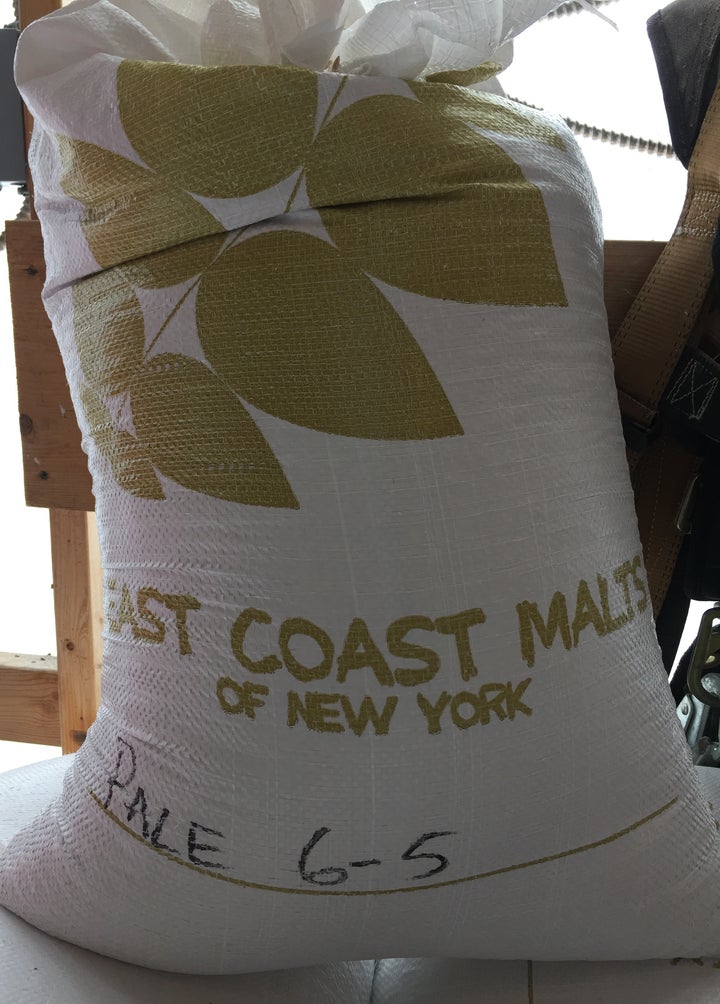 While, I've sipped my share of whiskies over the years, touring the facility offered new insight. We past aging whiskey in Missouri oak barrels on our way to where grains get milled into dust and dumped into a hot water "mash cooker." When the mash is toasty and cooked, its time to be fermented.
Against the wall, stood a 25-foot tall continuous still and 350-gallon copper pot still with a 20-foot rectification column. The latter was originally used for all production until 2013, when it became inefficient as the distillery grew and expand product lines. The continuous still is now used for whiskey, while the copper pot produces clear spirits. Currently, the distillery makes about 40,000 gallons of product annually.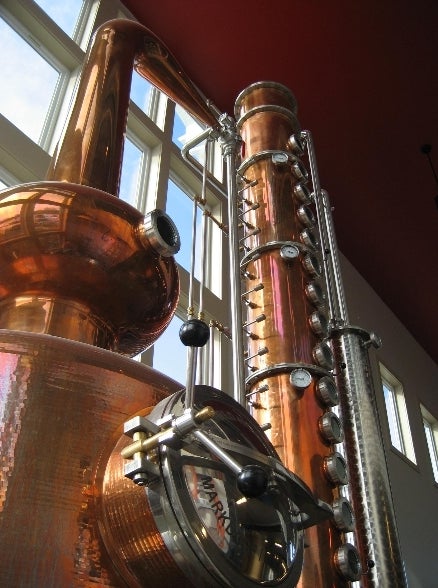 Although much of the process is mechanized, it was interesting to learn that the distiller decides where to make the cut between heads, hearts and tails of the distilled liquid. Its the hearts that get bottled, while the more powerful heads and less intense tails are added back to the next distillation run – or used for moonshine.
By the time we returned to the tasting room, I had a good thirst going. I belied up to the wooden bar to taste some of the gems in their extensive product line. The Distiller's Reserve Gin was super fragrant with wafts of juniper and pine. Its delicate palate charmed with bright citrus, cucumber, spice and hint of sweetness. I was ready to sign up for their OriGINal Gin Workshop, where budding distillers can create their own gin - choosing botanical combos, distilling and leaving with personalized bottles of booze.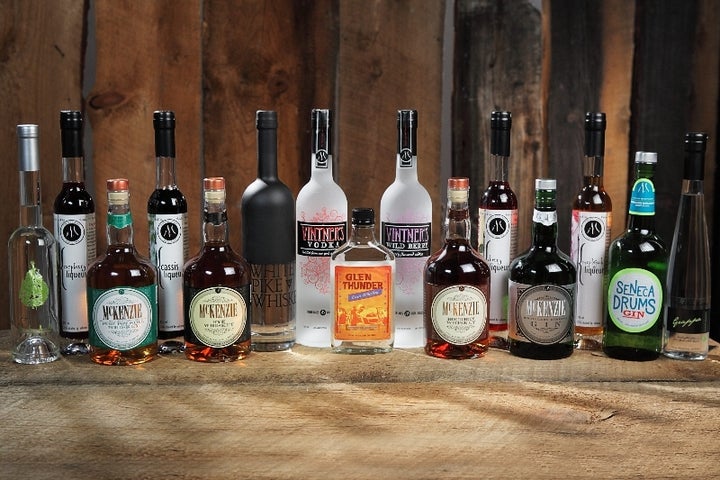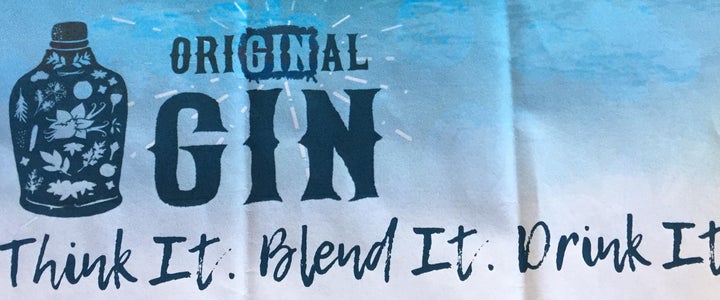 The McKenzie Bourbon packed a toasty caramel-vanilla nose with leathery toffee, dark fruit and vanilla in each sip, while the Pure Pot Still showed soft, herbal nuances. With notes of sherry and spice, the Rye delivered dried fig, spicy orange rind, hints of nutty wood - and surprising cinnamon on its fresh finish.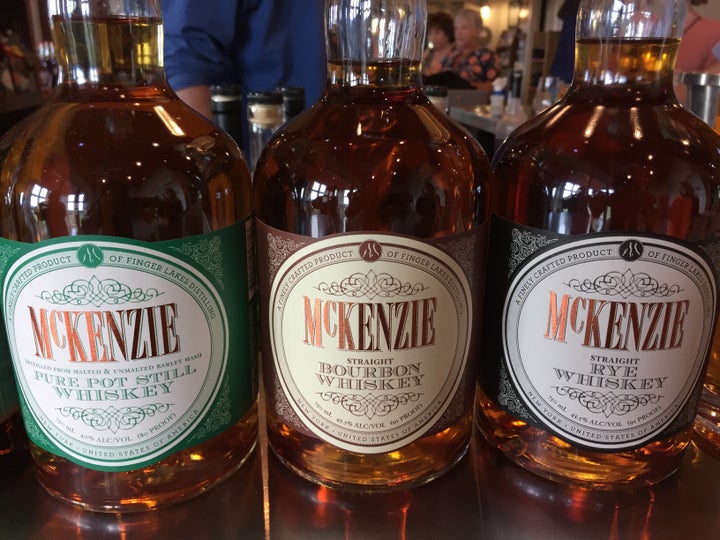 I wrapped up my trip with a lovely sunset sail on Seneca Lake with Schooner Excursions. A quick walk from the beautifully designed Watkins Glen Harbor Hotel, where I was staying, I met friends at the dock to board the 67-foot "True Love" for a Wine & Wind voyage.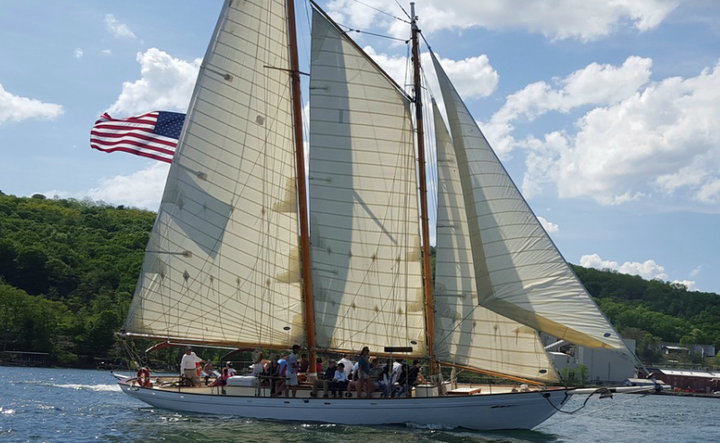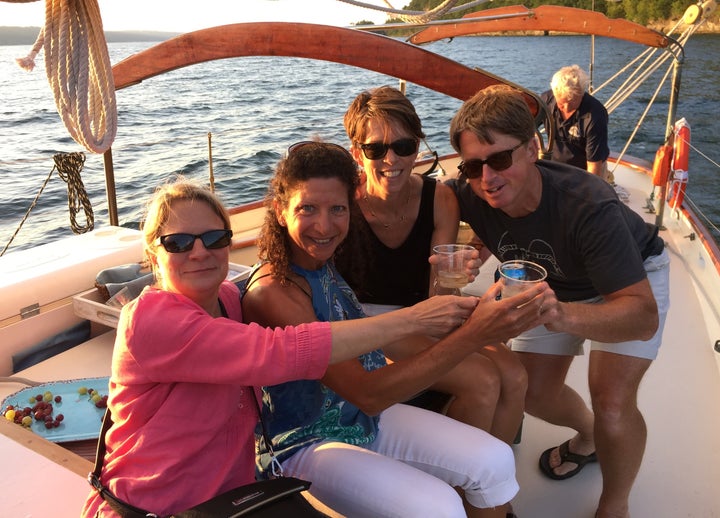 Under bluebird skies, we set sail. The invigorating warm breeze poured over me as I savored a glass of Dr. Konstantin Frank Dry Riesling - the evening's featured wine - drinking in the surrounding bucolic landscape peppered with fruitful vineyards.
Related
Popular in the Community