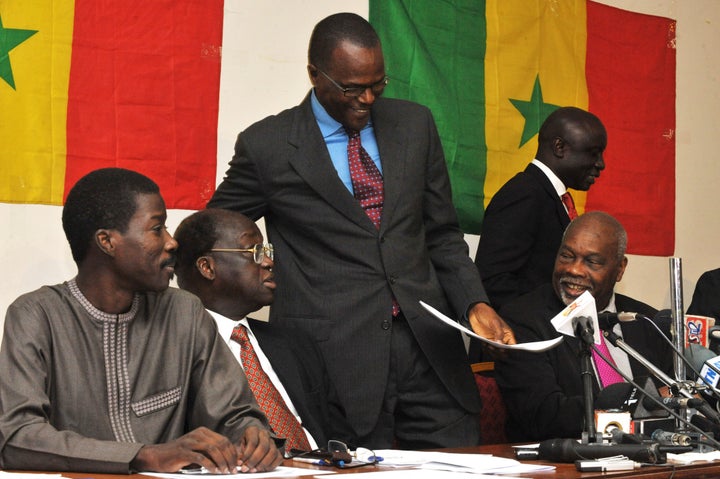 In four days more than 5 million Senegalese voters will go to the polls. With 65 percent of the population under 30, many will be voting for the first time. This has been a sorry introduction to democracy: the incumbent 85-year-old president engineered a way around the Constitution to seek a third term, which sparked riots and violence. Popular singer Youssou N'Dour has been barred from running
There has been little dialogue between the political parties and presidential hopefuls to end the violence and return to the peaceful political debate that should precede an election. If there was a case study on how not to run an election, this would be it. The young people of Senegal deserve better and, if we go back to basics, it may be that we can learn from these unfortunate events.
State violence towards citizens, political actors and journalists seriously threatens national stability and democracy. The right to protest is enshrined in the Senegalese constitution and the state's responsibility is to protect citizens, not to assault them. This violence could have been avoided if Senegalese institutions had entered into dialogue with the people they claim to represent.
Four days from the presidential election in Senegal, such dialogue has been completely absent, and the next steps for our country are worryingly unclear. Senegalese citizens are being sidelined from the electoral process as the Ministry of the Interior bans anti-government protests.
The pre-election period in Senegal was marked by waves of protest and violence surrounding the candidacy of Abdoulaye Wade, the incumbent president who has already served two terms and is seeking a third. For the opposition and a large section of civil society this not constitutional.
Forum Civil, the Senegalese anti-corruption organization we run, is calling for an independent enquiry to investigate the deaths of protestors and police with delay. All protestors arrested throughout the country must be released immediately. We have invited both government and opposition to a discussion so that we can we return to the more traditional republican election: one marked by debate, not violence. We are waiting for an answer.
Prior to the publication of the list of candidates in January, Forum Civil had already raised serious doubts over the decision to resolve the dispute over Wade's candidacy solely via judicial ruling, rather than through dialogue. The subsequent protest organized by the M23 movement, an opposition group named after a popular anti-Wade protest that took place in 23 June 2011, ended in bloody violence that caused the deaths of nine people and seriously injured several others.
To make matters worse, President Wade's government then decided to augment the salaries of the Constitutional Council on the eve of the publication of the list of candidates, which was unfortunate because it gave the appearance at least of linking a judicial decision to pay.
It is decisions like this, and others before, that have bred a mood of discontent in Senegal. 88% of Senegalese people believe that corruption has increased over the past 3 years, according to the last Transparency International survey on public opinions about corruption published in 2010. No other country in our survey showed such pessimism.
To change this negative view Senegalese citizens must work together to curtail violence of every form and to take responsibility for their own futures. Today Senegalese people live their lives under the shadow of corruption. Transparency International's 2011 Corruptions Perceptions Index scored Senegal 2.9 out of 10, ranking it ranked 112 out of 178 countries worldwide, and 22 of all countries in Sub-Saharan Africa. Surveys tell us that one Senegalese person in two has to pay bribes when dealing with public services. People are rapidly losing faith in the government's ability to protect them from this. 61 percent saying the government is ineffective in tackling corruption.
The Senegalese people must serve as the torchbearers of democracy, and mobilize against any institution that seeks to abuse the power entrusted to it by the public. To this end, Forum Civil have produced a list of " commandments" for effective voting. In principle, commandments such as "thou shall not sell your vote"or "thou shall not elect corrupt candidates or those who use violence" should be obvious. Not in the current climate. We have also prepared an electoral code of conduct for candidates to sign, so that the voters can see who is committed to free and fair elections.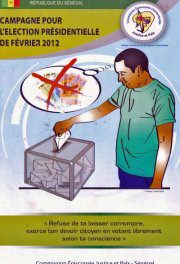 We should consider the suggestion of one of our parliamentarians, Wack Ly Ba, that President Wade publicly outline the costs and advantages to the nation of a third Wade term. During the election itself, it is essential that a vice president or another independent actor take the reins of power to ensure fairness. Also, as per Senegalese law, the territorial army must put in place local electoral committees to facilitate the tamper-proof dissemination of voting cards.
The Senegal of tomorrow belongs to the younger generation. We need to draw lessons from this difficult period and put together a broad political coalition to win back trust. This will only start if the political leaders, opposition and government alike, start talking seriously about the future of Senegal.
Related
Popular in the Community