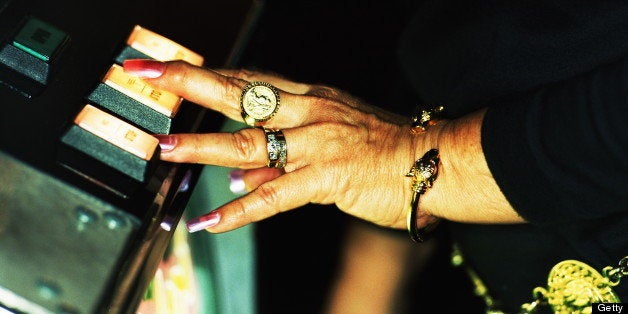 More than three months after a new state law forced senior arcades into retirement, the low-stakes, adults-only gaming venues are re-emerging across South Florida, with their owners and patrons playing by a new set of rules.
The law doesn't call for an outright ban on senior arcades, but its restrictions, such as not allowing gift cards to be awarded as prizes, make them less attractive to players. As a result, senior arcades disappeared from South Florida.
In recent weeks, however, about 40 have reopened, complying with the law by offering retrofitted, coin-operated gaming devices and paper towels and cookware as prizes.
At the Oasis Super Arcade and Bingo in Lauderhill, which reopened last week, patrons once purchased credits at the counter, slid their players' cards into the machines and wagered about 8 cents per spin. If they accumulated enough points, they could turn them in for gift cards. Now, to comply with the new law, they can play only using dollar coins.
Gale Fontaine, president of the Florida Arcade and Bingo Association, estimates that about 40 of the group's 200 members have reopened, though not every arcade belongs to the association. About 30 others have told her they have shut down for good, and she says "another 130 are still paying rent on their properties and trying to figure it out."
"Everybody's reopening differently, because the law is so ridiculous," she says. "This is not an industry that's going to go away easily. We didn't do anything wrong. [The law] went through like a locomotive. Had it been slowed down any, the truth would have come out."
Senior arcades became collateral damage on April 10, when Gov. Rick Scott signed a bill banning Internet cafes, often dark, low-ceilinged storefronts that offered sweepstakes-like games on devices that resembled slot machines. Legislators moved to drive the venues out of business after Lt. Gov. Jennifer Carroll resigned over her involvement with an Internet cafe company.
Until April, senior arcades operated under the so-called "Chuck E. Cheese law," which allowed patrons to win prizes in games of skill. Owners of senior arcades argue that their games fall under that category because players must push a "stop" button to halt the reels from spinning.
Fontaine says state legislators failed to understand the difference between Internet cafes and senior arcades. But they were joined in their opposition by Florida's casino operators, who argued that the businesses were not properly taxed and received no oversight.
Owners of Internet cafes and senior arcades have filed lawsuits that aim to repeal or rewrite the law. Alan Dershowitz, the author, TV commentator and Harvard law professor who has represented televangelist Jim Bakker and professional boxer Mike Tyson, is representing an Internet cafe in Homestead that he says is being denied its First Amendment rights. His suit argues that the law improperly expands the definition of a slot machine to include any device, such as a cellphone or PC, that can an access a network.
Lawyers representing senior arcades have filed complaints about Dave & Buster's and Boomers!, which award prizes for games that don't involve skill, let patrons play via prepaid cards and can pay more than 75 cents in a single play. The reopened senior arcades have had to eliminate those features in order to comply with the law.
Attorney Michael Wolf says that if the state were to clamp down on family arcades, public resistance to the law would increase.
"Abraham Lincoln said it best: 'The best way to repeal a bad law is to strictly enforce it,'" Wolf said.
Meanwhile, Fontaine says, senior-arcade owners don't want their properties, many of which occupy strip malls, going unused.
Jay and Mitchell Fisher, who own two senior arcades and are the complainants in a suit filed in Broward County, reopened their Boardwalk arcade in Tamarac last week and reopened Play It Again in Davie on Tuesday.
"We've been closed for more than three months, and we had to change how we operate," Jay Fisher says, noting that the Fishers, industry lawyers and Fontaine visited with the Broward Sheriff's Office before opening to make sure they are complying with the law. "We don't want to commit a crime, but the law as it is is so vague we don't know."
Most senior-arcade managers say they're trying to work within the law, rather than defy it. At Casablanca Game Room in Lauderhill, players buy at least $10 in tokens, play until they notch 75 cents, and then redeem their credits for prizes worth from $10 to $50, such as a set of nonstick frying pans or glassware. The room reopened on July 10 after being closed for three months.
"I just want the gift cards back," says William Larkins, 86, of Sunrise. "You have to work much harder to win something now."
His driver, Beverly Fernandez, of Tamarac, says, "These are places to come in and relax and have some socialization. No one is looking to spend a lot of money, nor make a lot of money."
NSortal@SunSentinel.com or 954-356-4725 ___
(c)2013 the Sun Sentinel (Fort Lauderdale, Fla.)
Distributed by MCT Information Services
Popular in the Community