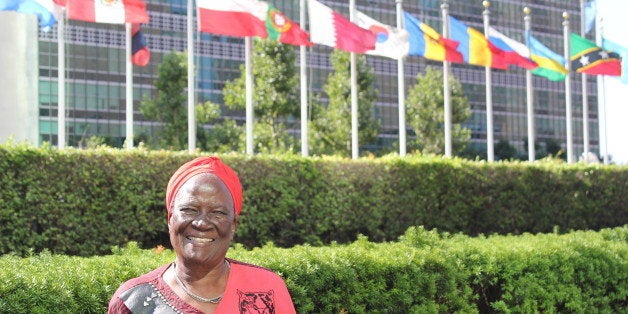 This month, I will be turning 78. In this same month, 193 world leaders will commit to 17 global goals to realize the human rights of all. I am one of 901 million older people currently living in the world and these goals are about me, too. Goal 10 of these 17 goals is to reduce inequality within and among countries and could change the lives of future older people everywhere -- but cannot be achieved unless my voice is heard now.
My husband died four years ago and that's when something changed for me. I had been campaigning for other people and then when he died I realized that it wasn't just for other people, it was for me, as well. I was the older person I was campaigning to support.
My husband wasn't well, and when we went to the hospital, the doctor didn't take him seriously. My husband died when I went to get him out of the car when we arrived home. It was then that I realized older people get treated differently when we go to the hospital.
One day, I went to a government official and made him come and see how older people were being harassed when waiting to get their pensions. In May of this year, the Kenyan government stopped providing money for older people through the post office where we have to wait all day to get our money. Now we can get it from the banks in our own time. It's good to see how I can change things in the area where I live.
I was never involved in campaigning when I was younger, but now that I'm older I've started to see that things should change. There are 120 of us in my local church group. A few years ago, we wanted to know what we could do to change things for older people, so HelpAge Kenya came to speak to us about our rights. Since then, I've been campaigning with HelpAge.
Through my group, we mobilize to take action, meet with ministers and call for the fulfillment of older people's rights. In 2013, I went to the coast region of Kenya, where a lot of older people are accused of witchcraft. I learned that these people were being tortured and killed by their family members, often for money or property. Governments think that because older people have families, they are being taken care of, but we have shown them that we are not protected and are not treated equally.
This year my campaigning has led me to join with the global-coalition campaign action/2015. This campaign has brought together more than 2,000 organizations all taking action for one cause: to raise awareness of 2015's potential to change the world.
The movement has given me the chance to campaign with other generations. It has meant campaigners from around the world who will never meet in person can have the chance to unite, despite our different backgrounds and our different lives.
In action/2015 we have a voice and are recognized as advocates of our own change. This is how we can reduce inequality over the next 15 years, by raising the voices of those who are usually left behind.
I'll be in New York at the UN in September, meeting with Amina J Mohammed, Ban Ki-moon's special adviser on Post-2015 development planning. We will be discussing the importance of including older people in development debates when the Global AgeWatch Index 2015 launches.
The SDGs cannot be achieved just by agreements made in New York; local-level campaigning will make these goals a reality. Campaigning has taught me that if we don't come together to push forward for better things, we will go nowhere. There are many older people in my local community and by working together we can make the world shake.
This post is part of a series produced by The Huffington Post, "What's Working: Sustainable Development Goals," in conjunction with the United Nations' Sustainable Development Goals (SDGs). The proposed set of milestones will be the subject of discussion at the UN General Assembly meeting on Sept. 25-27, 2015 in New York. The goals, which will replace the UN's Millennium Development Goals (2000-2015), cover 17 key areas of development -- including poverty, hunger, health, education, and gender equality, among many others. As part of The Huffington Post's commitment to solutions-oriented journalism, this What's Working SDG blog series will focus on one goal every weekday in September. This post addresses Goal 10.
Calling all HuffPost superfans!
Sign up for membership to become a founding member and help shape HuffPost's next chapter