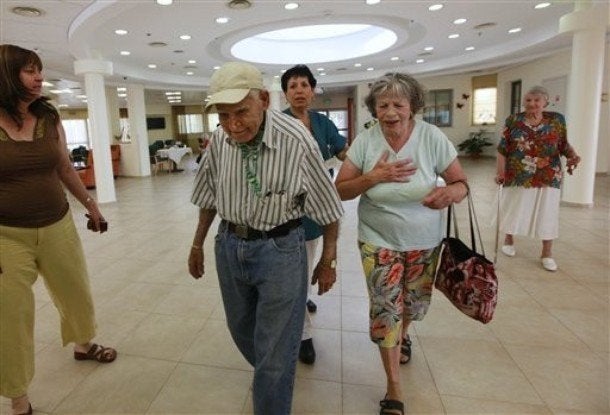 A new mailer being sent to senior citizens warns that Democratic-considered health care reform would result in the rationing of care and the creation of a massive database that would endanger the privacy of personal medical information.
Authorized by the Senior Citizens League, the piece seems tantamount to the Holy Grail of health care reform scare-tactic mailers.
Sent out under a cover letter from former Congressman David Funderbruk (R-N.C.), the literature starts by raising the frightful specter of private medical data become widely accessible to the public.
"How would you like it if your doctor, your clinic, or other healthcare providers -- without either your knowledge or consent -- gathered up your, along with your family's medical history, and sent your most intimate conversations to a central data bank in Washington D.C. to become a part of the largest computer network ever created?" Funderburk writes.
The piece, which was passed along to the Huffington Post from a concerned recipient, goes on to make other dubious claims about health care reform. The author -- Senior Citizens League Chairman Dan O'Connell -- warns that doctors will have to consult the massive new database before they can provide care for seniors. "The theory," the mailer reads, "is that this new approval system will enable Medicare to deny claims because it will allow government experts to disapprove treatment, prescriptions, surgeries and other care they feel is inefficient or inappropriate -- and approve care they believe is appropriate."
The accompanying, seven-question survey, pushes many of these same points: warning seniors that their private medical information will be hacked, their care rationed and their medical priorities handed over to government bureaucrats.
Health care reform, of course, pushes no such rationing. Instead, Democrats along with the administration and even some congressional Republicans have argued that advance health information technology and coordinated care could cut down on unnecessary administrative costs -- in the process, allowing doctors to provide better, more efficient treatment.
The Senior Citizens League doesn't acknowledge these points. Instead O'Connell's claims are footnoted to former New York Lt. Governor Betsy McCaughey -- a highly partisan and largely discredited voice in the debate.
"One of the major savings the plan's creators are counting on is the imposition of rules by a new government health review board to approve the use of surgery, other treatments, diagnostic procedures, and medications ONLY when it is 'appropriate and cost effective'" the mailer reads.
"[I]t will inevitably lead to a two-tier system of treatment - older patients will receive a lower level of care than younger, stronger patients who are expected to have longer lives ahead of them."
Asked for comment on the mailer, Shannon G. Benton, executive director at the Senior Citizens League, said the group was "concerned with issues related to patient privacy and how patient information will be used by Medicare to determine appropriate treatments."
"Those concerns have not been fully addressed by Congress or the administration," Benton added, "and it is our obligation to make sure that seniors don't suffer breaches of privacy or shortages of care."
As part of the process of protecting the priorities of seniors, the group appears to be planning a lobbying push in Congress. The mailer, O'Connell writes, "is the best and most effective way that Medicare beneficiaries can make their views known." The results, he adds, will be "rushed to Members of Congress, decision makers at the White House, policy makers in government and officials at Medicare..."
"If a significant majority of Medicare beneficiaries who complete this survey are clearly opposed to specific parts of the plan, then Congress, the Administration and the bureaucrats WILL respond."
"BUT, once the computer system and approval process is in place they will be virtually impossible to change."
The group also asks recipients for small donations of five, ten or fifteen dollars to help get the survey attention. "Remember," O'Connell writes in the postscript, "your future health, your privacy, and your security are at stake."
The Senior Citizens League, which claims to be "one of the nation's largest nonpartisan seniors groups" with 1.2 million supporters, has been accused of sending misleading mailers to seniors in the past. In July 2001, the organization denied -- in a congressional hearing -- being behind deceptive mailings that, among other things promised seniors government money in the form of slave reparations.
Popular in the Community