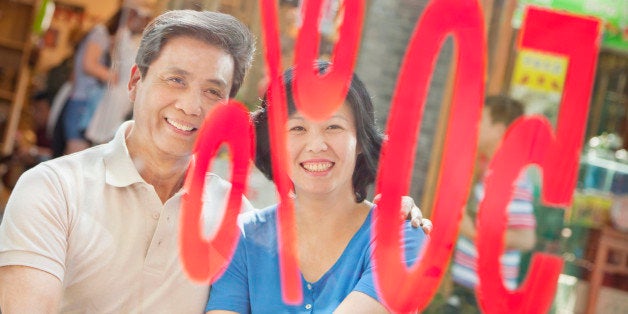 Turning 50 can be scary... besides becoming increasingly worried about your impending empty nest, the uphill battle to defy the effects of gravity, and getting called "ma'am" by just about everybody, you also start dreading mail deliveries and the arrival of your AARP senior discount card which, in your mind, means you're officially "old." Ick. But don't toss that card and your newly-minted "senior" status out just yet. Yep, turns out, if you can just get over the unsexiness of the "senior discount," there are actually plenty of reasons to get stoked about the milestone. Here are a few of the best:
TRAVEL
Hopefully, with your kids leaving home soon and your other responsibilities winding down, you'll have gobs more free time to take those dream trips on your bucket list (which sits collecting dust).
AARP offers impressive discounts on your hotel stay, ranging from 5-20 percent at all sorts of hotels from the more basic, like Super 8 Motels, to high-end, like the Waldorf Astoria Hotels, if you join for just 16 a year or less. Best Western hotels offer 10 percent off to anyone over 55.
If you'd prefer to take to the seas, both Carnival and Royal Caribbean are two major cruise lines with multiple destinations that offer a discount to passengers over 55. Since cruises are all inclusive, with meals, entertainment, and lodging all included in your package price, you're essentially saving on every aspect of your trip by taking a cruise.
If you're one for the scenic route, many car rental agencies offer a senior discount to AARP members as well as anyone over 50. Hertz offers a variety of "baby boomer" specials, including free upgrades from economy to full-size cars at participating locations, and anywhere from 5-10 percent off for rentals. AARP members can also enjoy deep discounts all the way up to 30 percent off of rentals with companies like Avis and Zipcar.
CARS
No doubt, for many drivers, a major money suck is costly insurance rates -- as well as maintenance costs -- that seem to keep going up and up each year.
Some insurance companies offer special perks for post-50 drivers. GEICO for one has deals geared specifically toward baby boomers. If you complete a defensive driving course, have a squeaky clean driving record for over five years, insure multiple cars, or are a member of a credit union or other organizations, you could save up to 26 percent.I Drive Safely offers a driving course for drivers over age 55, promising up to 15 percent off your monthly premiums. The cost of the course is minimal and varies by state.
Let's not forget those costly car tune-ups. Jiffy Lube, which offers services like oil changes, brake fixes, and tire rotations offers up to 10 percent off of services for people over 55, according to SeniorDiscounts.com. Just make sure to check with your local center to see exactly what they have to offer before you take your car in.
SHOPPING
Whether you're buying a little something for yourself or treating your kids or grandkids, any money saved on clothes, accessories, and other everyday items adds up quick.
One of the best ways to get more bang for your buck is to hit up outlet malls, which offer name-brand stores, at a reduced price compared with regular retail. Tanger Outlets offer coupon books to AARP members with deals saving you up to 20 percent off at stores like the Gap, J. Crew, and Tommy Hilfiger. Most Premium Outlets locations offer 50-plus shopper perks on Tuesdays, saving you 10 percent on your purchases.
If you're shopping retail, it never hurts to ask if they offer any special senior discounts or even discounts for military or teachers. Banana Republic stores offer up to 10 percent off in participating locations, according to SeniorDiscounts. Department store lovers can also enjoy some perks -- Kohl's offers 15 percent off to customers over 60 in their stores every Wednesday and some Bon-Ton stores offer a senior discount as well.
FOR TIME WITH THE KIDS AND GRANDKIDS
We love our little ones, but let's face it: entertaining kids can get pricey when a regular old board game or day at the park just won't do.
When the kiddos just can't wait to see the latest summer blockbuster on the big screen, a trip to the movies can end up costing a fortune with popcorn, drinks, and snacks often costing more than your tickets. If you're 60 or over, many major movie theatre chains offer a discounted rate including Regal Cinemas, and Landmark Theatres (62 in most markets). Some AMC theatres have a designated senior day in which you can enjoy a special rate all day if you're 60 or older.
No trip to the movies is complete without a pizza dinner afterwards. AARP members can enjoy 25 percent off their entire order at select Papa Johns Pizza locations when they order online and use the special AARP promo code. A number of other chain restaurants, ranging from fast-food to buffets to sit-down eateries also offer discounts varying by age and location, which you can ask for on the spot or check out on recommended savings websites like Sciddy.com or SeniorDiscounts.com.
Did we miss anything? Make sure to share your money-saving tips and tricks with us in comments below.

REAL LIFE. REAL NEWS. REAL VOICES.
Help us tell more of the stories that matter from voices that too often remain unheard.
BEFORE YOU GO
PHOTO GALLERY
7 Easy Ways To Make Extra Money--Without Working