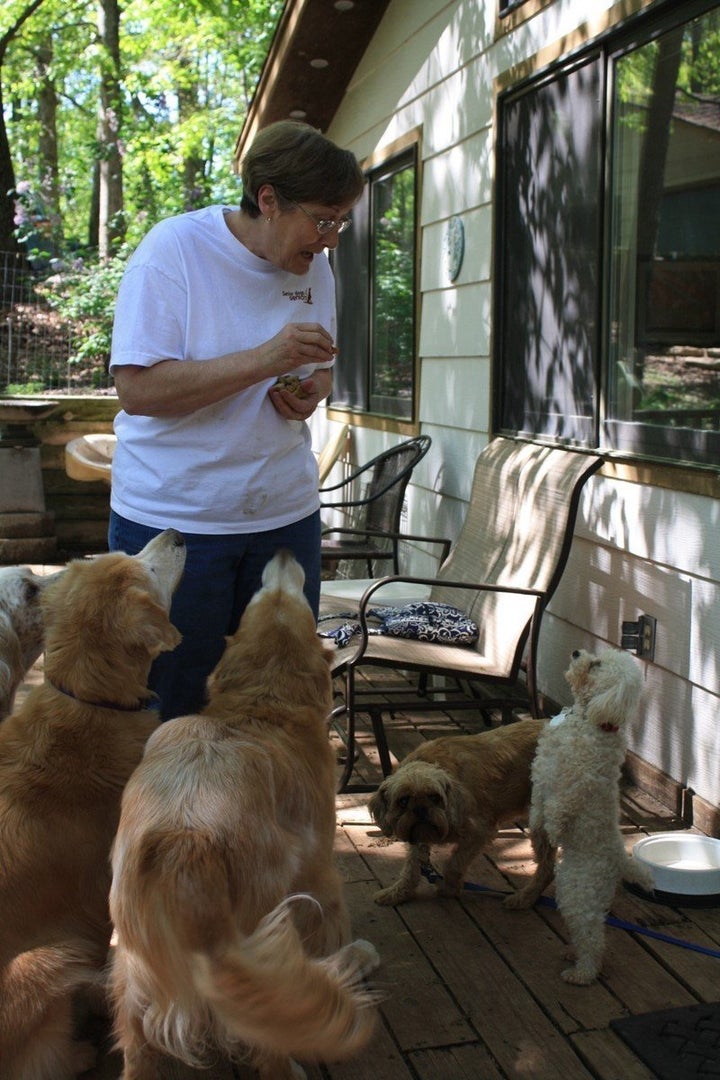 Tucked away in a beautiful forest in Chesterfield, Missouri, Diane and David Pierce's house is home to 16 dogs, only a few of which are their own. The reason behind this large household is not only the great canine love they share but a inspirational desire to solve two problems with one solution: Senior Dogs 4 Seniors.
After training her own two Golden Retrievers as therapy dogs, Diane saw the difference the presence of a dog made to the lives of older people who often lack the companionship that a dog can offer. David and Diane "took them to hospitals and nursing homes, and became aware of the magic that happens when a dog walks into an older person's room."
The couple had also been volunteering with a golden retriever rescue in Missouri for many years. From their work at the rescue, she realized that older dogs were often difficult to place with new families who wanted young, female puppies.
Diane explains that she and her husband "came to understand that the older dogs were perfect. They're potty trained, you don't have to exercise them, they're well behaved, but nobody wanted to adopt them."
Putting the two facts together, Diane realized that she could give dogs the homes they needed while giving older citizens exactly the companion they wished.
While the benefits of owning a dog can be many for an older person, the difficulties that come with that responsibility can sometimes be too much. This is why Senior Dogs 4 Seniors does far more than just act as a rescue, fostering, and adoption center.
David and Diane regularly visit the older people who have adopted dogs from them to ensure they are coping well with their new friend. They will bring food to the owner whenever it is needed, clip the dog's nails, and anything else that might be difficult for an older owner to cope with on their own.
The benefits of the dog's presence in these seniors' lives is clear. They provide a friendly ear to listen to any story, at any time of the day or night, as well as the reason why they need to go for a walk or the excuse they need to talk to their neighbors.
The dogs themselves are found in shelters, given to them by vets or rescued from puppy mills. They are often taken to Senior Dogs 4 Seniors in a less-than healthy state but they are soon given a bath, some food and a trip to the vet.
Over the four years the organization has been running, they have taken in over 700 dogs and the vet bills have come to over $140,000. The adoption does require a small fee but it is returned in full if the dog is found not to be the right match for the person or family.
When the person finds their perfect dog, however, "you watch a person light up" says Lisa Harris, Vice-President of Senior Dogs 4 Seniors. "You find that match. That person and that dog are there for each other, and we just help them together."
The adoption process is thorough. It ensures the adoptive family has the means, both financially and emotionally, to take care of an additional member of their family. Diane carries out home visits to make sure both the house and potential owner are suitable and is always careful to find a safe and happy environment for the dog.
The strength of the program is in its simplicity. It pairs dogs who need a home with people who need a companion. "Nobody wants the older dogs and these older people really need them and would benefit from them," says Diane.
Senior Dogs 4 Seniors benefits both the dogs and the people greatly. "It is our mission to place older dogs with older people and to support that relationship and do whatever it takes to make it work."
Calling all HuffPost superfans!
Sign up for membership to become a founding member and help shape HuffPost's next chapter