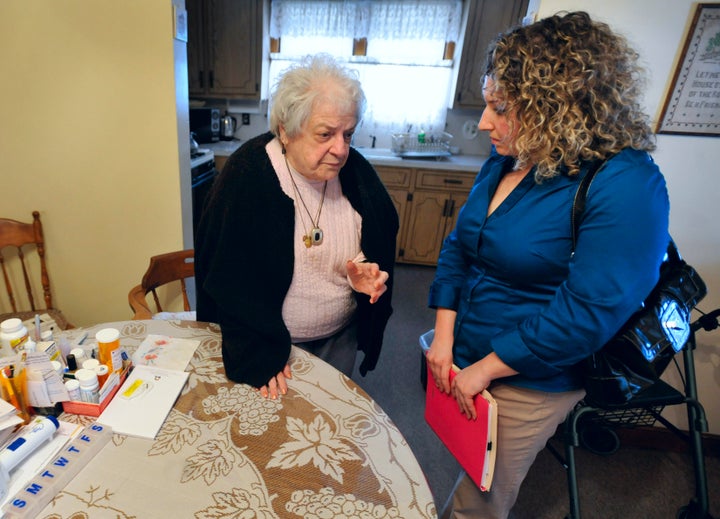 Who knew comedian Ricky Gervais could be serious? Better yet, who knew we would share anything in common? But his blog post about getting older and life being too short struck a familiar chord and got me thinking, "who knew?"
Like Ricky, my youthful and current photos would mock each other if they could. As I get older (and I have a few more years on him!), my vision has also gotten worse, but my passion and convictions have become stronger.
Yet it is a daunting challenge. How do we make this happen when the seriousness of the issue is not as well understood as it should be? Why does it matter that seniors are going hungry?
Of course, there are some obvious reasons for why this should matter. But assuming that not everyone shares my passion (yet), let's start by dispelling some troubling myths about senior hunger.
Myth - Seniors are not going hungry in the U.S.
FACT - As of 2009, there were almost 1 million seniors in the U.S. who go hungry because they cannot afford to buy food. Another 5 million seniors in the U.S. faced the threat of hunger. In one of the world's richest nations, no older American should be going hungry. However instead, in recent years, hunger rates have more than doubled for poor seniors in the country, and it is likely to get worse as the older population is the fastest growing cohort of the U.S. population.
You can get more statistics on Senior Hunger from a pioneering study on the topic that we helped support.
Myth - Senior hunger is only a problem for poor people.
FACT - While low-income seniors suffer more, and often have to make disquieting choices between purchasing medication or food, senior hunger is not just an income issue. It is also a problem of access and care. Many seniors who can afford it, lack the mobility to get and prepare their own meals and don't have other support systems to help them. Those same seniors and others live in areas that are more difficult to access.
Thanks to the tireless efforts of Meals On Wheels programs and volunteers on the ground, that we represent, some of these seniors will get a home-delivered meal and a caring visit. But not everyone who needs help. Right now and especially in this tough economic climate, our members lack the resources they need to make that happen.
Myth - The government will take care of it.
FACT - They haven't so far and they could do a lot more. Unfortunately, the reality is that the federal share of funding that goes towards addressing Senior Hunger is so small relative to the impact and savings that would result with more funding. How's that? Approximately 50 percent of all health concerns affecting older Americans are directly connected to a lack of nutrients. The cost of a year's worth of nutritious home-delivered meals that could sustain the health and nutrition of our seniors is roughly equal to the cost of just one day in the hospital. That's a serious savings! But ironically enough, in the name of saving federal dollars, as the Older Americans Act is up for reauthorization, there is a serious risk of policy makers cutting funding on a program that could save us much more in the short and long term.
Myth - This issue doesn't affect you.
FACT - This issue DOES affect you in one way or another. You could care because as an American, it is appalling that another American is suffering when they don't have to be. If not, whether it is your grandparent, mother, father, brother, sister, or friend, chances are someone you care about is over the age of 60. What if your loved ones lacked access to regular meals and you couldn't help them? And sorry to burst your bubble my friend, but everyone gets old, including you and I. Are you sure you will get the care and nutrition YOU need in your later years? You are not as removed from the problem of senior hunger as you think.
Just as I get a little bit older each day, my passion to see a world without hunger grows stronger. I know I won't persuade everyone and some say my goal is too ambitious. But I hope my passion has moved some of you to help us make this vision a reality by donating your time, voice, money, skills or by just learning more about senior hunger on our website.
If you care a little bit more about this than you did yesterday, we are a step closer to ending senior hunger.
Enid Borden is the President & CEO of Meals on Wheels Association of America.
Related
Popular in the Community