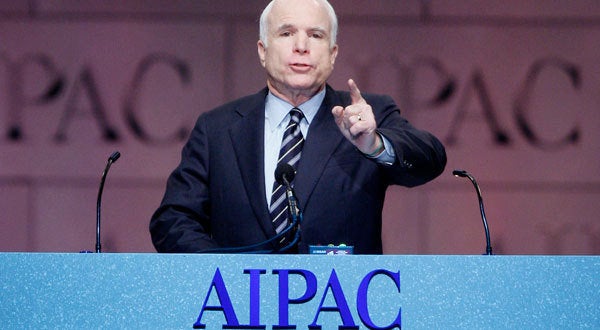 In the summer of 2005, John McCain's chief strategist Charlie Black, working for his firm Black, Kelly, Scruggs & Healey, was paid $60,000 to lobby the U.S. government on behalf of the Chinese oil conglomerate CNOOC. At the time, CNOOC was mounting an aggressive bid to buy Unocal, a California-based oil giant, and Black was tasked with churning up congressional support. But the bid ultimately fell through, in part because of objections over the China oil industry's ties to Iran, a country in which it had already invested tens of millions of dollars.
"This transaction poses a clear threat to the energy and national security of the United States," wrote Rep. Joe Barton, a Texas Republican. "U.S. national energy security depends on sufficient energy supplies to support U.S. and global economic growth. But those supplies are threatened by China's aggressive tactics to lock up energy supplies around the world that are largely dedicated for their own use."
Flash-forward nearly three years and Black's old client -- which later scored a $16 billion deal with the Iranian government -- could now create major headaches for his current boss. On Monday, McCain, in a speech at the American Israel Public Affairs Committee, called for a broad and aggressive international campaign to divest from Iran.
"We should privatize the sanctions against Iran by launching a worldwide divestment campaign," he said. "As more people, businesses, pension funds, and financial institutions across the world divest from companies doing business with Iran, the radical elite who run that country will become even more unpopular than they are already."
But, as demonstrated by the CNOOC anecdote, if choking off Tehran's economic lifeblood is McCain's goal, he could have personally started down that road years ago -- with his own advisers.
Indeed, in addition to Black, McCain employs several other campaign aides and fundraisers who have served in lobbying capacities in which they advocated on behalf of foreign clients with investments and interests in Iran.
As Talking Points Memo reported, McCain campaign manager Rick Davis and his firm, Davis Manafort, "helped Akhmetov's conglomerate, System Capital Management Holdings, to develop a 'corporate communications strategy' between the beginning of 2005 through the end of summer 2005... The company's subsidiary, Metinvest, a steel company, has one of its 11 offices in Tehran. And another subsidiary, Khartsyzsk Pipe Plant, sells large pipes to Iran." A McCain aide said Davis did not work on that account and was unaware of the company's ties to Iran.
A bit further removed, one of McCain's fundraisers, Peter Madigan, and Black's wife Judy, both lobby on behalf of the United Arab Emirates, a country that AIPAC itself says is a major hub for shipment of illegal goods into Iran. Another McCain adviser, Carly Fiorina, formerly headed Hewlett Packard, which Forbes Magazine reported, kept offices in Dubai in efforts of facilitating trade with Tehran.
But it's not just economic ties that bind, however tangentially, McCain's campaign and the Iranian government. There are political connections as well. One of the controversial figures represented by Black and his firm was Ahmad Chalabi, the Iraqi dissident who pushed for the invasion of Iraq with key Pentagon and administration officials before the war and has since, reportedly, passed U.S. information on Iraq to Iran.
As the New York Times reported in 2004, "Chalabi... disclosed to an Iranian official that the United States had broken the secret communications code of Iran's intelligence service, betraying one of Washington's most valuable sources of information about Iran, according to United States intelligence officials."
Black and Davis, it should be noted, have cut their lobbying ties in accordance with the McCain campaign's new conflict of interest policy. And McCain's call for divestment from Iran not only reflects a long held belief by the Senator but also comes despite these associations.
That aside, the distance between Obama and McCain on the topic of levying economic sanctions on Iran is not as wide as the Arizona Republican presents. While Obama did oppose (though not by vote) and McCain supported an amendment offered by Sens. Kyl and Lieberman that would have, among other things, designated the Iranian Revolutionary Guard a terrorist organization, he did so, his campaign says, out of concern that the language was overtly inflammatory. In 2007, moreover, Obama sponsored an Iran divestment bill that he claimed "would educate investors and pressure foreign companies to reconsider doing business with Iran by requiring the U.S. government to publish - every six months - a list of companies that invest more than $20 million in Iran's energy sector."
It was Alabama Republican Richard Shelby who held up the measure in the Senate in what was described by the Israel paper Haarezt, as "a favor" for the Bush administration. Today, it is still on hold.
Popular in the Community