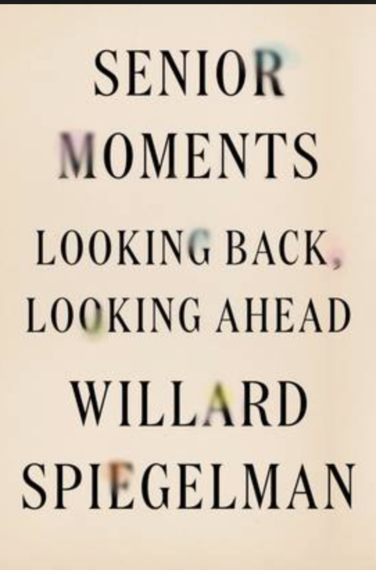 I first met Willard Spiegelman in Los Angeles when he accompanied me on my many interminable drives from Santa Monica to my offices in Hollywood. He wasn't there physically but he certainly was a presence: his disembodied voice, narrating the Poetry Course from the Teaching Company--all thirty-odd hours of it--was my constant companion for a month.
I had seen the ads for the Teaching Company's College Courses in newspapers and magazines, but I didn't actually hear one until I checked them out from the Beverly Hills Library. I started with the amazing music courses given by Professor Robert Greenberg, and after I learned "How to Listen to and Understand Great Music," and all about the lives of Mozart, Wagner, Shostakovich and Tchaikovsky, I checked out Spiegelman's "How to Read and Understand Poetry" (which I see is no longer available in their catalogue--pity!)
I'd always loved my poetry courses in school, but there was something about Spiegelman's enthusiasm that especially captured me. He spent a half hour on A. R Ammons' "Beautiful Woman," a poem that consists of the nine words "The spring / in / her step / has / turned to / fall;" instead of the usual chronological poetry syllabus, Spiegelman bounced around, grouping poems together, even if the poets were born centuries apart, analyzing Whitman in the same breathe as Donne, William Carlos Williams in the same breath as Keats. I also loved his choices of poems and poets to discuss: plenty were familiar to me, some of my absolute favorites freshly analyzed, but there were numerous poems and poets I had never heard. All of this made my commuting in the Los Angeles traffic, where people get so frustrated they actually shoot each other--dare I say it--my favorite part of the day.
So when I read that Spiegelman had come out with a collection of essays, Seven Pleasures: Essays on Ordinary Happiness, I clicked "buy" because despite having worked at it for many, many years, Ordinary Happiness seemed to have eluded me. Maybe the poetry professor could help. $19.95 was certainly a lot cheaper than the $250 an hour I pay my shrink.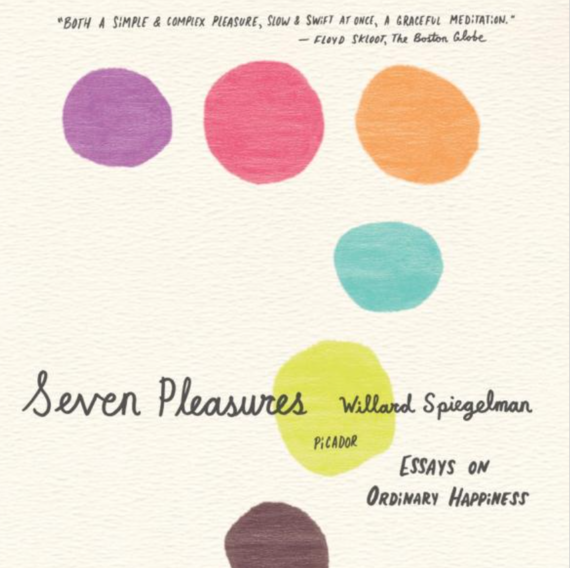 "Happiness," Spiegelman observes, "has received less respect and less serious attention than melancholy." In this collection, he gently but firmly coaches the reader on how to experience happiness without Lexapro, Wellbutrin, or even a great deal of money. His top seven picks for happiness are reading, walking, looking, dancing, listening, swimming and writing, all explored through essays filled with wit, humor, analytic thinking, and most importantly a heartfelt joy of life. And obviously these keys are available to even the most neurotic of the neurotics, and believe me, I know my fair share.
I can't say that this book actually worked for me, as I'm still fighting my melancholic humours, but I certainly had a great time reading. And every time I walk around a new city--and I travel a great deal--I think of Mr. Spiegelman and his instructions.
The thing I most enjoyed about that book is that Spiegelman is a not a self-help guru but an erudite college professor. I quickly understood that his authority came from a lifetime of experience, a lifetime of teaching and dealing with students, and a lifetime of actual living. And he actually seems like a "happy" person. I'm not sure I know any musicians or creative friends I can genuinely say are happy.
Given that his generation was "the last children born before the ubiquity of television," I had assumed Spiegelman was my age or older. (I guess I could have goggled his birthdate but I chose to enjoy him as a distant voice.) However, with his latest publication, the deliciously titled, Senior Moments Looking Back, Looking Ahead, I realized he was, of course, "getting on." I can think of no one better to help me adjust to getting older than the man who tried to (although he failed) teach me to be happy.
This is a delightful book of essays. While not as didactic here as in Seven Pleasures, Spiegelman does reflects on his six decades of teaching and writing, subtly weaving life lessons into personal tales of a "senior citizen who has reached his biblical allotment of three score years and ten." He happily shares what he's learned from the different cities he's lived in, the different cities he's visited, the books he's read and re-read, even the anticipation and inevitable disappointment of a college reunion. This is a book of memories or rather the summation of memories, and the notion that aging can actually be a pleasure. The essays amount to a wonderful auto-biography where all the adventures of a lifetime, going to Japan, looking at painting, coalesce into a bigger picture, a picture of life.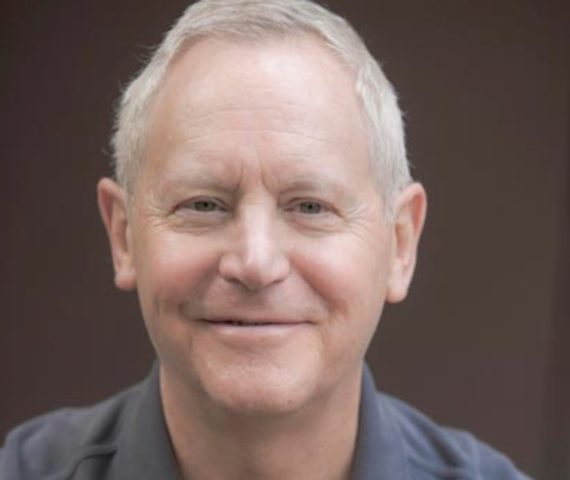 Always the teacher, Spiegelman peppers his work with quotes from Plato, Amy Clampitt (whose letters he edited), Elizabeth Bishop, Robert Lowell, Frank O'Hara, Horace, Roland Barthes, E.B. White, Cynthia Ozick, Elizabeth Hardwick, Samuel Johnson, Joseph Mitchell, Immanuel Kant, Willa Cather, William Maxwell, Alice Munro, John Cheever, William Trevor, Shirley Hazzard and many more. Clearly this is a book for the well read.
One of my favorite moments in the book is when we meet Speigelman's mother who "recognized no difference between the Normandy invasion and a trip to the supermarket." When he writes about "Dallas" we meet the car rental woman who after asking why he has come to Dallas (teaching English) says, "Yew've cum down heah to teach us English? Whah, yew don't even talk lahk us!" And then there's the Dallas weather: "As the days shorten, as first the nights and then the days themselves begin to cool, the human spirit emerges from hiding. We start to breath, and to think, again, following the summer's oppressive languor." Clearly, Spiegelman writes his prose with the gift of a poet, or at least a poetry professor.
Speaking of poetry, Spiegelman offers up this: "A great twentieth-century intellectual once said, 'I read poetry because it saves time.' That was Marilyn Monroe." And "Doctor Johnson said of Paradise Lost that no one ever wished it longer."
Where are the musings on what to do at a doctor's office? Or how to deal with aging parents, children who never call, limbs and organs that no longer function? Not there. Not this book. This is a book for the mind, not the body.
Perhaps my favorite section was when he visits the Cloisters in Manhattan to hear the sound installation by Canadian artist Janet Cardiff. I was saddened that my work schedule didn't permit me to catch this acknowledged masterpiece, but perhaps I enjoyed it more, experiencing it through Spiegelman's voice. "In 2001, Cardiff made a recording at Salisbury Cathedral of Thomas Tallis's mid-sixteenth-century polyphonic motet Spem in alium for forty voices. She lined the walls with curtains and blankets to control the sound and to deaden the space. Nineteen additional children augmented the forty called-for singers. All fifty-nine musicians wore lavaliere microphones attached to cables that ran to a truck outside Then, combining some of the children's parts, she reduced the audio tracks to forty. [...] At the Cloisters' Fuentidueña Chapel, a limestone Spanish apse from the twelfth century, the work was "performed" continuously throughout the day over a three-month period. This was the first time the Cloisters had hosted any contemporary art, although the essence of the Tallis polyphonic piece is hardly modern. The whole experience combined the old and the new. It was actually neither old nor new. Instead it offered a taste of eternity."
I feel Senior Moments offers up the same.
Calling all HuffPost superfans!
Sign up for membership to become a founding member and help shape HuffPost's next chapter