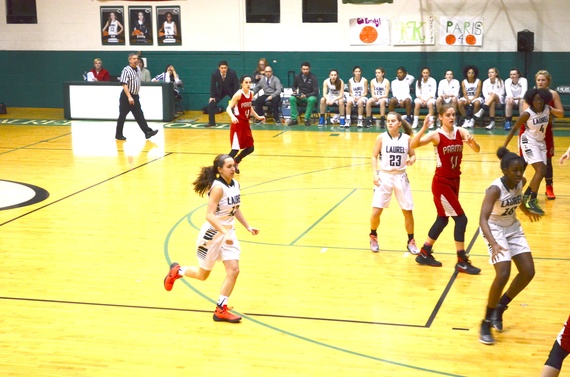 The JV game finishes; we win by a nose in a tense, hold your breath kind of ending. Then the varsity players take the court to warm up. During the pulsing music of the warm-up, I think back to sitting next to my dad in Philadelphia's Spectrum watching the 76ers. Then and now, I am always asking questions, always trying to learn more, thinking about the players, the game, the passion. I ask my basketball-wise husband if our coach watches the other team's players to scope out the competition.
"Not so much," Seth answers, focused intently on our own team's three-point shots. "Maybe he watches how they shoot, but he's really watching our girls."
The warm up music ends; the girls on both teams straggle to the sidelines.
Our captains present white roses to the Seniors from the other team. Then, each one of our seniors, escorted by her parents, steps into the center of the gym. Alex and Christina, juniors, read citations, which, composed by the whole team, are rich in love. Hugs are exchanged. Gift bags for each senior hold goodies and are filled, too, with pride and the bittersweet recognition that in a few more weeks, the oldest girls will finish their final Laurel School basketball season. Some have played in green and white uniforms for four years. I love the parent part of the ceremony--a girl standing with her mom or with her mom and dad, honored by her team. In my twelve years of headship, I have come to understand, more than I could in the NYC school from which I came, how much parents and adults shape the culture of a team. There are the coaches, of course, and the girls themselves and our amazing athletic trainers, and Emily, a senior, who has managed this varsity basketball team faithfully for three years, but in the stands, cheering on the girls, are the parents whose support of their daughters is unflagging, year after year.
Two sisters, Paris and Peighton, play on our team, and they are audacious and talented. As they pass to each other, which they do a lot, I think about what it must be like to grow up in a family where a dad or mom loves basketball and encourages a child to learn to stand at the line and sink a foul shot, to perfect the hook the younger sister makes time and time again under the basket. The hours and hours all the girls have devoted to improving their skills dazzles me; you don't become this good without working, day after day, month after month, at particular aspects of the game. The team's determination and resilience impress me.
Laurel parents come to as many games as they can; they know the game; they know each other. They cheer; occasionally, they coach from the sidelines. They get mad when it seems the refs call more fouls on our girls than on our opponents. Parents run the concession stand, the smell of popcorn permeating the gym, a KitKat bar and hotdog serving as dinner for my 11-year-old son, loyal fan and team mascot. The moms and dads are a mini community within our school, committed to their girls, to this team. I love them. Their commitment models what commitment means--the same is true for any sport, of course. Parents have a hand in sharing in shaping the experience of the team. I wonder, abstractly, if the girls often know their opponents--from rec leagues or from neighborhoods--and if the parents ever re-connect with the parents of girls our girls once played with or against. I wonder how acquaintance flavors the game. Of course, I wondered the same thing at the Cavs game a few weeks ago--does LeBron like some of his former teammates from the Heat?
But on our court, there is none of LeBron's drama. Our phenom is Alex--perhaps the kindest student in the school and the most ebullient and the tallest. I taught her in ninth grade; I remember her as the tallest of her fourth grade classmates, her blonde hair a puff of dandelion gold. She is formidable on the soccer field as well as on this court. She can reach up and tip a rebound out to a teammate. Her arms are like windmills as she guards; she flies down the court, her foul shots swish in. She is an athlete who has worked hard on her game and who possesses a confidence borne of trusting herself and her skills. I note, too, that she has grown into leadership and has never been afflicted by ego, supported by parents whose work ethic mirrors her own.
When Christina races towards our basket, she goes so fast I am afraid she will go right through the wall. KK is playing in a shoulder brace due to a dislocated shoulder, but though she be but little, she is fierce--a double threat who loves theatre as much as she loves basketball. I cringe when a girl from the other team collides with her, but up KK gets; she steals the ball brilliantly and makes a high-pitched sound in the face of the players she guards. Our own fifth-grade son models his game on KK's. Christy is fast and fabulous under the basket. Lily and Claire, new to the Varsity in ninth grade are quick and agile. I think of one of my favorite lines from Hamilton; this team, too, is "young, scrappy and hungry."
It must hurt, this ferocious, fast-paced game. Players tumble down; things get physical. Our girls help each other up, encourage one other. They play together, passing, running plays with confidence and skill. We score a lot of baskets fast, so I exhale, enjoying the experience, less worried about the outcome. Little girls from our Middle School are there to cheer; they play ball, too, with their coach, Olivia, who not so long ago, as a student in our school, made playing lacrosse look like gorgeously aggressive ballet. Now, she is back coaching. The coaching fascinates me. Once last year, in a gym that was not our own, I sat close enough to hear our head coach, Tim, encourage the girls during a time out. His voice was low, urgent, but supportive. He believes in them; he knows what they can do. He is a teacher. The girls know he trusts them and that helps them soar. They play with terrific concentration, but there is joy, too, in their game.
At half-time, our son streaks along the bleachers, hunched over, a huge stuffed alligator mascot aloft on his back, a bright green blur.
"Go, Gators," shriek the Upper School girls in the front row, our spirit squad.
"Go, Gators!" echo the little girls and all the rest of our fans in our half of the stands.
In front of my husband and me, seven or eight Upper School teachers watch the game. I love that they have come back to school for Senior night, that we are all together cheering on our girls, gasping when a three-pointer arcs into the basket, beaming when we score, worried when the other team catches up within ten points. We murmur about particular girls, proud that they are ours, recalling what they were like when we taught them in English or math. We are amazed by their grace and conscious, too, of the many contributions beyond basketball that each girl makes to our school.
At the end, a triumph--for the team and for our seniors. I walk home across the parking lot, proud, tired. An hour and a half of adrenalin, a shared focus on a goal, camaraderie, joy, community pride, noise--this is a good way for a headmistress to end her day. Other worries drop away, diminished by the satisfaction of witnessing a game well-played. It is hard to remember that there once was a time when I didn't even know I was a fan--a wild, exuberant, loud, loyal fan, proud every day of all of our girls--on the court, off the court, in every corner of our school.
We are the Gators; that is our name.
Laurel will win, no matter the game.
You'll hear us comin' and this will be our cry,
'Root, root for Laurel
Gators never say die! '
Calling all HuffPost superfans!
Sign up for membership to become a founding member and help shape HuffPost's next chapter