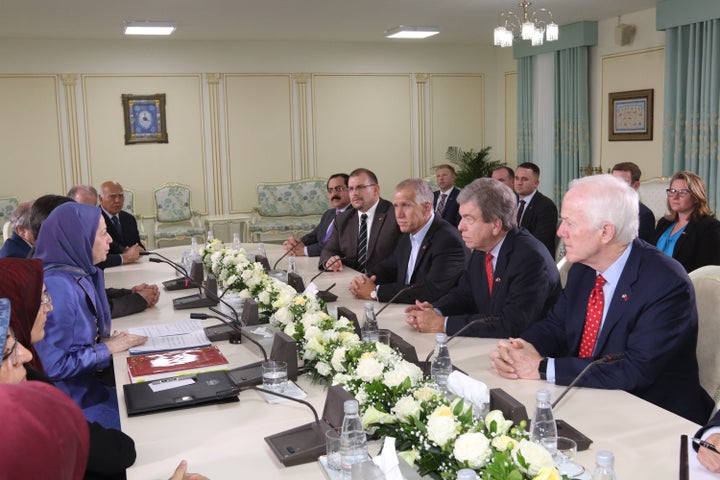 While August seems usually a passive time of the year in politics, it has been quite the opposite for Iran and the wide variety of developments around this controversial international dossier.
A senior delegation of United States Senators travelled to Tirana, the capital of Albania, today, August 12, 2017, to meet the Iranian opposition leader Maryam Rajavi, who heads the National Council of Resistance of Iran.
The delegation, Senators Roy Blunt, Vice President of the Republican Conference, and member of the Appropriation, Select Intelligence, Rules and Administration, and Commerce, Science, and Transportation committees; John Cornyn, the Majority Whip, and a member of the Judiciary, Select Intelligence, and Finance committees; and Thom Tillis, a member of the Armed Services, Judiciary, Banking, Housing and Urban Affairs and Veterans' Affairs committees, also visited members of the People's Mojahedin Organization of Iran (PMOI/MEK) in the Albanian capital.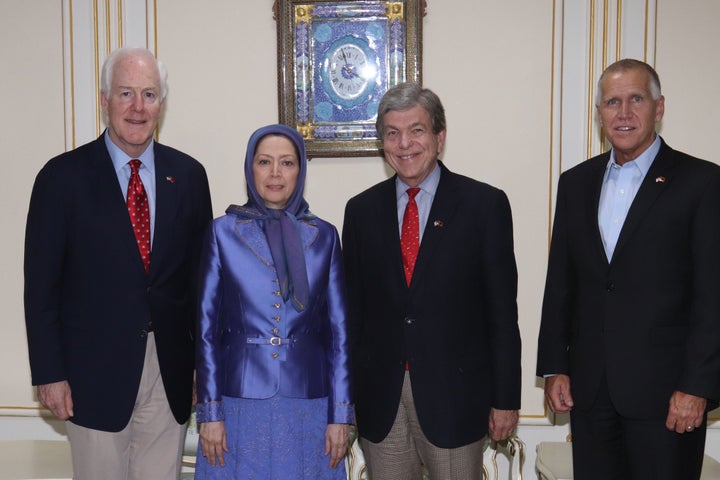 The NCRI is a political coalition calling for regime change in Iran and considered the main threat to Tehran's mullahs. The MEK is the main member of this coalition of a variety of Iranian dissident groups and individuals.
"Led by Senator Blunt, the delegation congratulated the safe and secure relocation of all Camp Liberty residents outside of Iraq and wished them success in their struggle for democracy and human rights in Iran," according to an NCRI statement.
Rajavi expressed her gratitude for the tireless efforts of the U.S. Senate, particularly Senator Blunt, regarding the protection of thousands of MEK members in Iraq, and their safe relocation to Albania.
Senator Blunt was among several American dignitaries, including senior former officials, who at a July 2014 Senate briefing strongly condemned Iran's highly destructive role in Iraq. While describing Tehran as part of the problem plaguing Baghdad and the entire country, Senator Blunt joined the initiative in demanding the urgent transfer of PMOI/MEK members stationed in a former US military base known as Camp Liberty near the Iraqi capital.
Senator Blunt and his colleagues John McCain (R-AZ) and Jeanne Shaheen (D-NH), and former Senator Carl Levin had urged former Secretary of State John Kerry to "press for the protection of Camp Liberty and to expedite the resettlement of the Camp Residents to countries outside Iraq, including the United States."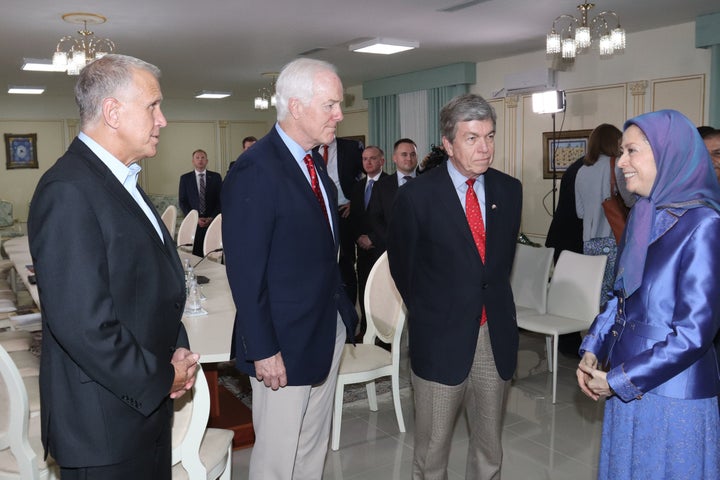 Earlier in April, Senator McCain, a long supporter of the Iranian opposition and a staunch critic of Tehran's policies, also visited the MEK in Albania and met with Rajavi. MEK members were able to depart Iraq after a long 4½ year ordeal in Camp Liberty following a forced transfer from their 26-year home in Camp Ashraf, northeast of Baghdad. From 2009 following the transfer of their security from the US military to the Iraqi government, the MEK came under eight major ground and missile/rocket attacks staged by Iran-backed proxies against Ashraf and Liberty. This was parallel to a seven-year logistical and medical siege closing them off from the outside world. After losing over 160 of their colleagues to the attacks and blockade, MEK members were finally able to transfer out of Iraq to a variety of European countries, mainly Albania.
Saturday's high-profile visit by the senior U.S. Senators comes at a time when Washington has slapped major new sanctions against Iran for its ballistic missile drive, support for terrorism and human rights violations. Iran's Revolutionary Guards is now subject to sanctions under Executive Order 13224, and Specially Designated Global Terrorists. Considering the Guards control over 40% of Iran's economy, these new sanctions come as a heavy blow to Tehran's future ambitions. Analysts believe this visit sends a strong signal to Tehran over how the NCRI is gaining momentum through a growing consensus in Congress over the necessity of adopting a policy of regime change vis-à-vis Iran. This time last year Iran's ruling clerics appeared determined on weakening or dismantling the PMOI/MEK. Only a year later, the tides have turned and it is the Iranian opposition that is now on the offensive. More such developments threatening the very pillars of Iran's rule are most likely set to come in the near future.
----------------------------------------------------------------------------
You can order Dr. Rafizadeh's books on Here. You can sign up for Dr. Rafizadeh's newsletter for the latest news and analyses on Here. You can contact him at Dr.rafizadeh@post.harvard.edu or follow him at @Dr_Rafizadeh.
Harvard-educated, Dr. Majid Rafizadeh is a world-renowned businessman, a leading Iranian-American political scientist, president of the International American Council on the Middle East, and best-selling author. He serves on the advisory board of Harvard International Review.
Dr. Rafizadeh is frequently invited to brief governmental and non-governmental organizations as well as speak, as a featured speaker, at security, business, diplomatic, and social events. He has been recipient of several fellowships and scholarships including from Oxford University, Annenberg, University of California Santa Barbara, Fulbright program, to name few He is regularly quoted and invited to speak on national and international outlets including CNN, BBC World TV and Radio, ABC, Aljazeera English, Fox News, CTV, RT, CCTV America, Skynews, CTV, and France 24 International, to name a few. . He analyses have appeared on academic and non-academic publications including New York Times International, Los Angeles Times, CNN, Fareed zakaria GPS, The Atlantic, Foreign Policy, The Nation, The National. Aljazeera, The Daily Beast, The Nation, Jerusalem Post, The Economic Times, USA Today Yale Journal of International Affairs, Georgetown Journal of International Affairs, and Harvard International Review. He is a board member of several significant and influential international and governmental institutions, and he is native speaker of couple of languages including Persian, English, and Arabic. He also speaks Dari, and can converse in French, Hebrew. More at Harvard. And You can learn more about Dr. Rafizadeh on HERE.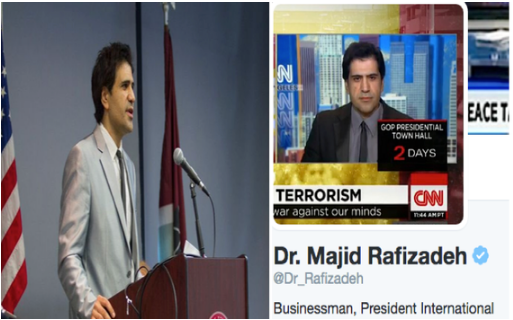 Related
Popular in the Community