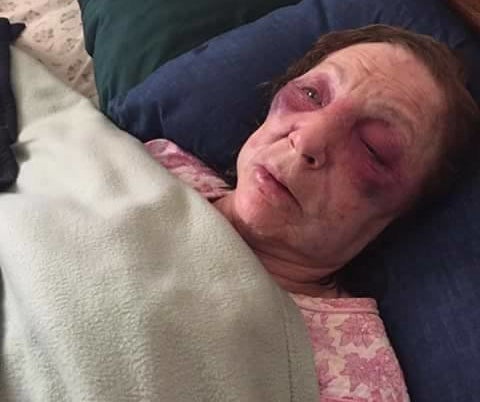 An 82-year-old woman was beaten and severely injured by an unknown attacker who crept into her Arizona home late last week, police said.
According to the Gila County Sheriff's office, the victim was washing dishes when an intruder viciously attacked her and left her for dead Friday night .
Phoenix's KTVK reported the victim's family shared photos of her on Facebook over the weekend. The photos show the woman's face covered in bruises.
The Facebook post alleges the suspect repeatedly bashed the victim "with his fists." She then laid on the floor "in a pool of her own blood for 3 hours playing dead," because she feared he might come back, the post reads.
A press release by the sheriff's offices states the suspect burglarized the residence before fleeing the scene.
The attack came just days after the death of the victim's husband, whose funeral she was unable to attend due to her injuries, WXIA-TV reported.
"Not only did this monster beat her unrecognizable … this sorry excuse for a human being stripped her of being able to say her final goodbyes to the love of her life," the family wrote on Facebook.
The suspect is described as a stocky male in a white ski mask. No other description is available, police said.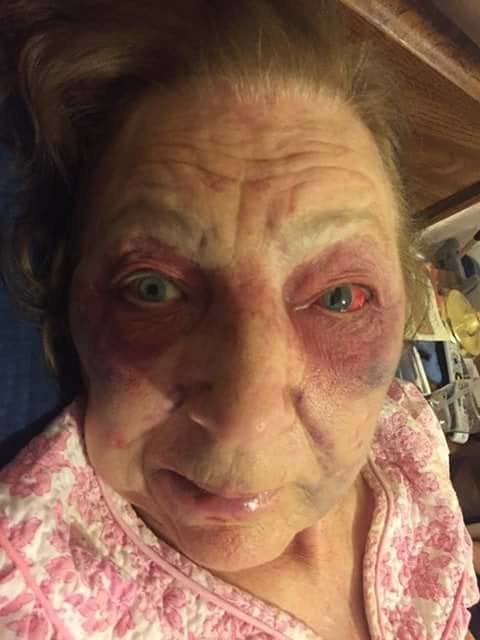 The Facebook post says the victim forgives the man who assault her. Her family feels otherwise. A relative on Sunday posted his own "note to the bastard" responsible:
"She may have forgiven you, as she believes in lord, but as for myself I cannot … I hope justice prevails and I hope there's a special kind of hell for where you are going, because it takes a coward to do something like you did to someone as pure of heart as she [is]."
Anyone with information is asked to contact Detective Keith Charles at 928-402-4211. Tipster wishing to remain anonymous can call 1-800-782-7463.
David Lohr covers crime and missing persons. Tips? Feedback? Send an email or follow him on Twitter. 
REAL LIFE. REAL NEWS. REAL VOICES.
Help us tell more of the stories that matter from voices that too often remain unheard.
BEFORE YOU GO