Oh, that time of year has finally hit me. I am finally a temporary member of a disaster-ridden community. The SSS -- Second Semester Seniors. From the beginning of my freshman year, I have been warned about the lengthy naps, lack of motivation and the overall slippery slope that seniors often succumb to during their last semester of senior year. As an underclassman, it almost seemed as if no one was immune. Senioritis affected the seniors I know in drastically different ways: overwhelming bliss, all-consuming misery or a hazy facade of indifference. One thing, however, remained constant: each reaction was a direct result of zero work being done by these seniors.
As a result, I worked through my first semester of senior year with a certain sense of fervor. I was terrified for the semester to come. What about staying on top of my AP courses and learning new material for college? What about all the clubs I took part in? College applications? Hobbies? For weeks, I dreaded finals week because the winter break following it was almost too exciting and inviting. What if I enjoyed my two weeks of freedom so much that I emerged an academic zombie? Throughout it all, the daunting tweets and posts of alumni warning me of the future sure didn't help.
After my last final, Calculus BC, turned my brain to slush, I was free. However, my ridiculous lack of time management and horrible affinity to procrastination left me with a huge deadline: January 1st. The deadline for all 14 universities I had decided to apply to was fast approaching.
The college application process, however, caught me by surprise. Many of the prompts I faced were similar and ridiculously cliché -- but they covered aspects of myself that I didn't normally spend time exploring. I found myself evaluating my true interests and past extracurricular involvements -- what was I actually interested in? What would I change if I had the chance?
Unfortunately, many high school students are continually looking to the future for new opportunities and don't spend enough time introspecting and self-evaluating. Whether it's once a day, once a week or once a month, that time spent looking over the past is invaluable when it comes to improving the future.
Additionally, many of the schools I applied to seemed abstract to me. Far away collections of buildings with faceless faculty, staff and students came to mind when considering each university. My reasons for applying were largely centered on the strength of the academic program I have interest in and the overall prestige of the school.
What truly helped me decide which schools I would most enjoy were the essays that the colleges asked me to write about my interests. While they seemed superfluous and tiresome upon first glance, they motivated me to further investigate each school and find little tidbits, quirks and nuances to obsess over and look forward to. I found myself rearranging my list of top choices to incorporate schools I wasn't even truly considering as options.
This research and self-reflection, it saved me. It saved me from senioritis and from making a terrible college decision -- one that would have adversely affected me for years. And while I'm still waiting on (hoping for!) acceptance letters, I know that I'm finally equipped with the proper information to make an informed decision.
And as for that horrid senioritis? The information I garnered about myself and the amazing opportunities the future holds only motivated me to work harder and finish my last year of high school with a bang.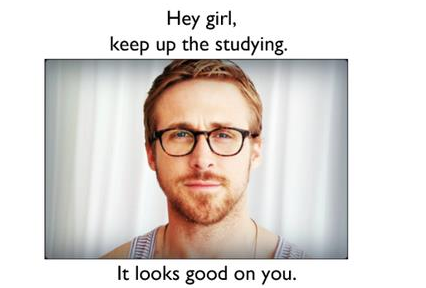 Best Exam Studying Memes
Popular in the Community