Senior citizens organized by a union-backed coalition staged a series of "knit-in" protests at banks in New York City and on Long Island Wednesday. Among the locations targeted included a Wells Fargo outlet in Manhattan and a Bank of America branch in Brooklyn.
Organizers at the coalition, UnitedNY, said they wanted to "save Medicare" and cited the recent debt ceiling debate as another opportunity for banks to pay taxpayers back for the bailouts of 2008. They drew a connection between offshore tax loopholes and excessive executive compensation and the federal deficit, saying it "should be resolved through a balanced approach, including raising revenue by making hugely profitable financial institutions pay their fair share."
The debt deal signed by President Obama on Tuesday did not contain entitlement cuts, but did set up a "super Congress" that will be charged with slashing hundreds of billions of dollars from the federal government's budget by Thanksgiving.
Vickie Owens, a 69-year-old former EKG technician and 1199SEIU union member, told HuffPost before the demonstration that "our taxpayer money bailed them out, so it's their turn now to bail us out."
Owens, who said she generally prefers crocheting to knitting, added that the protest wasn't just for her.
"When it comes to Social Security, it's not only for me, it's for the young people, my children," Owens said. "When you work, when you have a job, each paycheck, a certain amount of money comes out for Social Security and Medicare."
About 150 people, most of them seniors, showed up at the Midtown West Wells Fargo location, where they knitted until bank management asked them to leave. The same pattern held true in Downtown Brooklyn, where police officers took notes inside a retail outlet before Bank of America officials asked the 50 or so knitting protesters to leave.
In response, a Bank of America spokesman said the company had paid all of its required federal taxes. "We've already responded to these baseless claims. This is a misinformation campaign that's distracting from the work that we're doing to help get the economy back on track."
Kevin Friedlander, a communications manager at Wells Fargo, said "The group protested in front of our store today in an orderly fashion and did not interrupt our operations. They surely have the right to express their opinion because that's what our country is all about. Wells Fargo does pay its fair share of taxes."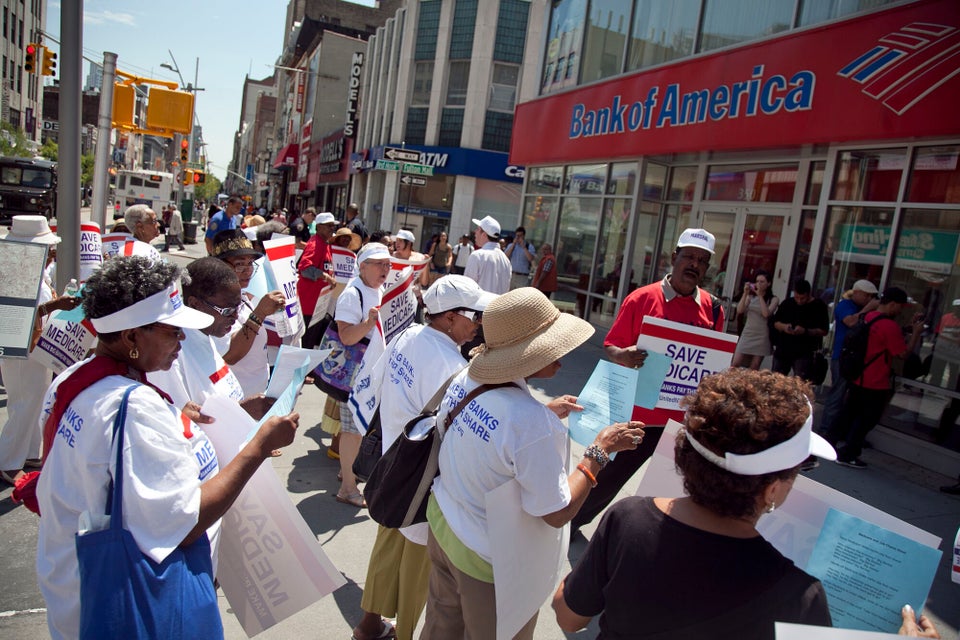 Popular in the Community