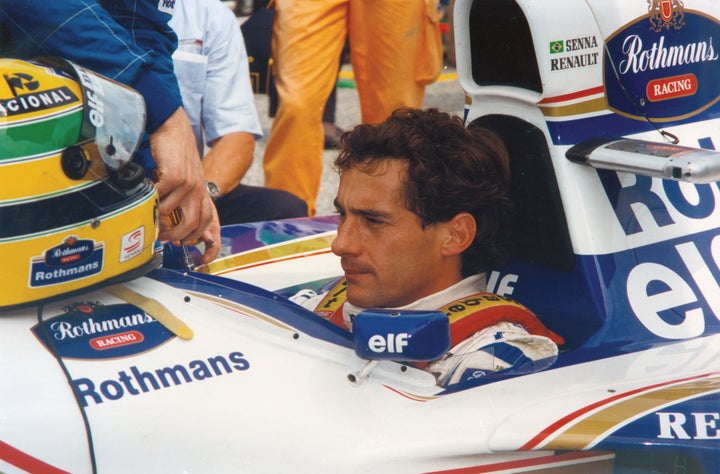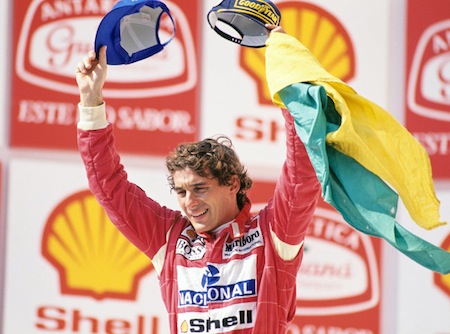 Photo Courtesy of Universal Pictures
It is high praise that the documentary feature on Brazilian race car driving legend Ayrton Senna has been attracting more women than men and plenty of non-racing enthusiasts to its previous screenings. For the film, which has been culled from more than 15,000 hours of footage and the cooperation of Formula One racing, gains traction in more ways than just the thrilling cockpit videos that show this daring, three-time world champion and media darling roaring past competitors.
Senna, directed by Asif Kapadia and written by Manish Pandey, is the first film about the life of the racer whose decade or so in racing, beginning in 1984, flipped that world on its head. The boyishly handsome driver whose nerve and belief in a mysticism he assumed would allow him to take questionable risks, attained a mythic status in life, confirmed in this gripping account. The emotions are unexpectedly riled when considering the machinations of FISA head Jean-Marie Ballestre and how some of his puzzling rulings seemed to purposely benefit Senna's McLaren team competitor, Ballestre's fellow Frenchman Alain Prost.
Not only does the uneasy Senna-Prost alliance drive this documentary, so too does the global perspective during the film's timeline; more than one destitute Brazilian is shown on camera, insisting with gutsy candor, that the impoverishment of their country is the reason "we have nothing to live for except for Senna." The bounty of footage found by the director and producer James Gay-Rees -- the latter responsible for the perplexing and very watchable doc on guerrilla artist Banksy, Exit through the Gift Shop -- makes Senna flow, for the lack of a voice-over narration is the perfect choice. We have Senna squaring off in F1 race meetings with other drivers who object to his taking chances on the circuit. And in one terrific, didactic exchange, former driver and ABC-TV racing commentator Jackie Stewart smoothly accuses Senna of causing more accidents than had been previously experienced in Formula One. Senna, no overt hot head yet clearly emotional, insists that he must take chances to excel in the sport.
For those who do not follow this most-expensive and treacherous of sports, the revelation that Senna, both driver and film, end in tragedy must be revealed, for the very nature of Formula One car construction and the dangers therein also become a part of this utterly fascinating work. It has earned its World Cinema Audience Award for Documentary at Sundance, as its complexity, irony and heart put it in a special class of film.
Senna, (Working Title/Universal) directed by Asif Kapadia, opened Friday, Aug. 12

Calling all HuffPost superfans!
Sign up for membership to become a founding member and help shape HuffPost's next chapter