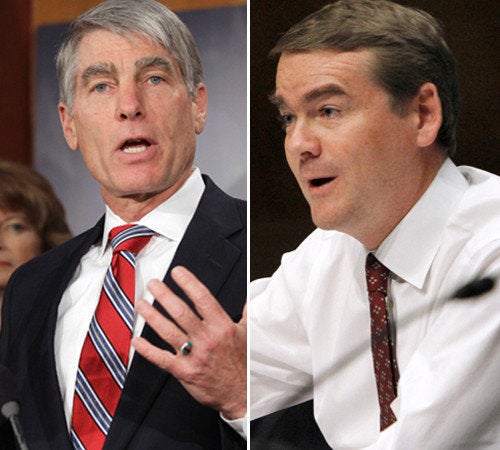 On Wednesday, two more Colorado lawmakers came out in favor of stricter gun control laws: Colorado Sens. Mark Udall and Michael Bennet.
As a Coloradan who had school-age children during the Columbine shooting and grieved alongside the victims of the Aurora tragedy this past summer, I have been shaken to the core by last week's mass shooting at the Newtown, Connecticut, elementary school. Families across our state have been deeply affected in a profound way, and it is an emotional time for us as a country. It is also a time that we must come together and have a serious discussion about concrete steps we can take to help prevent mass gun violence from happening ever again.

A number of my colleagues in Congress have proposed ideas already, including banning assault weapons. We all recognize that Colorado and our nation have a long and storied tradition of gun ownership for hunting, outdoor recreation and self-defense. However, I am not convinced that combat weapons are necessarily part of that heritage. There are legitimate questions about the effectiveness of a ban on military-grade weapons, but I believe that a multifaceted approach, including a ban on such weapons, can be crafted that works for Colorado sportsmen, preserves our heritage, and can and will help save lives. But the details matter, and I intend to work with law enforcement, sportsmen and anyone else who agrees that we must respect the Second Amendment while also keeping our children out of harm's way. We simply must do everything we can to ensure these military-grade weapons are never in the hands of those who would turn them against their community.

I believe President Obama's plan to create a wide ranging set of recommendations makes a lot of sense, because no single policy is going to be adequate in preventing gun tragedies in the future. We need comprehensive — not piecemeal — solutions that examine our culture's glorification of violence, the effectiveness of our laws and our ability to enforce those laws. And as a baseline, we should all agree that we must do more to prevent criminals and the mentally ill from obtaining guns, and ensure responsible gun ownership consistent with the Second Amendment. For instance, we can follow Colorado's example and require background checks for all gun purchases; improve the background check system by reporting state mental health records more completely; and crack down on illegal actions such as straw purchases.

I also believe Gov. Hickenlooper is taking the right approach by seeking to do more to improve background checks and bolster mental health services. The Governor's proposal is a good example of the type of common-sense policies that we need to curb future gun violence, and I plan on doing everything I can to support him in that effort.
Just last Thursday, a day before the tragic Sandy Hook school shooting, Gov. John Hickenlooper said that "the time is right" for state lawmakers to consider gun control measures -- the strongest stance Hickenlooper has taken on the issue to date, the Associated Press reported.
"When you look at what happened in Aurora, a great deal of that damage was from the large magazine on the AR-15 (rifle)," Hickenlooper said. "I think we need to have that discussion and say, 'Where is this appropriate?'"
It appears as if the governor's stance on gun control has evolved since his statements after the Aurora theater shooting on July 20.
Hickenlooper's immediate reaction following the Aurora was more-or-less a sidestep of the issue of gun control in Colorado. When asked on ABC's "This Week" on whether he should revisit the state's gun laws in the wake of the Aurora massacre, Hickenlooper said, "I'm sure that is going to happen, but I look at this, this wasn't a Colorado problem, this is a human problem, right?" Hickenlooper then added: "You know, I worry that if we got rid of all the guns and certainly we have so many guns in this country, we do have a lot more gun violence than many other countries -- but even if you didn't have access to guns, this guy was diabolical. Right? He would have found explosives, he would have found something else, some sort of poisonous gas, he would have done something to create this horror."
Senator Bennet also took to Facebook on Wednesday and he too took a strong stance in favor of more gun control.
In the aftermath of the Newtown tragedy, one of the most terrible realizations for us as parents is that no matter what we do, no matter how careful we are, no matter what laws we pass, evil can strike our children.

But we have a duty to mitigate that risk. The shooters in Aurora and Newtown should not have had access to the guns or magazines they used. I believe a combination of improved access to mental health services, restrictions on certain weapons intended for the battlefield, and elimination of the gun show loophole are sensible steps that can reduce our children's risk.

In Colorado, we support the 2nd Amendment right to bear arms, we support the ability of people to hunt and recreate and to protect their families and homes, and we want to keep the wrong weapons out of the hands of the wrong people.

As the President's taskforce begins its work, we will ensure that Colorado's voices are heard.
Earlier this week, The Denver Post's Curtis Hubbard had criticized Udall for his initial vague statement on gun control and Bennet for making no statement at all.
Udall and Bennet's statements come just days after the announcement of a bill backed by Colorado Rep. Diana DeGette, as well as Rep. Carolyn McCarthy (D-N.Y.), that would prohibit the manufacturing of high-capacity magazines that hold more than 10 rounds of ammunition. It would also prohibit the transfer, possession or importation of those magazines that are manufactured.
Colorado Rep. Ed Perlmutter is also pushing for stricter gun control and will introduce a piece of companion legislation to go along with Sen. Dianne Feinstein's assault weapons ban bill that she will introduce on the first day of the new Congress.
The shocking murder of 26 children and adults in Newtown, Conn., last Friday has sparked a national discussion on gun control, with mostly Democratic legislators from around the nation saying laws need to be tightened.
Calling all HuffPost superfans!
Sign up for membership to become a founding member and help shape HuffPost's next chapter
BEFORE YOU GO
PHOTO GALLERY
Five Years, 19 Mass Shootings, No Action