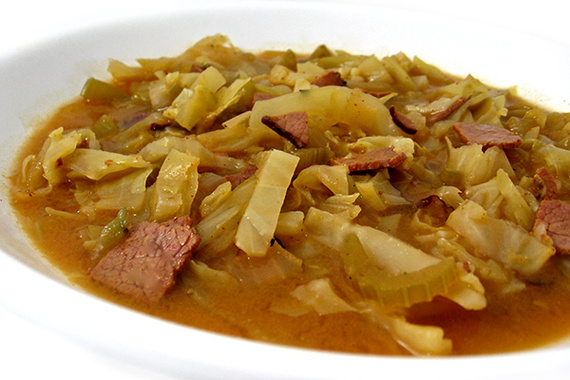 Wait until you get a spoonful of this soup. All the flavors of a fabulous Reuben sandwich right in this really delicious bowl of soup!!! And, it's dairy free and bread free. To create the flavors of a Thousand Island dressing usually used on a Reuben, I added ketchup, mustard, pickle relish and a little paprika. This really jazzes up the flavor of the broth. Each fiber rich, main course serving has 189 calories, 3 grams of fat and 5 Weight Watchers POINTS PLUS. I hope you get a chance to make this soup very soon!
8 ounces lean deli pastrami chopped (2 cups), see shopping tips, below
1 tablespoon garlic clove, chopped
3 (14.5 oz) cans Swanson's 50% reduced-sodium beef broth, about 6 cups
⅓ cup spicy brown mustard or yellow mustard
2-3 tablespoons sweet pickle relish
8 cups cabbage, shredded or chopped (~ 1 head)
1. On a microwave-safe plate or bowl add onions, celery and cook for 3 minutes to soften.
2. In a large nonstick pot or pan, add the chopped pastrami and saute over medium high heat, stirring often, for 1 minute. Add garlic and softened onions and celery. Continue to cook for 2 minutes, stir often. Add vinegar and deglaze the pot with vinegar; cook until nearly evaporated, about 1 minute.
3. Stir in beef broth, ketchup, mustard, relish, paprika, cabbage and black pepper; bring to a boil. Reduce heat, cover and simmer for 15 minutes, until cabbage is crisp-tender.
Makes 5 main course servings (each serving about 1¾ cups)
Shopping Tips
I used 1 (8 oz.) package of Trader Joe's Uncured Pastrami. It's lean and contains no nitrates. A 2 oz. serving contains 80 calories, 2g fat, 13g protein, 2g carbs, 0g fiber, 340mg sodium, 0g sugar.
If you don't have a Trader Joe's in your area, check out a market such as Whole Foods for a healthier, lean pastrami. In addition, most supermarkets sell lean packages of pastrami in the deli aisle.

Weight Watchers (old points) 3
Weight Watchers POINTS PLUS 5
SKINNY FACTS: for 1 main course serving (1¾ cups)
189 calories, 3g fat, 17g protein, 26g carbs, 6g fiber, 1277mg sodium, 5g sugar