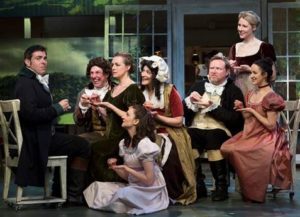 By Jil Picariello, ZEALnyc Theater Editor, July 8, 2016
I confess: I'm a Jane Austen junkie.
I've read every book at least four or five times, and seen every film and television production (more than once). I've seen the movies based on her books, like Bridget Jones's Diary and Death Comes To Pemberly and Austenland (Awful-land!) and the wonderful Bollywood Bride and Prejudice. I even read the first 25 pages of Pride and Prejudice and Zombies, but decided that was asking too much of me (and Jane).
I play the "dream cast" game. My perfect Pride and Prejudice, for example, has Laurence Olivier from the 1940 movie as Mr. Darcy with Jennifer Ehle from the 1995 BBC miniseries as Elizabeth Bennet and the entertainingly obsequious Tom Hollander from the 2005 film as The Reverend Mr. Collins.
But, surprisingly, it took me quite a while to get around to seeing the Bedlam theater company's version of Sense & Sensibility, which had a successful run in 2014, and returned earlier this year to the Gym at Judson for a run that has been extended, as of now, through October 2.
I'm so glad I finally got there. This production is charming and wildly inventive, "wildly" being the operative word. The in-the-round set whirls and dances, as do the performers. The furniture is on wheels, gliding from one end of the space to the other on silent casters, combining and re-combining to create drawing rooms and dining rooms and walkways and woods. Minimal props appear and disappear (where did they get those forks and knives from? I never figured it out). Resourcefulness is the order of the day: a few paintings on the wall signify the British countryside. Glass-paned screens slide in and out to create rooms. The opening scene of John and Fanny Dashwood in bed, done standing up with pillows, lamp, rug, and teacup help sideways, was worth the price of admission alone for sheer inventiveness.
The cast of 10 plays at least twice as many characters, creating entirely new personalities with the change of posture or the addition of eyeglasses or a hat. There's even a remarkably lifelike impersonation of a horse, stamping foot, snorts, and all. The writer herself does double duty: Kate Hamill, who wrote the adaptation, also stars as the younger Dashwood sister, Marianne. She does a terrific job in both categories. The story should be easy to follow for Austen-newbies (although I wonder why a non-Janeite would be there in the first place). And both Hamill and Andrus Nichols as the older half of the sisterhood, Elinore, are comfortable in Austen skin and language.
My only quibble is the few (and they are few) jokes made by inserting modern interventions into Austen-land, like the universal sign for "whatever" given by one of the players. It gets a laugh, but it's a cheap way to get a laugh, and Austen has enough humor without going for the easy shot. I have nothing against modernizations (Clueless is one of my favorite movies ever), but if you're going to modernize, then do it. If you're going to set us in the late eighteenth century, then stay there.
But that's a nitpick. This charming Austenian invention entertains without losing the pain that always lurks below the surface (and not very far below) of the lives of Austen's women. And, best of all, it proves that creativity trumps budget any time. I would bet that less money was spent on the entire run of Sense & Sensibility than one night's performance of Phantom of the Opera. Can you guess which one I think is money well spent?
Sense & Sensibility runs through October 2, 2016 at the Gym at Judson, 243 Thompson Street, Manhattan. Running time: 2 hours 30 minutes. By Jane Austen, adapted for the stage by Kate Hamill, directed by Eric Tucker; sets by John McDermott, lighting by Les Dickert; costumes by Angela Huff; choreography by Alexandra Beller; sound by Mr. Tucker and Kate Young; production manager, Joshua Shan; production stage manager, Katharine Whitney; general manager, Perry Street Theatricals. Presented by Bedlam, Mr. Tucker, artistic director; Andrus Nichols, producing director. Cast: Laura Baranik, Jessica Frey, Kate Hamill, Carman Lacivita, Nicole Lewis, Andrus Nichols Jason O'Connell, John Russell, Samantha Steinmetz, and Stephen Wolfert.
Cover photo: Gregory Costanzo
Jil Picariello is ZEALnyc's Theater Editor, and writes frequently on theater and culture.
For all the news on New York City arts and culture, visit ZEALnyc Front Page.
REAL LIFE. REAL NEWS. REAL VOICES.
Help us tell more of the stories that matter from voices that too often remain unheard.