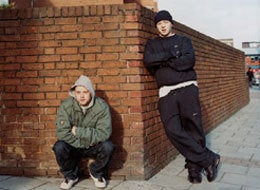 Ian Manuel was 13-years-old when he participated in a robbery attempt in Florida, leaving the victim with a nonfatal gunshot injury. Ian turned himself in to police, and his attorney told him he would receive a 15-year sentence if he pled guilty. Instead, he was sentenced to life in prison without parole.
Ian's is one of several stories told in the Equal Justice Initiative's (EJI) new report, Cruel and Unusual: Sentencing 13- and 14-Year-Old Children to Die in Prison (pdf). The Equal Justice Initiative of Alabama is a private, nonprofit organization that provides legal representation to indigent defendants and prisoners. The EJI study found 73 cases in the United States where 13- and 14-year-olds have been sentenced to life without parole -- in other words, sentenced to die in prison. EJI argues that giving this harsh sentence to young teenagers violates the U.S. Constitution's Eighth Amendment prohibition against cruel and unusual punishment and is also counter to international conventions. The United States is almost alone in the world in imposing life sentences without parole for crimes committed by children at such a young age. EJI notes that giving such sentences to juveniles has been condemned in a number of international agreements, including the United Nations Convention on the Rights of the Child. This appalling pattern of injustice has prompted a nationwide litigation campaign to challenge these harsh penalties and have the children considered for parole-eligible sentences as soon as possible.
There were many common threads among the 73 cases. EJI found: "[M]ost of the children...come from violent and dysfunctional backgrounds. They have been physically and sexually abused, neglected, and abandoned.... They grew up in lethally violent, extremely poor areas where health and safety were luxuries their families could not afford.... [They] have in common the disturbing failure of police, family courts, child protection agencies, foster systems, and health care providers to treat and protect them.[...] Instead, in the adult criminal justice system, they are subject to mandatory sentencing that ignores the child's circumstances and those of the offense in imposing the harshest available sentence." They also commonly receive poor legal representation by overworked, negligent or incompetent attorneys. EJI also found that nearly two-thirds of the youths serving these sentences were children of color.
The EJI report observes that in other aspects of American culture, we accept that most 13- and 14-year-olds shouldn't be held to the same level of behavioral accountability as adults or older teenagers. In most states they are still required to attend school and are barred from driving or getting married without permission. EJI cites the scientific research that has shown the areas of adolescents' brains that govern impulse control regulating emotions, risk assessment and moral reasoning are all still underdeveloped.
Many of the children EJI included in its report have tragic backgrounds. There are histories of neglect, like 13-year-old Joseph Jones, an honor roll student whose crack-addicted parents often left him to take care of his six younger siblings in their Newark housing project for days at a time before eventually dumping Joseph with relatives in North Carolina. There, he was forced by his older teen uncle and an 18-year-old to take part in the assault of a neighborhood girl who was subsequently killed by the older youths.
Antonio Nuñez was a victim of violence who was shot and seriously injured at age 13 while riding his bicycle in his South Central Los Angeles neighborhood and whose 14-year-old brother was shot and killed when he ran to help him. At 14, Antonio got into a car with two men nearly twice his age who picked him up at a party. One of the men later claimed to be a kidnap victim. No one was injured in the sequence of events, however. Antonio was arrested and charged, along with the 27-year-old driver, with aggravated kidnapping. There are also victims of substance abuse like Omer Ninham, from Wisconsin, who was raised by his alcoholic parents. He began drinking daily himself at age 10 to help dull the pain of his life.
The EJI study echoes and reinforces the findings of the Children's Defense Fund's Cradle to Prison Pipeline® report, our national call to action to prevent and divert children and youth from a trajectory that leads to marginalized lives, imprisonment and even premature death. EJI's work to draw attention to these children and its nationwide campaign to challenge and end these harsh sentences are valuable contributions to dismantling the Pipeline to Prison. To learn more about the Equal Justice Initiative and their crucial work, visit http://www.ehi.org/.
For more information about the Children's Defense Fund, go to http://www.childrensdefense.org/.
Marian Wright Edelman is President of the Children's Defense Fund and its Action Council whose Leave No Child Behind® mission is to ensure every child a Healthy Start, a Head Start, a Fair Start, a Safe Start and a Moral Start in life and successful passage to adulthood with the help of caring families and communities.
Join Marian Wright Edelman in Los Angeles on September 14 for the first annual People® Red Carpet Fun Run. Jessi Stensland, and members of the Women's Olympic Softball team will also be there! This 3 mile run (or 1.5 mile walk) through the iconic sets and stages of the Paramount Studios lot benefits the Children's Defense Fund.
Mrs. Edelman will release her new book, The Sea Is So Wide and My Boat Is So Small: Charting a Course for the Next Generation, in September 2008. The book will be a look at what's been done and what still needs to be done to make our world safe and fair for all children.
Popular in the Community