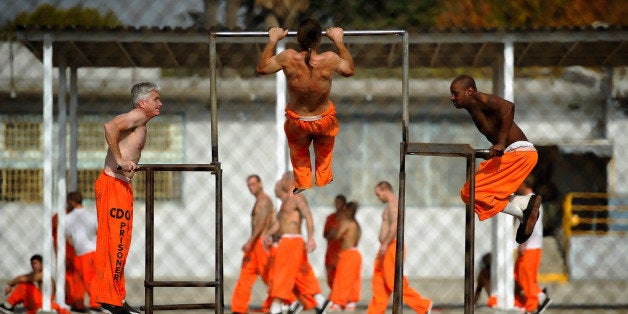 The states making strides with sentencing reforms haven't just seen their prison populations drop at a faster rate than the rest of the country, they have also seen a disproportionate crime drop, an analysis released Wednesday by the advocacy group The Sentencing Project found.
The report points to New York, New Jersey and California as examples of how moving toward more lenient punishments for non-violent offenders is linked to lower rates of both violent crime and property crime. While the nation's state prison population shot up by 10 percent from 1999 to 2012 with violent and property crime dropping by 26 percent and 24 percent, respectively, New York and New Jersey each slashed their prison populations by 26 percent and saw crime drop a respective 31 percent and 30 percent during the same period.
"At least in three states we now know that the prison population can be reduced by about 25% with little or no adverse effect on public safety," The Sentencing Project's Marc Mauer and Nazgol Ghandnoosh wrote in their report. "Individual circumstances vary by state, but policymakers should explore the reforms in New York, New Jersey, and California as a guide for other states."
An analysis of California turned up similar results. From 2006 to 2012, the state shrunk its prison population by 23 percent while the U.S. state prison population overall downsized by only 1 percent. During that time, the state's 21 percent drop in violent crime exceeded the national 19 percent decrease. In a slight deviation, California's 13 percent drop in property crime lagged behind the national 15 percent reduction.
While California has hardly been a model of state prisons and has had a long history of overcrowding, the report points to a 2011 ruling that mandated the state reduce its prison population in compliance with health and safety codes, which moved many non-violent offenders into county jails and made punishments for parole violations less strict. The Sentencing Project also notes efforts by New York and New Jersey that altered enforcement and sentencing for drug offenses and increased rates of parole.
Such "smart on crime" efforts have received increasing bipartisan support in recent months. Last week, Sens. Rand Paul (R-Ky.) and Cory Booker (D-N.J.) teamed up to introduce the REDEEM Act, which lessens penalties for juveniles who commit crimes. Slate points out that Paul and Booker are only the latest bipartisan duo to introduce measures to address the United States' embarrassing incarceration rate -- the highest in the world.
Calling all HuffPost superfans!
Sign up for membership to become a founding member and help shape HuffPost's next chapter
BEFORE YOU GO
PHOTO GALLERY
27 Reasons Why The U.S. Shouldn't Lead The War On Drugs