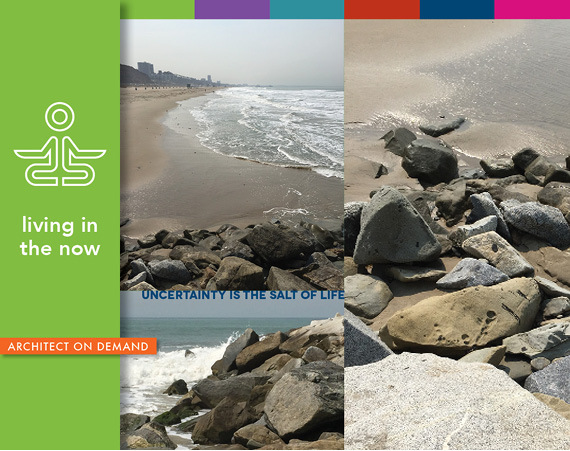 Sitting still at the beach is not an option. Instead, I walk along the water's edge and gather pebbles. That's my way of connecting to the energy of the ocean while getting enriched with sentimental collectibles.
It's an invigorating treasure hunt. I don't know what precious pieces will be made available. I search, select, and evaluate. Each pebble speaks to me. It feels as if I'm curating Nature's works of art. A connection is established. We pick each other. The activity itself creates a sense of abundance.
Gathering beach pebbles is contemplative
Each of these everlasting pebbles has a mysterious fate. How does it experience birth, death, and renewal? The immensity of the unknown is palpable on the beach. This seemingly simple activity of walking on the tide-caressed sand brings the mystery of nature into my own life.
Maria Popova of Brainpickings introduced me to Erwin Chargaff's 1978 autobiography titled Heraclitean Fire: Sketches from a Life Before Nature.
Chargaff writes: "A small boy begins by being unable to explain the explainable, but when he grows old he often looks away from what cannot be explained. I am grateful that fate has preserved me from this form of blindness. Surrounded by a surfeit of solved riddles, I am still struck by how little we understand."
The mere act of intently looking is deeply satisfying. The spontaneity of it makes me happy. The ocean is continually withdrawing -- tickling the pebbles, inviting them back. And bringing more with each tide. There is a chance to gain as much as to loose.
The process of acquiring these sentimental collectibles is as creative as the process of arranging them
In the garden beach pebbles turn into brushstrokes. Every detail is a thread in a coherent story I am weaving. Each stone is the element in the visually nuanced subtext. I bundle up similar types to demonstrate the richness of variations in shape, color, and texture. I consider the ground cover, the container, and the plant that is being framed.
Once each of the beach pebbles is elevated to the status of personal sentimental collectibles, I cherish it. We communicate. In The Alchemist, Paolo Coelho says: "When you want something, all the universe conspires in helping you to achieve it." I strive for a sense of refinement. What about you? Please tell me here.
Alla is an architect on demand advising DIY home improvement enthusiasts online.