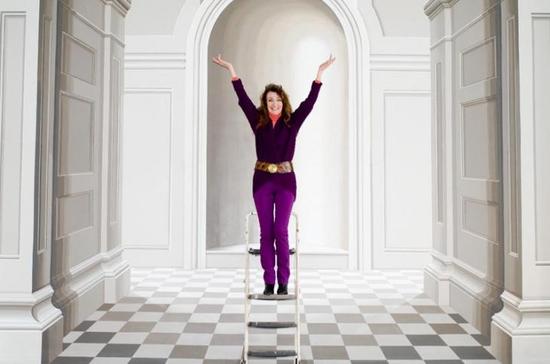 Margot Datz and Old Whaling Church Mural by Carl Wendte (1843)
Re-creation by Margot Datz (2014)
Photo by Ray Ewing for the Vineyard Gazette.
Copyright Vineyard Gazette 2013, all rights reserved
Used by permission
One ferocious island winter, time's landscape froze and denizens huddled around wood stoves barely venturing into the arctic nightmare. Defying the laws of nature and the terror of polar landscapes, Margot Datz, brushes and color at hand, glides through frigid breath to daily enter the timeless Old Whaling Church on Martha's Vineyard. Her brother Steve and daughter Scarlet fly alongside her through these glacial sun-deprived days. Both are artists who will assist Ms. Datz.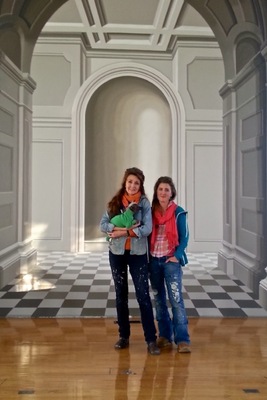 work 16-hours well towards midnight, scurrying up massive scaffolding to arrive at their points of precision. Ms. Datz suggests she is a bird living in a Victorian Aviary. As I observe her syllables weave through my mind, my gaze is shifted and I see quite clearly her image. Along with a sophisticated house for birds, a Victorian aviary is adorned with beautiful plants and flowers. Margot Datz plants seeds that will soon unfold and bring us to a new level of wonder. (Margot Datz with daughter Scarlet Blair and painter's apprentice, Yoda the Dog. Photo by Jack Schimmelman)
A year previously, Chris Scott, Executive Director of the Martha's Vineyard Preservation Trust, had summoned the muralist and author, Margot Datz, to recreate the murals of German artist, Carl Wendte, that had long ago faded into a parallel realm. Mr. Scott would subsequently work with Ms. Datz every step of the way, helping make decisions involving aesthetics and technique. He is preservationist. He is visionary. Ms. Datz was asked to transmute form into love and compassion worthy of such a majestic building. The only evidence Ms. Datz had of the original work was but one faded 1870 photograph of a trompe l'oeil mural painted behind the altar. From that she researched her subject artist and his work through a myriad of paths, including visiting (along with Mr. Scott) two other Wendte re-creations, the Nantucket Old South Church and the Unitarian Meeting House in Provincetown. Provincetown offered rare richness, as 40 percent of the original mural Wendte painted in their Meeting House was intact thus enabling Ms. Datz to closely study the artist's technique, which she identifies as parallel line tonal. She executed her work flawlessly on a dynamic and heroic scale. Her canvas was 3600 square feet, with each wall being a minimum of 25 feet high. She broke down her choice of gray into 13 gradations, all the while maintaining a strict ratio. Each step of the way she used a pencil, ruler and tape to draft and redraft her lines. This method enabled her to recreate Wendte's divine illusions. I associate parallel line tonal with the 5-tone musical scale that is universal and used in spiritual chants. I believe Mr. Wendte created a visual language manifesting spirit. Ms. Datz, a sublime muralist as well as brilliant detective has excavated Wendte's buried semiotic.
Ms. Datz' prodigious skill, intellectual prowess and vibrant essence entices Mr. Wendt's soul to inhabit the ceiling, walls and, finally, her heart so she may channel his classic forms. In Edgartown at the Old Whaling Church, Ms. Datz has achieved alchemy. The past is present. Mr. Wendte permanently dwells in awe of Margot's miracle.
What value does one give to an elegant image that has receded into unknown dimensions? Where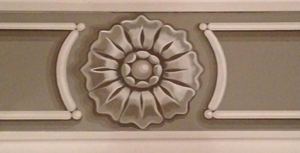 do you begin to reach deep into a shadow so you may recreate what you know must be there but evades your five senses? That lives just beyond a translucent curtain. Trompe l'oeil. And what kind of person has the courage and humility to even try? Only a lioness costumed as a supremely skilled artist. Margot Datz. (Detail, trompe l'oeil. Photo by Margot Datz)
During the winter of 2013, a more human-friendly event than what besieged us in 2014, Ms. Datz recreated the central anchor of the building's interior murals. It is a trompe l'oeil of an alluring archway leading to a door. It is an invitation. On the right side of the door is a shaft of light. It is an entrance to and from eternity. As I watch Ms. Datz and family work in their ornate birdcage, I imagine ancient whaling captains, devoted parishioners, perhaps a few whales and Wendte himself bathing in immortal light with third eye opened wide by enchantment as they flow through illumination. Ms. Datz' precise, perfected tonal panels framing the church's interior emanate from this sacred arch.
Towards the end of her labors, Ms. Datz discovered a patch of original paint used on one of the side panels. It was Wendte's original choice and the exact color that Ms. Datz had deduced was used.
As you approach Edgartown and move down Upper Main Street, a dignified, tall steeple greets you. It is the Old Whaling Church. In a town that is abundant with exquisite 19th century architecture, The Old Whaling Church is the ultimate statement. It is Edgartown's sentry; its eternal celebration of a transcendent era; an epoch that witnessed Melville, Whitman, Emerson, Thoreau soar through our land. Designed by Frederick Baylies, along with Wendte and completed in 1843, it embodies one of the finest examples of Greek revival architecture in our country. The original intent was to model its composition on the Parthenon. This poetic lady bestows grace upon its community. Fueled by the riches of 19th century whaling captains, the church fell into disrepair after that money disappeared. Until now. Margo Datz has restored to Edgartown its glorious heritage.
Soon, survivors of a winter that Vineyarders will regal their future grandchildren as legend, will walk through the entrance of this august structure. With each breath their quotidian concerns will evaporate as they are washed in reverence conducted across parallel realities radiating through Margot Datz' magnificent accomplishment.
Ms. Datz' art will live forever in the fortunate hearts that inhale its beauty. I do not know how long Margot's work will physically endure. After all, nature is the great decider. Especially on an island vulnerable to Earth's tidal dreams. But what I do know is that when a seeker slides through majesty's portal to attempt ascension of Jacob's Ladder, she is forever fused with love. Luminous panels frame our many paths; our countless journeys. They live forever in the soul who passes through Ms. Datz' reverie incarnate in the hush of the Old Whaling Church.
To learn more about this project's development click here to watch a short documentary.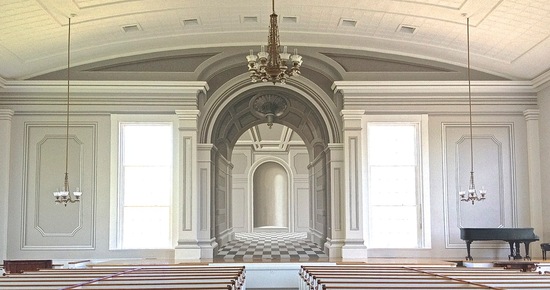 Old Whaling Church mural. Photograph by Margot Datz. Used with permission.
REAL LIFE. REAL NEWS. REAL VOICES.
Help us tell more of the stories that matter from voices that too often remain unheard.