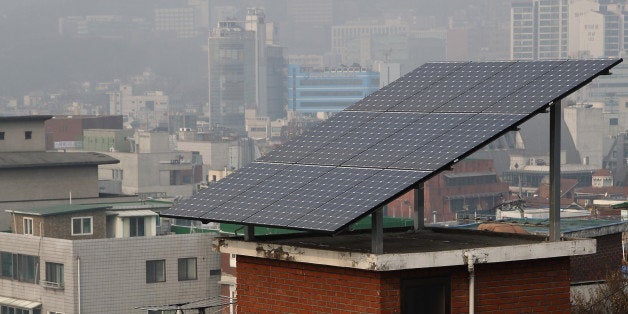 SEOUL -- It is a welcome development that the U.N. Climate Summit has created a forum for major cities of the world to share their best practices and discuss better ways to respond to climate change. Through this forum of exchange and cooperation, world cities can get closer to achieving the goal dear to all of us by setting realistic carbon emissions reduction targets and adopting diverse yet realistic policies. It, therefore, is a special pleasure for the city of Seoul to take part in this global networking opportunity and share our own experience in carrying out eco-friendly energy policies and efforts to build a better and healthier world.
The city of Seoul has recently won the 2014 C40 & Siemens City Climate Leadership Award in the Green Energy category for its "Make Seoul a City of Sunlight" project. This prestigious global recognition of our solar energy project is all the more meaningful in light of growing global concerns over the use of nuclear energy and the increase of greenhouse gas emissions.
In 2012 the city of Seoul launched a citizen-initiated project, "One Less Nuclear Power Plant." The project was part of our effort to join the anti-nuclear movement spreading worldwide, to overcome the power crisis, and to respond to climate change. The project first aimed to reduce the city's electricity consumption by an amount equivalent to the output of one nuclear plant through energy conservation and renewable energy production. Thanks to the enthusiastic support it had received from citizens during the past two years, the project has reached its 2 million TOE target 6 months ahead of schedule.
Thus having successfully completed its first phase, the project is in its second phase now, with the goal of achieving an electricity self-reliance rate of 20 percent, the minimum figure the city needs in order to prevent a power crisis and perform its basic functions.
In addition to energy reduction, the project has helped Seoul citizens develop energy conservation practices in their daily lives. Approximately 1.7 million citizens have signed up for "Eco Mileage," an incentive program for members with good energy-savings records. Currently, 40 percent of households in Seoul are participating in one form or another of energy conservation, which amounts to about 450,000 TOE energy saving annually.
Building upon the success of its first phase, the "One Less Nuclear Power Plant" project is focused on realizing three energy-related values important from the social and community prospective.
The first value we seek to realize is "energy self-reliance." Committed to building a city that is safe from the threat of power crises, self-sufficient in energy and responsible for its energy use, we are exploring ways to generate energy in an eco-friendly and sustainable way. For example, we are installing mini-photovoltaic power stations on the rooftops of school buildings, apartments, and other structures, taking the maximum advantage of our high population and building density.
The second value is "energy sharing." By sharing energy with the socially marginalized and creating an energy heritage that is sustainable for many generations, we are strengthening community solidarity.
The third value is "energy participation." Through an open governance system, we ensure the participation of all citizens in the whole process involving energy, from policy planning to implementation. We have witnessed what our citizens are capable of during the first phase of the "One Less Nuclear Power Plant" project.
The city of Seoul is in the process of transforming itself from being an energy consumer to producer. With the participation of its 10 million residents, Seoul will continue evolving into a city that is solar powered, environmentally friendly, and energy self-reliant. This endeavor will extend our municipal boundaries to every corner of Korea and, with blessings and warm support from many of the participants of this forum, eventually to every city in the world. The city of Seoul will be in the forefront of this important cause, and on behalf of all Seoulites, I ask all the citizens of the world to join us.
Related