SEOUL ― Kim Jeong-seon was walking through the streets of New York City this month when a bombastic, off-the-cuff remark by President Donald Trump reminded her of home.
Speaking from his golf club in Bedminster, New Jersey, on Aug. 8, Trump unleashed a brash warning to North Korea, vowing the U.S. would strike the country with "fire and fury" should it further threaten the United States. (He doubled down on those remarks days later.) To the 28-year-old Kim, who lives and works in South Korea's capital, Seoul, the comments sounded eerily familiar to those she'd heard from North Korean strongman Kim Jong Un, whose family for decades has threatened to engulf its enemies in flames.
As U.S. media worked itself into a 24/7 fever pitch, debating the prospect of nuclear war and how quickly Trump could press the button, Trump's brazen, unplanned remarks left Kim Jeong-seon deeply worried during her travels. "Trump against Kim Jong Un was all over the news," she recounted from back home in Seoul. "I was incredibly distressed."
But her anxiety almost immediately dissipated upon returning home, as her friends and family showed little of the frenzied fears she had felt in America. "South Korean media just wasn't treating the story in that dire of a manner," she said, as she strolled in a Seoul park filled with people enjoying afternoon beers and soju on the grass. 
Under its enigmatic leader Kim Jong Un, North Korea has dramatically ramped up its nuclear and missile development program. In recent months, Pyongyang reportedly managed to miniaturize a nuclear warhead and successfully tested two intercontinental ballistic missiles that experts say could reach California, or beyond. In a sharp escalation of its belligerent stance, the Kim regime on Monday fired a missile that flew over Japan.
But while the North's rapid scientific advancements and Trump's confrontational response have sparked alarm in the U.S., the rising tensions appear to have left many of Seoul's residents unfazed.
"I guess I got used to it," explained one Seoul resident, who declined to give her name but spoke with HuffPost on camera about North Korea's missile tests (Pyongyang has conducted more than a dozen this year alone). "Because Kim Jong Un keeps launching missiles, I just think: 'Oh, there goes another one ... .'"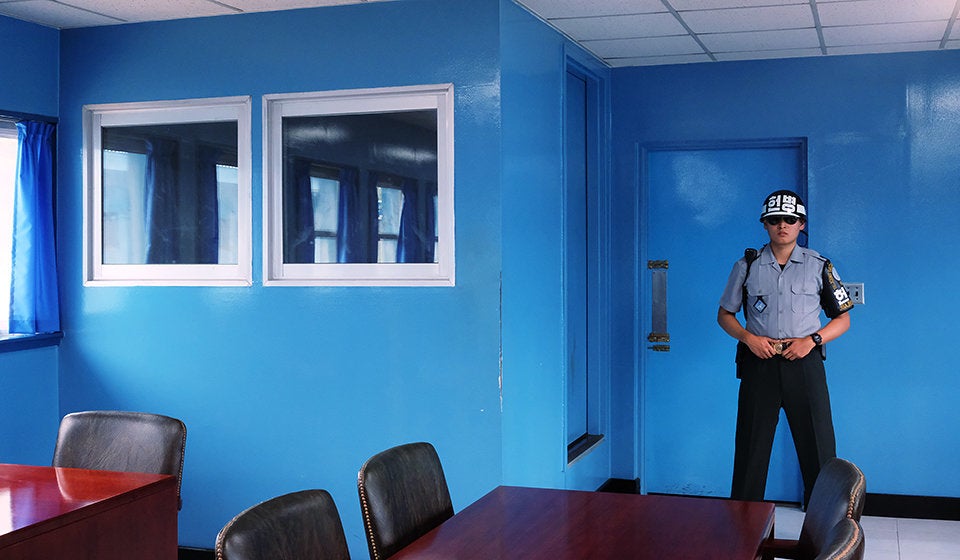 The apparent indifference is remarkable, given the South's proximity to the eccentric regime.
Seoul, a bustling metropolis of 25 million, lies just 35 miles from the Demilitarized Zone, commonly referred to as "the DMZ" ― a heavily fortified border separating a North and South that could not be more different. Technology and connectedness is king in South Korea's capital, where nearly 90 percent of the population owns a smartphone and Wi-Fi access reaches into subway stations deep underground. Meanwhile, many regular citizens in Pyongyang aren't even allowed to use the internet.
But despite the existential threat, more than a dozen people interviewed in Seoul one week after Trump's "fire and fury" comments expressed doubt that war was imminent, and pointed to overt sensationalism in foreign media. Seoul was electric with life while Pyongyang and Washington, D.C., were exchanging barbs: Korean fried chicken joints were packed, the popular shopping area of Myeongdong was bustling, and karaoke bars were lit up with disco balls and K-pop renditions nightly.
"Though foreign countries view the situation alarmingly, here, everyone is out and about," Yoon Seok-hwan, 35, said while walking with his wife and young daughter in Seoul's Yeonnam-dong neighborhood. "South Koreans are too busy all the time."
The sentiment wasn't limited to South Koreans in Seoul. Americans living in the city said they, too, took the war-mongering with a grain of salt.
Frank Scott, a 67-year-old American who retired to Seoul, said he could tell when U.S. media ran a story about the North on the nightly news, solely based on the number of calls he got from relatives back home.
"Every time something happens, I get calls from my family in the U.S. saying, 'Get out,' and I go, 'Calm down, it's OK,'" Scott told HuffPost. "People are still going to theme parks, they're going to movies, they're going to festivals. We're going to concerts, everything's fine."
Suk-Young Kim, a professor at UCLA who studies Korean culture, said she's noticed a societal level of indifference toward the North Korean threat during her own visits to Seoul, particularly among younger generations. "You go to South Korea and it's just like every day is normal," Kim said.
She noted, however, that older Koreans ― some of whom may have originated from the North ― would likely remember when the peninsula first became divided, and be more interested in following news coverage of the Kim regime.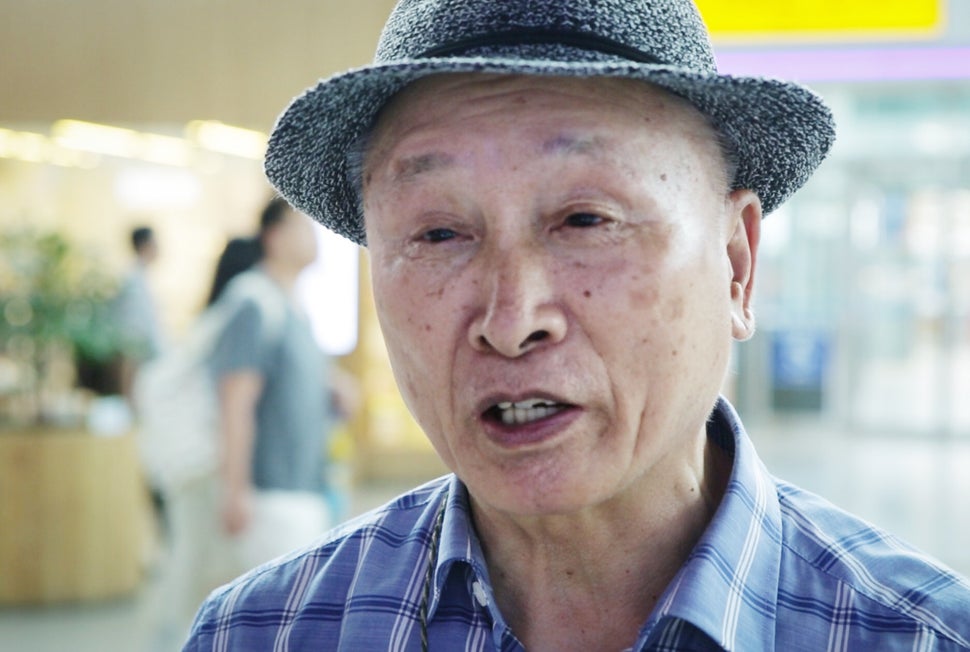 Signs of Seoul's geographic vulnerability are hidden in plain sight.
In case an attack should ever come, more than 3,200 emergency bomb shelters are scattered throughout Seoul, and most subway platforms hold large blue cases stocked with gas masks, water bottles and first-aid supplies (although they can't be used in nuclear or chemical attacks). The city conducted a nationwide civil defense drill this week, and officials have been handing out leaflets to inform residents about their nearest shelters.
But after walking past them every day, sometimes for decades on end, many Seoul residents no longer pay attention to the evacuation signs. Most of the evacuation centers go unnoticed as well, and few residents appear to know know what the simple, bright red emblems identifying them mean. City officials said this month that 74 percent of residents in Seoul don't know where their nearest shelter is. An administrative manager at a government community center told HuffPost no one had come in to ask about the facilities in recent weeks, despite the uptick in tensions.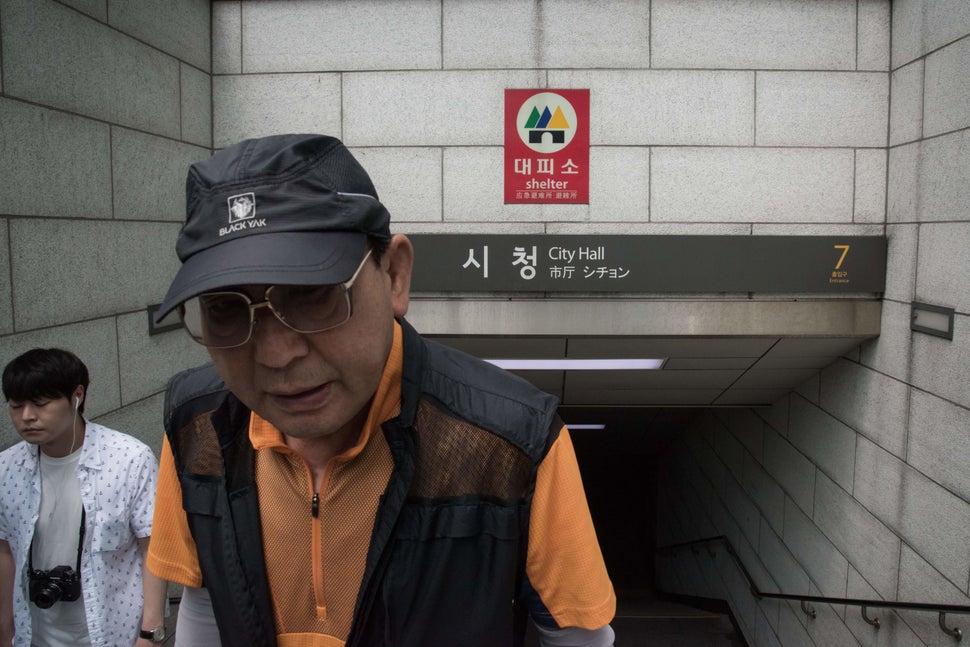 Part of the reason South Koreans say they aren't easily startled by Kim Jong Un's threats is that they've been levied almost nonstop for decades. The two Koreas are technically still at war but have abided by an armistice agreement signed in 1953. Nevertheless, North Korea has been promising to attack its southern neighbor in near perpetuity since the end of the Korean War. The North has promised to turn Seoul into a "sea of fire," a "sea of flame" and to bomb the city "to ashes" with an almost regimented frequency.
"The country's been living under threats and bellicose statements for 70 years," American Seoul resident Scott said. North Korea will "huff and puff, but nothing's going to happen," he said, "and the U.S. will huff and puff ― one person in particular will huff and puff — but nothing's going to happen."
Although the current standoff between D.C. and Pyongyang doesn't appear to have rattled people in Seoul's streets, Trump's confrontational approach has shaken officials in the Blue House, the executive office and official residence of the South Korean head of state.
South Korea's President Moon Jae-in issued a sharp rebuke to his counterpart in the White House after Trump's comments raised alarm in diplomatic circles, saying there would be no military action on the Korean Peninsula without Seoul's consent and that his government would "block war by all means." 
"The people worked together to rebuild the country from the Korean War, and we cannot lose everything again because of a war," Moon said during a news conference this month.
Evans Revere, a former principal deputy assistant secretary of state who specializes in North Korea, agreed that Trump's comments unsettled many behind the scenes in Seoul and Japan, another U.S. ally that has long been in range of North Korean weaponry.
"That the United States is behaving in a very different way ... our Japanese and Korean friends are troubled by that," he said. "I do hope the Americans understand what the consequences might be to a pre-emptive strike against North Korea."
But just like many South Koreans, Revere did not think a military conflict was near. "My sense is that despite the rising tensions, despite the concerns, despite the reality of growing North Korean military capabilities, I don't see us on the brink of war."
Since his election in May, Moon has said the South is open to talking with Pyongyang. North Korea rejected offers to do just that this month, but Moon has proposed sending a special envoy to its neighbor in an effort to reopen diplomatic relations.
"A dialogue between South and North Korea must resume. But we don't need to be impatient," Moon said. "I think lots of effort and time could be necessary to overcome a decade of severed ties and to reopen a dialogue."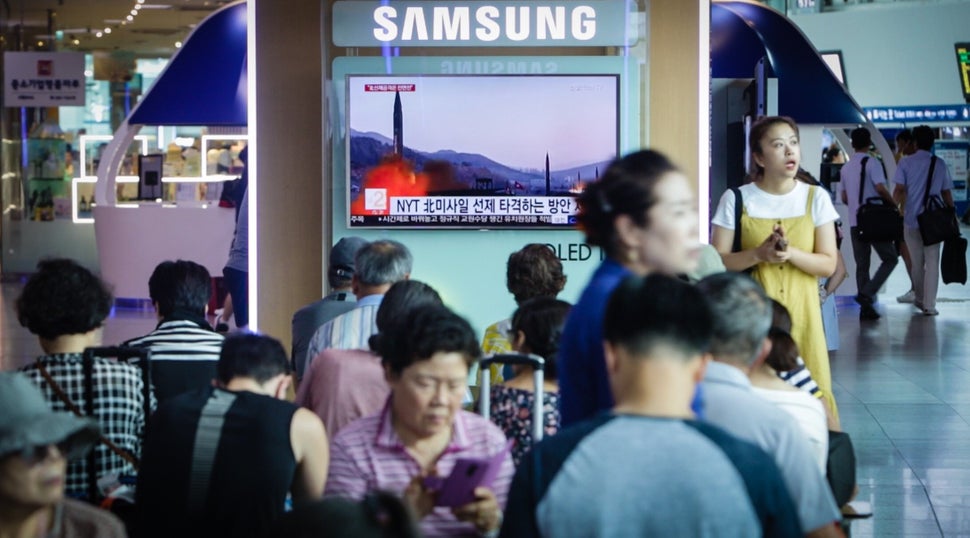 Some of Seoul's publicly calm demeanor may be starting to slip as Trump adds a new level of unpredictability to an arena already dominated by a master of the dubious claim. 
Alex Oh, 21, a cadet in the South Korean military, explained that contrary to some of his countrymen, his experience as an officer led him to "always worry."
"The problem Koreans have is they don't fear," Oh said near Seoul's Hongdae neighborhood. He described Kim Jong Un as a "crazy person," but added that he worried about Trump too. He said he admired the U.S. president for "being a straight shooter" who says what's on his mind, but he feared Trump in the end would focus on profit rather than diplomacy.
At the busy Seoul Station, a major railway hub in the center of the city, 84-year-old Oh-Jae Kwon was less worried. As travelers rushed to catch afternoon trains departing to destinations on the Korean peninsula, he explained he found Kim Jong Un to be a dangerous man, but not one to make reckless decisions.
"Because the world is so global now, our allies won't let North Korea to attack South Korea. We should be aware of our circumstances, but there's no need to worry. A war won't break here," he said.
In the background, televisions broadcasting local news featured stories on the weather, a fickle stock market and celebration activities planned for National Liberation Day. The update on North Korea's latest threat came more than more than half an hour in.
No one appeared to be watching anyway.
Calling all HuffPost superfans!
Sign up for membership to become a founding member and help shape HuffPost's next chapter
BEFORE YOU GO
PHOTO GALLERY
North Korea and South Korea