In Seoul last month, my first visit, I was pleased to discover one of the coolest little bars in the whole wide world.
It's called Pub of the Blue Star. It can be found in a side alley off the northern end of Insadong-gil, the arty (albeit touristed) main ambling strip of the Insadong district.
Blue Star is a snug shrine to makgeolli--the milky, rustic, and homey rice wine, roughly as alcoholic as beer, whose fermented tang has become a fad not only in urban Seoul but throughout Asia.
Owner and host Soon Choi, a chin-bearded genial hipster, was a stage actor and is a soulful world traveler who's written book out about his journeys.
Choi's roving eclectic spirit shows in Blue Star's nifty décor and vibe. Tibetan prayer flags (Choi is a Buddhist) keep company with a large poster of Wong Kar-Wai's Days of Being Wild, a B&W snapshot of the young Beatles, and a photo portrait of a local bygone poet who was a prodigious fan of makgeolli.
Ah, makgeolli. Choi has scoured around for the best artisanal stuff, with rustically exotic flavors like purple-hued mugwort (earthy) and greenish pine needle (bracing). The beverage comes to table in a big bowl for ladling into smaller bowls. You traditionally drink makgeolli in bowls. Bowls and bowls.
Bars in Korea serve food. Choi hails from a rural province outside Seoul and Blue Star's eats reflect these origins with an array of root vegetables in typical Korean spicy red chili sauce, and great crags of tofu. Terrific stuff. I also had a fine kind of big-dumplinged soup. One of the actors from the film Oldboy apparently is a regular here. Not the guy who ate the whole live octopus, though he sometimes comes around, too, they say. Maybe he drinks to forget.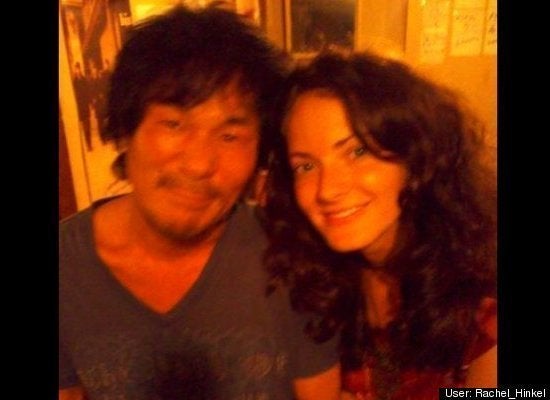 A different style of artisanal and delicious awaits at Son Mandoo. Hand made dumplings are the specialty here, fashioned by the proprietor's nonagenarian mother. I was brought by Sojourn Lee, the young head of a multi-faceted culinary enterprise called La Cuisine. We had also housemaid plum wine, and a simply charming dessert of frozen red berries that had been frozen. Son Mandoo looks out at Mt. Bagaksan, one of the sharp peaks that gives Seoul's endless car-clogged urban sprawl an arrestingly dramatic setting. (Korea overall is 70 percent mountains)
At Baru, across from the main Buddhist temple, there's the even lighter-handed fare of delicate temple cuisine. This is a kind of vegetarian 'spa' version of Korean food, sans the heat and intensity. Banned are garlic, onions and spring onions, chives and wild chives. No alcohol; but a tangy fermented pine-needle tea is served.
The monks who preside over temple cuisine are also models of chic couture.
I was in town for Seoul Gourmet, a culinary extravaganza featuring Korean products and experts (including monk Venerable Sun-Jae, a temple cuisine authority), and the presence of international star chefs--e.g., Carlo Cracco from Milan, Jordi Roca from Catalunya, Michel Troisgros from Roanne--who presented workshops, and a gala dinner at the Hong Kong-esque splendors of the Grand Hyatt.
But I was more for funkier realms. Seoul abounds in them.
I ate at a rambling BBQ palace; a Gwangjang night market joint offering the delights of raw meat (raw liver: less delightful); a taxi-drivers spot serving "Johnson stew," a remnant of GI occupation that includes Spam or hot dogs (cool young art gallerist Pat Lee brought me there); and (courtesy of Seoul food blogger Daniel Gray) at a merrily ramshackle outdoor table on a neon-and-shadows lane under the blazing towers of the booming development zone south of the Han River.
The Han, Seoul's broad-waisted river, has 24 bridges. All the ones I saw were arrestingly forgettable architecture, I have to say. But Cheonggyecheon , a once-paved-over urban stream has been turned it into a charming waterside ramble among skyscrapers.
The Leeum Samsung Museum of Art displays work ranging from traditional Korean to contemporary international in a three-building showcase designed by global big names Koolhaas, Nouvel, and Botta.
Kimchi being of course that beloved Korean staple of fermented vegetables, commonly served as a side dish any time at table. Every housewife proudly makes her own, as they say. But now there's a full-blown kimchi crisis.The price of Napa cabbage, commonest kimchi vegetable, has skyrocketed. One head for $12 (!)--a 400 % annual rate of cabbage inflation. The government has had to temporarily lift tariffs on imported cabbages to try to cope. Restaurants aren't offering it free. A poor harvest from extreme weather is mainly blamed. It's part of the global story--calamitous rises in food prices.
I stayed at the Hilton Milllenium. The room wasn't exceptionally appointed, but was very comfortable. Get one with a view of Mt.. Namsan, close enough to touch. The view from Mt. Namsan, with its N Seoul Tower, is a local spectacular.
Pub of the Blue Star (Pureunbyol Jumak)
Gwan Hoon-dong 118-15, Jongro-gu
Tel: 02 734-3095
Train Track (King) Kalbi (bbq palace)
4-2 Chanjeon-dong, Mapo-gu
Ph: 02-332-9543
Ssangdari Taxi Driver Restaurant (Johnson stew)
Sungbuk-dong 109-2, Sungbuk-gu
Dong-in-dong (alley outdoor table)
511-5 Sinsa-dong, Gangnam-gu,
Ph: 02-516-5765.
Also:
Chin Chin (makgeolli, wine bar-style))
343-9 Sekyo-dong, Mapo Gu
Phone: 02-334-1476, 010-7252-2001
All photos - Barry Yourgrau
Popular in the Community