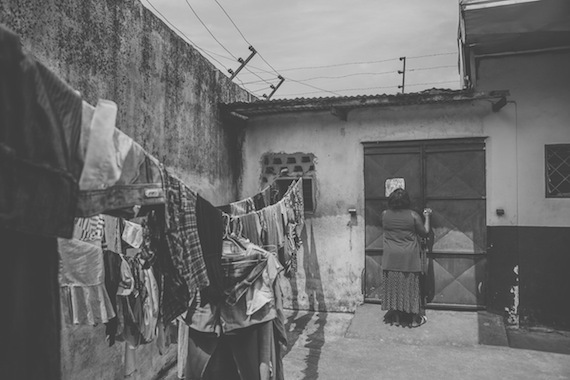 "Life for a pregnant woman in prison is very different from what we live outside. Psychologically we are affected. We suffer in our flesh because the pregnancy makes you weak and in the same time you worry about the problem that brought you to prison which you have to manage."
Cécile, 37, who spoke the words above, does not believe she should have given birth in a prison cell. She unequivocally knows she did not commit any crime. But delivering her daughter, Christelle, in a jail cell in unsanitary conditions with no medical supplies or health worker care is precisely what Cécile did last summer in a western Cameroonian prison.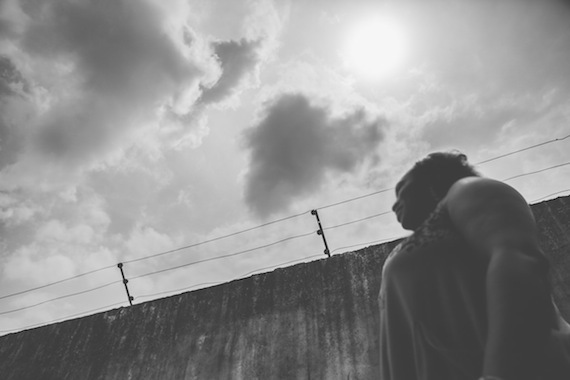 A heavyset woman by African standards with a pleasant face despite her circumstance, Cécile came to prison seven months pregnant with previously diagnosed hypertension and frequent bouts of dizziness after being accused by her parents-in-law of murdering her husband who was a Spanish translator for many years. She staunchly believes her deceased husband's parents accused her of killing her husband so she would have no claim to his property. Property squabbles among family members in Cameroon are famously contentious upon a husband's death leaving widowed women with little to no property rights and with very few means of caring for children.
Cécile, a nurse midwife by trade, staunchly professed her innocence and described her pregnancy and delivery while incarcerated under cloudy summer skies. In a quiet room at the women's prison that is surrounded by a concrete wall topped by high barbed wire, Cécile is acutely aware that as a poor woman and mother in Cameroon she has little course of successfully defending herself against her deceased husband's parents or the real possibility of being wrongly convicted.
An NGO, Human is Right, that helped facilitate this interview, aids prisoners with rights abuses, gender inequality, and civil liberty deficiencies, is helping Cécile navigate the judicial system to seek justice. They may be her only hope of being released from prison.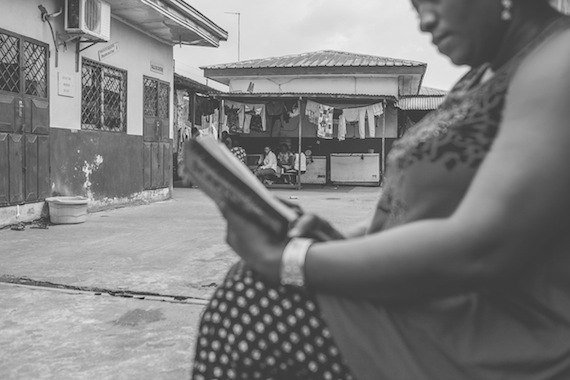 When Cécile was thrown in prison in the summer of 2014, although a deeply religious woman, she agonized every day about giving birth as an incarcerated inmate. Constantly asking other women what delivering as a jailed criminal was like made matters far worse for her psychological state and physical health. Most of the other prisoners she spoke to delivered their babies at a local hospital in chains.
"From time to time I used to ask the prisoner who lastly gave birth how it happened. She would tell me that at the hospital she was in chains for fear that she might escape," Cécile recalled. "I went back into my room and cried all day long asking myself: Lord, why have you chosen to afflict me with all this?"
Beginning when she was 32 weeks along, Cécile believed she would give birth at any time in prison because all of her other children were born during that dangerous prenatal period. One night while freezing from the raging air conditioner, Cécile's bedmate, Natalie, graciously turned down the air and covered her with two blankets, but Cécile quickly realized she was in active labor after losing her mucus plug around 4:30 a.m. She finally recognized that her baby's head was crowning even though as a trained, experienced nurse midwife she did not know for sure that she was giving birth.

"I could not think immediately of delivery because in this place every day you think you are going to give birth because every day you feel bad," Cécile remembers. "You feel so bad in your heart that you don't know if it is labor pains or the pains of your problems."
With the help of other women prisoners she called her fellow prison mates and coached them with strict instructions. Cécile gave birth to Christelle at 40 weeks on an average, early Monday morning, but a day pitted in deep sorrow and sadness for her.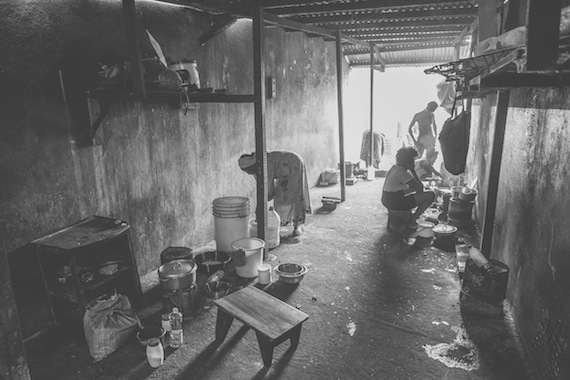 Christelle weighed eight pounds causing Cécile a very difficult, life-threatening delivery. When she finally delivered, all the women shouted when Christelle was finally out, Cecile recalled. Cecile cut Christelle's umbilical cord with a small, shaving razor she kept underneath her pillow and tied it with a string. She spanked Christelle to make sure she was breathing properly. By the time the prison nurse on duty finally arrived everything was done. Cécile would go on to spend two weeks at a local hospital and her baby was taken away by her parents before she returned to prison.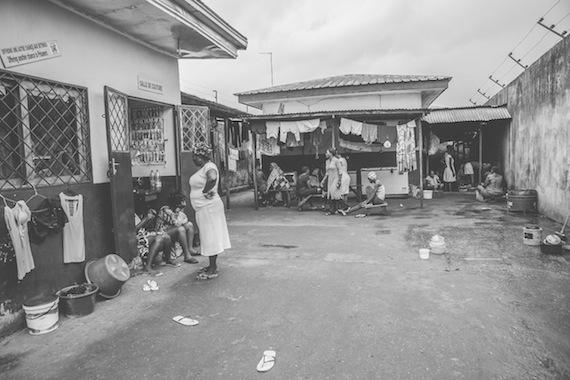 Cécile knew she would not be able to keep and raise her daughter in prison.
"I can't really forget that day. A lady from the social service came in and said firmly, 'Madame, today we have come to take the baby.'"
Cécile's family assumed immediate guardianship of Christelle otherwise social services would have taken her baby and made her a ward of the state. Even though Cécile's mother, father, and older sister are now raising her child, she cannot help but think how much of a burden she has been to her family. Her mother already complains that they do not have enough money to buy formula for Christelle. Without any money either, Cécile cannot help her family raise her youngest child.
After Cécile's parents took Christelle she was given the opportunity to see her baby in prison. She flatly refused.
"To be separated from your child when you are still alive, it was as if I was dead and the baby had no mother."
Today, Cécile is still in prison and awaiting trial.
*All names have been changed to protect privacy.
Separated at Birth is a part of the documentary project "BIRTH IS A DREAM" by Paolo Patruno.
Related