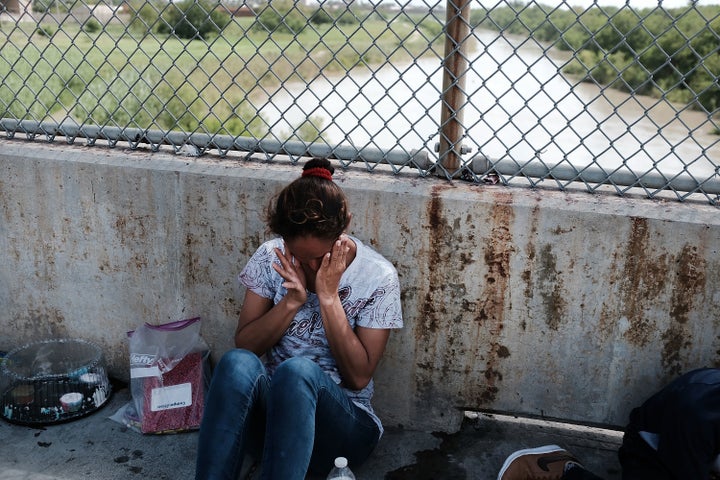 BROWNSVILLE, Texas ― Jodi Goodwin has spent the past month helping grief-stricken parents with their asylum cases.
On most days, the Harlingen, Texas-based immigration lawyer drives to the Port Isabel Detention Center just outside of Brownsville to meet with clients who were separated from their children. But, she says, those mothers and fathers are too devastated to prepare for their court hearings.
Instead, they replay the moment their kids were taken away by Border Patrol, worry about their children's well-being, and ask repeatedly where their sons and daughters are. In some cases, they simply weep.
"They are losing it," Goodwin said. "They are red-faced and have bloodshot eyes and all they do is cry. We are trying to ask them basic information but they are whimpering and they can't talk.
"We are having to hug them and hold them tight to try and give them some kind of comfort," she continued, starting to cry over the phone. "It's ridiculous."
President Donald Trump issued an executive order in June to end his own administration's policy of separating families at the border. But there are still over 2,000 detained parents who haven't seen, and in some cases spoken to, their children in over a month. And while a federal judge in San Diego ruled last week that the government must bring families back together within 30 days, lawyers told HuffPost they are not aware of any plan to reunite children with parents who decide to seek asylum in the U.S., a process that can take a few months.
In the meantime, they say, separated parents are too consumed with heartache to focus on their immigration cases. That puts them at a much higher risk of being deported back to countries where their lives are in danger.
Goodwin says that over half of the roughly 20 parents she spoke with on Thursday did not pass their "credible fear" interviews ― a process that determines a person's asylum eligibility. She thinks they are too distressed about their children to effectively tell an asylum officer why they fled their country and could be killed upon return.
"It's even hard for us [lawyers] to get them to talk about their reasons for coming," Goodwin said. "They are beside themselves because they are not with their kids."
Julie Pasch, a managing attorney at the South Texas Pro Bono Asylum Representation Project (ProBAR), says that to pass a credible fear interview, migrants need to have a basic understanding of asylum law and give a detailed account of their persecution back home.
"That's really hard to do that when what they have going through their mind is, 'I haven't seen my son in three weeks, I don't know where he is,'" she said. "They just can't focus."
In one case Thursday morning, an immigration judge at the Port Isabel Detention Center refused to proceed with a separated mother's review hearing because the woman was severely emotionally disturbed over being separated from her child, according to paperwork Goodwin reviewed.
When Kimi Jackson, ProBAR's director, met 10 mothers at Port Isabel on Tuesday, she saw how they were too devastated to focus on court hearings. When she asked the group how many of them had been separated from their children, Jackson says, "they all started sobbing."
"I tried to reassure them the kids were physically OK and not in jail-like settings," she said. "And they looked at me like I was crazy. They said, 'It doesn't matter if they live in palaces and have the prettiest clothes. They need their mother.'"
Jackson says groups of roughly 75 women are stuck in areas with bunk beds and have nothing to do but think about how their kids have been traumatized. The group of mothers told her that some of the guards mock them when they cry and turn down the volume when immigration news comes on the TV.
While lawyers report that over the past week, more of their clients have been able to call their children, those conversations can sometimes exacerbate a parent's trauma.
"The things their children are saying to them are horrific," said Goodwin. She recounts how one daughter told her mother: "Mami, I thought you were dead. Mami, they told me that you didn't want me anymore. Mami, you abandoned me."
Goodwin says other kids have talked about being held in freezing cold Immigration and Customs Enforcement facilities for up to four days, stories that only make their mothers and fathers even more worried.
"They are losing it. They are red-faced and have bloodshot eyes and all they do is cry."
Adriana Zambrano, a legal volunteer with Aldea, a Pennsylvania-based nonprofit that provides pro bono legal services to immigrants, says one of her clients hasn't seen his 3-year-old son, who has asthma, in six weeks. She recalled the father telling her through tears, "Please take him a picture of me and please don't let him forget me," she said. "I've never been separated from my child, he's going to forget about who I am."
Goodwin is worried that ICE officers are taking advantage of vulnerable parents who care more about reuniting with their children than getting asylum. Her clients said officers told them that that if they agreed to be deported, "we'll be able to get our kids back." Other lawyers say they've also been getting reports of this pressure tactic. Representatives from the American Civil Liberties Union and the Refugee and Immigrant Center for Education and Legal Services (RAICES) told HuffPost they are currently looking into these claims of coercion, which would violate the family separation court injunction.
"[Our clients'] No. 1 concern is, 'Where is my kid? Is he or she OK?'" said Manoj Govindaiah, the director of family detention services at RAICES. "I think the government is trying to prey on our clients' vulnerabilities, in this case being separated from their kid with no information."
Goodwin doesn't think any parent should be forced to go through immigration proceedings before being reunited with their children. She fears mothers and fathers will fail their credible interviews "en masse" because of their overwhelming grief, and be deported back to dangerous countries.
"If the presidential executive order is to have any meaning at all, then they need to immediately bring the kids to the parents and release the parents from detention," said Goodwin. "I can't even wrap my brain around why that's not the humane, correct thing to do."
Popular in the Community