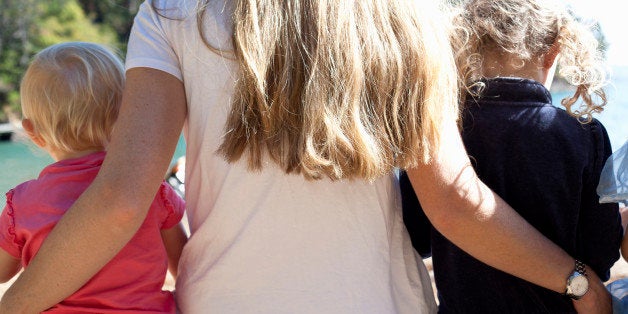 I carried them in my body for 40 weeks, each. I grew them, cell-by-cell, limb-by-limb, inch-by-inch. My body created them from two half-cells into tiny but whole people.
I birthed them, laboring for 1/2 a day or more, to bring them into our world. I felt each surge of their impending entrance. I breathed through each moment, ready to welcome them, hold them, love them with everything I had. I screamed as their bodies exited mine then smiled through tear-filled eyes when I saw their beautiful faces.
I fed them from my breast for 18 months, 22 months, 27 months. I gave up other things in order to give them every bit of me. They sucked the life out of me, one content guzzle at a time. They grew and thrived and became their own independent, free-willed people.
But they are still a part of me. They are still my life, my world, my everything. And as they grow I have trouble separating me from them.
I feel their pain and know their sadness. I see the ugly of the world that affects their lives, even when they don't. I am their advocate, their protector, their mommy. I fight for them even when they don't know there's a battle.
I relish in their innocence and am joyful they don't see the things I do. I am thankful they don't always see things the way I do, feel things the way I do, understand things the way I do. I feel pain for them that they don't even know about.
But what if someday, they figure it out? What if after hearing the stories and seeing the pictures of their lives, their moments, they see all the battles I fought but lost?
If they ask why, I will tell them I did my best, tried my hardest, fought with everything I had. But what if they don't believe me? What if I can't convince them because I don't believe it myself?
Life is not fair, and I wouldn't want it to be. Our world is beautiful in its imperfections and I want my children to learn to see it. But sometimes there are injustices, sometimes there are things that are out of our control, out of my control. Things that I can't change for them no matter how desperately I may want to.
I try to be the logical thinker, to take the emotion out of it. I try to see things through my adult, understanding eyes but I can't help but feel things as they do in their innocent hearts. They are a part of me and I feel so deeply with them and sometimes for them.
They will never know all the struggles I've had over them, with them, for them. And it's probably better that way but it doesn't make my mommy life easier, it doesn't put my heart at ease.
They are my everything and I will never stop fighting for them as they make their way through this big, wonderful world, even if I do it silently in the shadows.