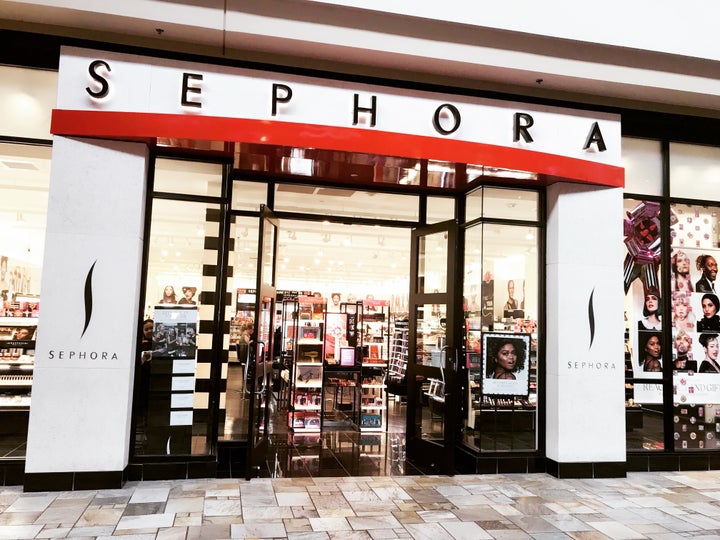 I love Sephora. Any store that can make my face look like a photoshopped magazine cover, if only for an hour before I start looking like the Joker, is a place I approve of. For anyone who has yet to be pulled in by Sephora's gravitational field, it's an international French cosmetic store that is best known for giving millions of people all over the globe access to glorious overpriced beauty products. You can typically find it at your local shopping mall, sitting comfortably between Cinnabon and Foot Locker.
Upon entering Sephora, I take a deep cinnamon-roll-infused breath and chant the same mantra that I use for my dating life: "Get in and get out". After centering my mind and exchanging a few knowing looks with the men waiting outside for their girlfriends and daughters, I put $40 in my pocket and padlock my wallet before swallowing the key and praying for the best.
As I walk through the black and white striped entry way, I feel like I've stepped over the rainbow and right into Oz. I'm immediately greeted by a woman whose hair and makeup reminds me of Glinda the Good Witch; I half expect her to throw glitter into the air as a welcome. I'm filled with part joy and part terror. I'm surrounded by dazzling colors and shiny objects. Delightful perfume fills the air and mirrors on each end cap blended with horrific lighting remind me that I'm definitely not in Kansas anymore. Which is unfortunate because I'm at least a "6" in Kansas.
I'm here on a mission for mascara. Which I've completely forgotten about as I pass a large display of eyebrow enhancers that I don't even need. Or do I? A wave of insecurity falls over me. I discreetly glance at Glinda and study her brows. Look at that arch. Was she born with those? Do I need an eyebrow pencil? What about eyebrow gel? Why would anyone need gel in their eyebrows? This isn't the 80's. Oh look! Purple lipstick!
Once I've decorated the inside of my arm with seven shades of purple lipstick and given up on trying to wipe off the unibrow I've accidentally drawn on my face, I force myself to move along. I pass other women, who like me, are clutching their wallets with a look of elation and fear in their eyes. As well as a few men whose makeup looks way better than mine and a select few who are wondering if maybe they did something in a past life to have deserved this experience.
I can't stop looking at every display. Lip gloss and eyeliner and bronzer, oh my! I continue down the glitter brick road and find myself in a mildly enchanting place: the aisle of sheet masks. A one-size-fits-all paper or gel mask in the shape of a face that's soaked in a serum or lotion. I recommend you wear them alone as to not traumatize any pets or loved ones. Regardless, the outcome is magical. From dull, boring skin to the glow of a Kardashian in 20 minutes.
As I mindlessly grab four masks and put them in my small shopping basket (a basket that I don't remember grabbing, let alone filling it with an $88 eyebrow enhancer), I overhear a young gentleman asking an employee what he can do for his dreadful, aging skin. Because, and I quote: "I'm 23-years-old, my skin is just not young anymore!"
The Sephora employee, having noticed my judgmental side-eye, enlists me into the conversation:
"Ma'am, look at him, doesn't he have great skin?"
And he does. Beautiful, smooth, 23-year-old skin.
I try not to judge (if only I had a heart). But considering I was just called "ma'am" and a large chunk of society thinks I should be hiding my decaying 30-year-old face in a cave right now, I have to restrain myself from kicking the young gentleman in the shin and knocking over the anti-aging display he's next to while shouting "how dare you!" in his young, supple face.
What is happening to me? Why do I want to fight a sweet man, who like myself, is only listening to society's ideas of beauty standards? And more importantly, why am I suddenly interested in purple lipstick?
Emotionally exhausted and ready for a cinnamon roll, I find the end cap of mascaras. The reason I flew over the rainbow in the first place. I can't decide if I want my lashes curled, plumped, or running down my face when I realize how much I've spent here. I land on a product called "Better Than Sex Mascara". Like a lot of people who purchase this product, I'm only curious to see if it's actually better than sex. That's a bold claim. I mean what kind of sex are the people at this company having? It's pretty great if I'm able to remember that far back. However, I can also think of a few nights where literally any mascara would have been better, so what do I know?
Eager to return to Kansas (that's gotta be a first), I head for the checkout line where my wallet and will power are given one last test. The queue is long and lined with hundreds of mini versions of nearly everything in the store. Damn this company, they've discovered how we feel about all things "fun-sized". I walk toward the counter, avoiding eye contact with the tiny brushes and bottles that I'm certain are calling my name. As Glinda the Good Witch rings up each item with her glitter coated fingers, my superficial daze starts to fade. The world around me starts to dull and any color in my face is surely gone as my total comes to $175 plus the blood of my first born. Can you imagine how many burritos with guacamole I could have gotten for that price? I click my heels, longing for home.
She hands me my tiny bag of expensive items and I slowly watch everything turn back to black and white as I stumble out of the store. But not before I catch a glimpse of myself in a mirror to see the purple lipstick smeared on my face and my eyebrows much larger than any eyebrows should ever be. Horrified, but fed up with caring, I take a whiff of the warm cinnamon-roll-spiced air. I'm back in "Kansas" and the world seems dim and completely boring. Just the way I like it. There's no place like home.
Popular in the Community