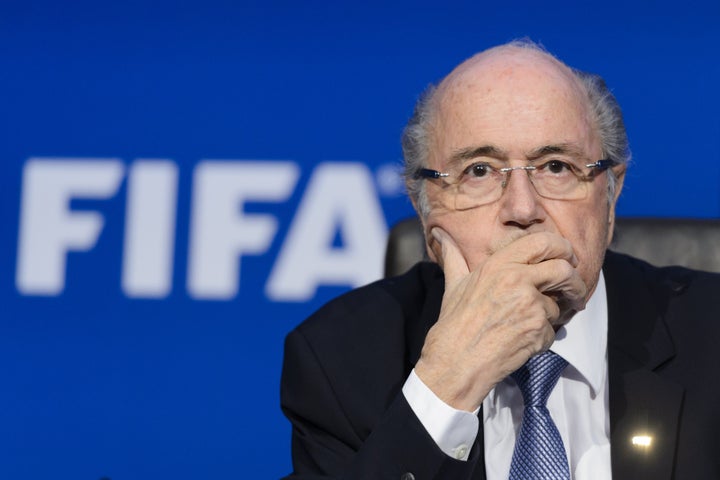 FIFA gave soccer fans around the world an early holiday present on Monday when it banned Sepp Blatter, the organization's president, and Michel Platini, the head of the European soccer federation, from the sport for eight years due to internal ethics violations.
Blatter approved a $2 million payment to Platini that FIFA's ethics committee deemed improper. The long-term bans followed provisional suspensions issued in October.
Compared to the larger corruption charges facing global soccer officials and others affiliated with the sport, Blatter and Platini's actions may seem relatively minor. And as plenty of observers have noted, removing two of soccer's most powerful men won't be enough to address the broader issues plaguing global soccer's governing body and its federations and the deep-rooted corruption in FIFA's core structure.
"This would have been unthinkable a year ago, so you can't really overstate the magnitude of what has happened symbolically," said Roger Pielke Jr., a professor and sports governance expert at the University of Colorado. "But in terms of the nuts and bolts of FIFA reform, it isn't a big deal. Because what needs to happen to improve FIFA governance is far more than getting a new president."
"Sepp Blatter," he added, "was always beside the point."
Symbolism aside, however, what the bans could also do is remove two top officials who perpetuated FIFA's status quo and make room for a new vision. When Blatter was still standing and Platini, once considered the favorite to ascend to the presidency, was potentially poised to take over, it was unclear whether proposals to eliminate corrupt practices within the sport would ever be ambitious enough.
In announcing his resignation, Blatter himself unveiled a series of proposed reforms that he said would reshape FIFA amid the corruption probes that have ensnared top soccer officials -- most of whom are from CONCACAF, the governing body of North and Central America and the Caribbean, and CONMEBOL, the South American body. (The attorney general of Switzerland, where FIFA is based, is also investigating whether corruption influenced the decision to award the 2018 and 2022 World Cups to Russia and Qatar, respectively.)
But Blatter and Platini's removal opens the door to true reform -- if that is actually something FIFA wants. The organization's next president or reform-minded officials within FIFA, if there are any, have the chance to tackle actual governance issues that have fostered abuses in global soccer, including the lack of both outside oversight and internal controls that could theoretically provide an incentive for preventing corruption.
"The rot that is inside FIFA is pretty endemic," Pielke said. "One of the worst situations would be for FIFA to put a Band-Aid or two on its wounds and try to limp forward without engaging in reform, because we could find ourselves in this position with the next guy."
Repairing the structures of soccer to eliminate most, if not all, of the corruption in the sport may not be easy, since FIFA comprises 209 national federations and six regional confederations that manage lucrative events across the world. But the United States and Switzerland, which are conducting the most widespread investigations into FIFA, seem hell-bent on rooting out the people and practices they've uncovered thus far.
"The message from this announcement should be clear to every culpable individual who remains in the shadows, hoping to evade our investigation: You will not wait us out. You will not escape our focus," U.S. Attorney General Loretta Lynch said in announcing a second round of indictments earlier this month.
Outside governance organizations have also laid out plans for reshaping FIFA and its federations in a way that will improve its practices and limit, if not eliminate, corruption. For example, a coalition that includes the global anti-corruption organization Transparency International has called for a series of changes led by an independent reform commission.
With Blatter and Platini in such influential roles, FIFA "proved incapable of reforming itself," Pielke said. The question is whether FIFA can now commit itself to real change, whether it's initiated from outside or within.
"The challenge for FIFA is not so much knowing what needs to be done, it's doing it," Pielke said. "It's not rocket science. It really isn't." 
PHOTO GALLERY
15 Reasons Why FIFA Is The Worst
Calling all HuffPost superfans!
Sign up for membership to become a founding member and help shape HuffPost's next chapter