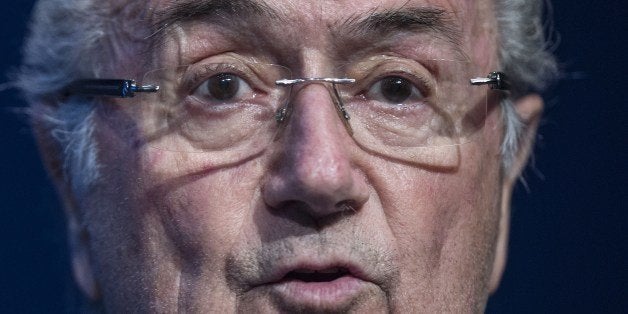 Longtime FIFA president Sepp Blatter voluntarily resigned on Tuesday after nearly two decades at the helm of perhaps the world's most important sports organization.
But while everyone is focusing on the overwhelming evidence of corruption within the organization, we just couldn't let Blatter drift into obscurity without first recounting his many shortcomings throughout the years.
He suggested female athletes "play in more feminine clothes."
He noted women should talk as much at work as they do at home.
In 2013, he tipped the sexism meter to idiotic while boasting that three women out of 24 members then served on the executive committee. "We now have three ladies on the board," he said. "Say something, ladies! You are always speaking at home. Now you can speak here."
He said gay people shouldn't have sex at the World Cup.
He implied that Africans are less honest than Europeans.
He said a simple handshake could cure racism.
Yet this is the same man who told CNN that racism in soccer could be cured with a handshake. Oh, wait, that was at the same time he said racism wasn't a problem on the field at all. "There is no racism. There is maybe one of the players towards another -- he has a word or a gesture which is not the correct one."
At the very least, he showed cluelessness.
While many believe the investigation into bribery, fraud and racketeering will eventually hit Blatter directly, we can perhaps all agree that he wasn't running the tightest of ships.
He dismissed words to the wise.
He apparently wasn't much of an advice-taker, either. In 2011, Blatter's own commission of an independent study into reform at FIFA resulted in the recommendation that he have a system for "disclosing cash payments to officials." According to the Wall Street Journal, he ignored it.
He said Russia's World Cup could help peace.
Blatter seems to have a skewed view of diplomacy as well. He said in March that Russia hosting the World Cup in 2018 would stabilize the region. Right, 'cause the 2014 Winter Olympics in Sochi worked so well to bring peace to Ukraine.
He didn't know a soccer star when he saw one.
The exiting soccer chief could be pretty oblivious too. U.S. national team star Alex Morgan said Blatter didn't even recognize her at a 2013 banquet to award the FIFA Women's Player of the Year. Morgan was one of the finalists. "Sepp Blatter didn't know who I was," she said. "That was pretty shocking."
Soon enough, he won't be your problem anymore, Alex. Oh, how the mighty has fallen.

Sepp Blatter tumbles off a stage in 2010.
Calling all HuffPost superfans!
Sign up for membership to become a founding member and help shape HuffPost's next chapter