Outgoing FIFA president Sepp Blatter was treated to his preferred choice of shower on Monday in Zurich, Switzerland, courtesy of British comedian-turned-protester Lee Nelson.
Nelson interrupted Blatter's press conference, which addressed a new FIFA reform task force, by approaching Blatter and placing a stack of fake one dollar bills on his desk, saying it was given to him by North Korea as part of a bid for the 2026 World Cup.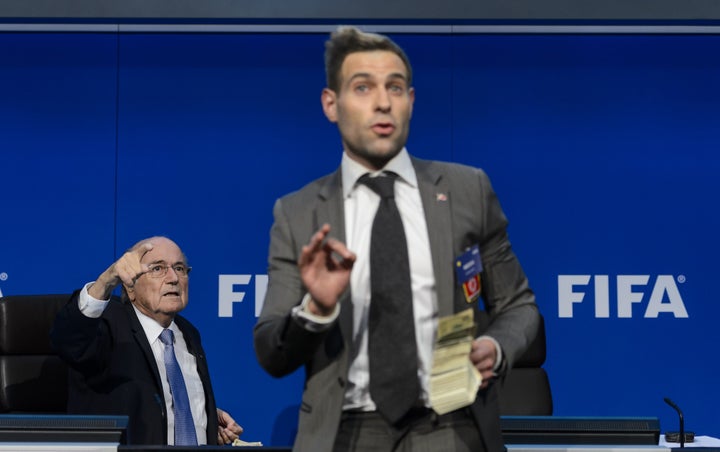 Lee Nelson addresses the cameras for his stunt while Blatter protests.  
FIFA security quickly escorted Nelson out of the room, but not before he could make it rain all over Blatter.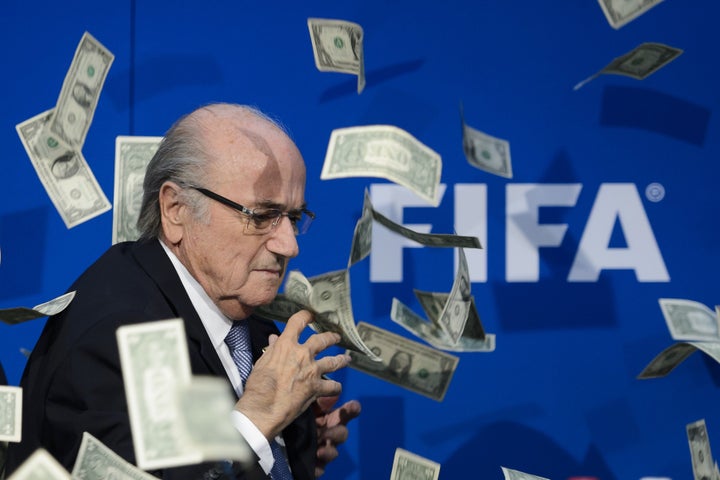 An uncomfortable Blatter is doused in dollar bills. 
Blatter, taken by surprise, immediately backed away from the shower in feigned disgust, as if this isn't exactly what he's been doing in his office for the past 17 years.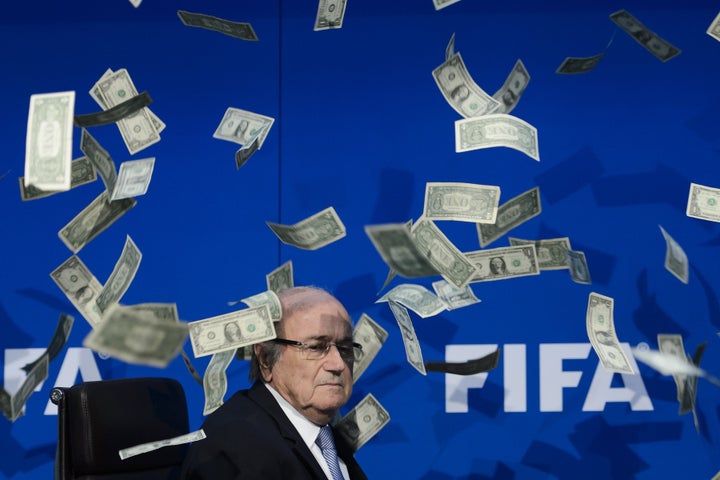 Blatter pretends like this has never happened before. 
Nelson, who also interrupted Kanye West's set at Glasonbury last month, so upset Blatter that the president stopped the conference before returning with an odd joke, according to Sam Borden of The New York Times.
Once the press conference resumed, Blatter addressed calls for clarification regarding his resignation. Blatter announced in May that he would resign amid a major corruption scandal, but reportedly backtracked on his promise in June, defiantly telling a party at the FIFA museum, "I did not resign." On Monday, he clarified that he will. It's just gong to take a while. 
"On the 26th of February, FIFA will have a new president," Blatter said on Monday, confirming that FIFA will hold an "extraordinary congress" next February to elect a new president.   
Blatter, who has said he would step down from office in previous years, was asked to reiterate his resignation. His choice wording -- "new president" -- left open the possibility of having two FIFA presidents, as Blatter had identified himself as the "old president" on Monday. 
"We have now a president, we are going to elect a new president," he clarified. "There will never be two presidents at FIFA."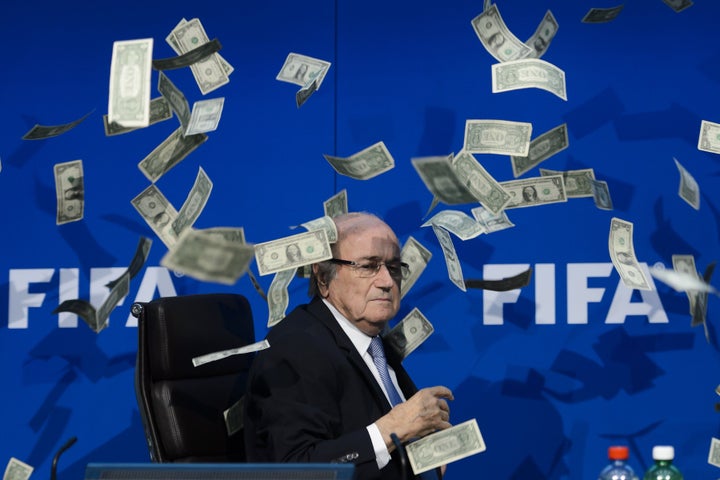 Blatter is "presented" with a bribe from a faux North Korean World Cup bid.  
With Blatter giving his guarantee to leave in the next seven months, the soccer world now has the defining image of Blatter's time as FIFA president -- a legacy built on green and carelessness at the cost of the game itself. 
PHOTO GALLERY
15 Reasons Why FIFA Is The Worst
Calling all HuffPost superfans!
Sign up for membership to become a founding member and help shape HuffPost's next chapter