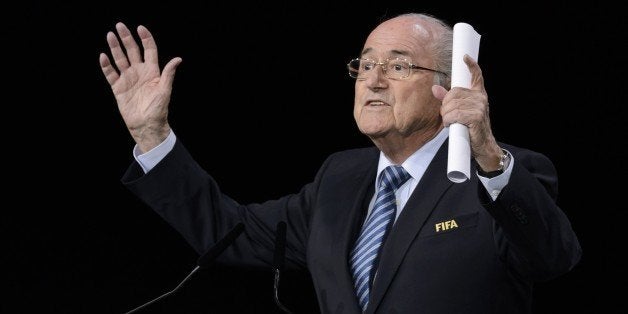 Sepp Blatter isn't so much the president of FIFA as he is its ruthless dictator. The 79-year-old Swiss has held the most powerful position in sports for 17 years, and though he'd once repeatedly promised not to run for a fifth consecutive term, that has turned out to be a lie... that is, another lie.
For those living under a rock this week, FIFA, the international governing body of soccer, has been rocked by one of the largest scandals in athletic history. The U.S. Department of Justice recently indicted more than a dozen people, including nine senior FIFA officials, on a range of charges including bribery, racketeering and money laundering.
"This really is the World Cup of fraud," said Richard Weber, chief of the IRS' Criminal Investigation unit, "and today we are issuing FIFA a red card."
Blatter, meanwhile, remains unscathed -- even though his shortcomings make Roger Goodell, the NFL's embattled commissioner, look like a choirboy. In what amounted to a public shrug this week, he told reporters that "we, or I, cannot monitor everyone all of the time... If people want to do wrong, they will also try to hide it."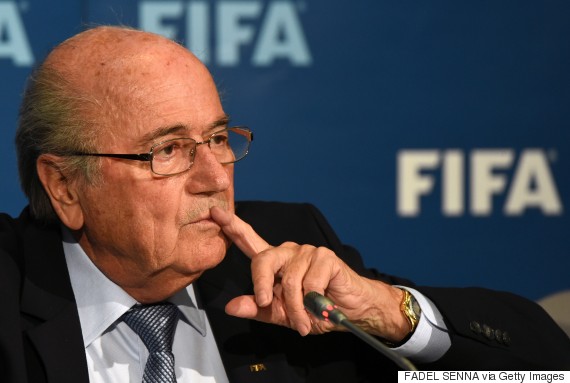 But bribery and racketeering aren't the most grievous sins to which FIFA has been linked recently. In Qatar, the site of the 2022 World Cup, it's been estimated that as many as 1,200 migrant workers have died so far in the course of setting up the infrastructure needed for the games -- and another 4,000 could lose their lives before play even begins. Workers are reportedly forced to endure deplorable living conditions and a relationship with managers that's not far from indentured servitude. It's worth noting that the U.S. finished second to Qatar in the bid for the 2022 World Cup -- meaning that a country with no tradition of soccer, no suitable facilities and a brutal summer climate won a bid over America, which hosted the 1994 World Cup amid tremendous global acclaim.
FIFA owns the rights to the World Cup, far and away the most profitable event in sports, which has traditionally given it the power to do more or less whatever it likes. When money is earmarked to build soccer fields in poor, densely populated areas, Blatter knows he can allocate it elsewhere. Who's going to stop him? And yet, before winning the election on Friday, he spoke of cleaning up the sport and making things right.
"I am appealing to unity and team spirit so we can move forward together," Blatter said. "I would like that discipline, respect and fair play reign supreme. Let us show to the world that we are able to run our institution. ... I think the important point today is to move ahead and the important point is transparency."
Transparency would have been nice nearly two decades ago, before FIFA, helmed by Blatter, wrought destruction on countless communities and blackened the reputation of the world's most popular sport. Transparency would have been nice in the Parisian hotel room where a South African official allegedly handed over a briefcase full of cash so that FIFA would allow the country to host the 2010 games. It's too late now for transparency -- Blatter's thuggery and cowardly actions have closed the door on that. Now, it is time we close the door on him.
Calling all HuffPost superfans!
Sign up for membership to become a founding member and help shape HuffPost's next chapter